USC Master of Social Work
Be an agent of change.  
The social challenges of our time are real. The demand for social workers is high. On any issue you can name — justice, education, housing, healthcare — we need smart people to champion equality and challenge the status quo.
So, are you ready to reimagine the future?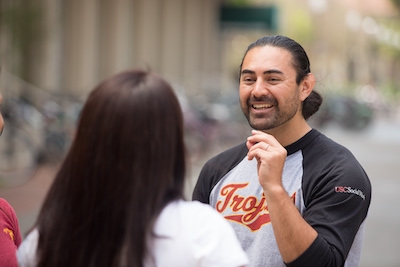 Social workers make a real difference, driving change at a policy level, within an organization, or by working with individuals one-on-one. 
USC's Master of Social Work will empower you to pursue bold, compassionate solutions to complex social challenges. Our program will prepare you to enter the workforce and immediately engage with the issues that matter most to you.  
Our MSW Program 
Our 42 credit hour MSW program is created for people like you who cannot wait to change the world. We have streamlined our courses and made our program more customizable so you can focus on your unique interests. 
All students take 42 credit hours of "core" courses. This intensive program also includes 1,200 hours of hands-on practicum education to practice and apply the skills you learn in class. After you complete this program, you will be prepared to find meaningful work that makes a difference.
Frequently Asked Questions
91%
of alumni are employed six months after graduation
700+
practicum agency partnerships in Los Angeles County/SoCal
96%
of on campus students receive scholarships
Practicum Education
Our students are energized by the vibrant urban classroom of Los Angeles, a global city on the frontlines of social change. We have partnerships with some of the largest providers of social services in the country, so there is no better place to get the practicum training that will prepare you for the real challenges of the work. Many of our internships lead to permanent job placements post-graduation. 
Why USC?
The University of Southern California consistently ranks among the nation's top accredited social work graduate programs in U.S. News & World Report. Our cutting edge research makes us a go-to program for students interested in:
Aging
Artificial Intelligence    
Behavioral and Mental Health
Child Welfare
Crisis and Disaster Recovery   
Homelessness    
Human Trafficking
Substance Use
Social Determinants of Health
Social Response to Climate Change
Trauma-Informed Care
Veterans and Military Families
MSW Specializations
MSW students also have the option to receive training in an area of specialization based on client populations, settings, or systems.