Getting Involved
There are many ways you can be involved with the USC Suzanne Dworak-Peck School of Social Work, your fellow alumni and our students and faculty.
Events and News
Visit our events listing page regularly to stay up to date on all our upcoming opportunities to attend alumni, professional development, and community-wide events. You can also stay informed of upcoming events via our Facebook page. Subscribe to our school newsletter NewsBytes to learn about the work of our faculty, students and alumni.
USC Alumni Association
As a USC Suzanne Dworak-Peck School of Social Work alumnus, you are automatically a member of the USC Alumni Association. No matter where you are, you can always connect to the Trojan Family—in person or online. Through a network of regional alumni organizations in major cities around the globe, Trojans everywhere connect at academic, cultural, philanthropic and social events. The USCAA supports affinity groups, industry networks, age-based organizations and groups associated with schools and departments across campus. Learn more.
Alumni Mentor Program (AMP)
The Alumni Mentor Program pairs alumni with graduating students in their transition from student to professional. Mentors provide mentees with job search and career building strategies, personal support and guidance as they complete the last months of their MSW program. A minimum of two years post-MSW experience is required to become a mentor, and the time commitment is October to May. If you are interested in becoming a mentor to a graduating student, please complete this form.
Become a Field Instructor
Field instruction is an essential part of the USC Suzanne Dworak-Peck School of Social Work educational experience, and those chosen to supervise our students in their field work must be highly qualified, committed to the values and ethics of the profession and possess a genuine interest in teaching. All field instructors must have an MSW from an accredited school of social work, at least two years of post-master's social work experience and agree to attend a 15-hour course for new field instructors. To learn more, visit our field instructor page.
Alumni Leadership Council (ALC)
Our Alumni Leadership Council is an advisory board of USC Suzanne Dworak-Peck School of Social Work alumni representatives. Its members assist in the planning of programs to continually build our alumni network, including professional development activities, community service and social gatherings.
Current ALC members:
President
Esther Lim, MSW '10, Director of Jails/Deputy Director of Advocacy, ACLU SoCal

Board of Councilors Liaison
Beth Lucas, MSW '98, Associate Clinical Social Worker, University of Southern California
Members
David Esquith, '74, MSW '75, Manager of Medical Social Work (retired), Cedars-Sinai Medical Center
Nina Moran, MSW '15, Psychotherapist, Children's Hospital Los Angeles
Minerva Ruiz, MSW '10, IAH Supervisor, SCAN Health Program
Drew Ollero, MPAMW '12, Associate Director of Admissions, Evening & Weekend MBA, UC Berkeley, Haas School of Business
Samantha Quintero, MSW '10, Workforce Development Program Director, Martin Luther King Recuperative Care Center
Claire Towle, MSW '90, Lecturer, UCLA
Toggle

Alumni Leadership Council Members
President
Esther Lim, MSW '10, Director of Jails/Deputy Director of Advocacy, ACLU SoCal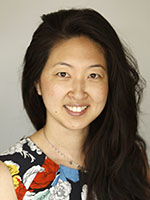 Esther has focused her career on advocacy and reformation of the criminal justice system. As the current director of the Jails Project for the ACLU SoCal, she works to defend the civil rights of incarcerated individuals in Los Angeles and Santa Barbara. She monitors conditions of confinement, overcrowding and excessive use of force on inmates. She has testified in open court, worked with federal agencies, and has been interviewed by national media organizations. Prior to joining the ACLU SoCal, she worked in juvenile correctional facilities, where she conducted individual and group therapy sessions with sex offenders, and has volunteered with the Orange County Probation Department's Adult Sex Offender Unit. In addition to her current position, Esther is an adjunct lecturer at the USC Suzanne Dworak-Peck School of Social Work, teaching management and organizational development. She was awarded the Jules Levine Distinguished Field Education Award in 2014. She also provides script and character assessments for independent movie studios and production companies.
Board of Councilors Liaison
Beth Lucas, MSW '98, Associate Clinical Social Worker, University of Southern California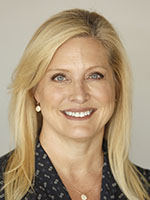 An advocate for at-risk youth, Beth has dedicated her career to bettering their lives through over two decades of work with teens in group homes, gang members in schools, victims of domestic violence, the severely and persistently mentally ill, and kids in the foster and adoption systems. She currently serves as the field supervisor of the Trojan Guardian Scholars, which supports current and former foster youth who attend USC. The program builds a regional network that creates new pathways for college-bound students exiting the foster care system, and provides comprehensive support services that help these students experience the campus to its fullest and achieve their goals. Prior to USC, Beth has been a foster care social worker, intensive treatment foster care social worker, clinical social worker and psychotherapist at several organizations and medical facilities throughout the Greater Los Angeles area. When not working directly with families, children and groups, she has devoted time to program development and coordination, and presenting. She is also a member of the Brass Ring Committee of the United Friends of the Children.
Philanthropy Committee Chair
Wilfred Lee, MSW '02, Clinical Social Worker, Department of Veterans Affairs, Greater Los Angeles Healthcare System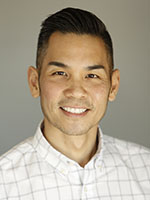 Over the past 15 years Wilfred has worked in a diversity of roles across Southern California, providing leadership to multiple organizations and counseling to various populations, including veterans, members of the military and their families, individuals involved in family court, and patients in a clinical setting. He currently serves as a case manager for veterans of Operation Enduring Freedom, Operation Iraqi Freedom, and Operation New Dawn. He assesses recently returning combat veterans and their families who are experiencing a range of psychosocial issues and environmental stressors, and develops care management plans that include crisis intervention, brief psychosocial treatment, psycho-education and referrals. Wilfred is also a clinical social worker for the UCLA Healthcare system in Santa Monica, where he works with patients and their families to help with adjustment to illness. He has previously worked as the admissions director for both the Department of Social Work at Cal State Dominguez Hills, and the School of Social Work at Cal State Los Angeles. He served as vice-chair for the City of Santa Monica Social Services Commission.
Program Representatives Committee Co-Chairs
Rocio Terry, MSW '05, Adjunct Assistant Professor, USC School of Social Work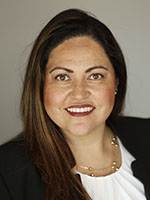 Rocio is an accomplished operations and strategic management professional, with extensive experience working with not-for-profit, healthcare, and military agencies. Holding both an MSW and an MBA, Rocio has lead large teams and staffs of several hundred people while focusing on staff morale and retention, and has managed multi-million dollar budgets and revenue goals. She currently shares industry expertise and best practices teaching graduate students at the USC Suzanne Dworak-Peck School of Social Work. She previously served as a regional director of the Combat Stress Recovery Program for Wounded Warrior Project, and has also practiced clinical social work with military, veteran, and geriatric populations. Rocio is on the Board of Directors for Girls on the Run, an organization that inspires girls to be joyful, healthy and confident using a fun, experience-based curriculum which creatively integrates running. She also serves as a mentor for current MSW students, and has been a panelist and presenter throughout the country on the topic of mental health and veterans.
Claire Towle, MSW '90, Lecturer, UCLA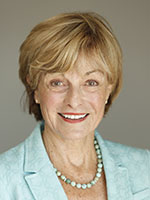 Claire has over 20 years of experience as a clinical social worker combining direct clinical care, supervision and management responsibilities. She has a strong background in both macro and micro social work, and is experienced in working with children and adults coping with acute and life threatening medical conditions, psychological disorders, divorce, death, chemical dependency, disability, child abuse and domestic violence. She is currently a lecturer at the UCLA Graduate School of Social Welfare, and also provides private supervision and coaching for licensing for MSW and MFT students. Specializing in issues related to loss, Claire previously had a private practice in the South Bay for over a decade. She was also previously a bereavement services director and support group facilitator for hospice facilities, and a consultant and supervisor of social services for children at several hospitals. She has supervised staff and interns in the hospital environment and served on hospital committees. She has given presentations on multiple health and mental health topics.
Recruitment/Volunteer Committee Co-Chairs
Minerva Ruiz, MSW '10, IAH Supervisor, SCAN Health Program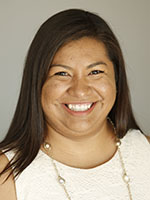 During the six years since she completed her MSW degree, Minerva has been dedicated to providing integrated care management at the SCAN Health Program in Long Beach, California. She currently supervises the Independence at Home program, where she serves as an advocate for the needs of her clients through facilitation of case conference meetings and management and advising of care management staff. Prior to this role, she provided direct care management for clients, including initial psychosocial assessments, linkage to community services and resources, caregiver support, and crisis intervention. Minerva is a regular volunteer for events at USC Suzanne Dworak-Peck School of Social Work, including open houses, welcome to the profession events, and the mentor program. She was previously a member of the Social Work Alumni board and its fundraising committee, where she worked on strategies for fostering alumni engagement and giving back. She is also a member of the Hoarding Task Force of Long Beach.
Maral Karaccusian, MSW '10, District Director, Office of Congressmember Karen Bass (CA-37)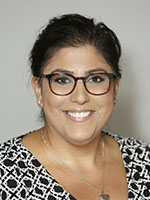 Maral has spent the past several years serving constituents in the Office of Congressmember Karen Bass (CA-37) in progressive roles of increasing responsibility. She is currently district director, where she oversees all district office operations, activities and staff while developing and implementing policy objectives. She represents the Congressmember and meets with elected officials and representatives of local groups, and facilitates town halls and meetings while implementing the goals of Congressmember Bass. Prior to her role as district director, she served as deputy district director and a constituent services representative/caseworker manager. Before she entered the world of politics, Maral worked as a youth advocate at First Place for Youth and a trainer/consultant for American University of Armenia. She is a field instructor and has guest lectured and presented to social work students about her role as district director, and how a Congressional office functions. She is driven to impact change in the community she represents through outreach, fundraising and volunteer recruitment.
Regional Representatives Committee Co-Chairs
Nina Moran, MSW '15, Psychotherapist, Children's Hospital Los Angeles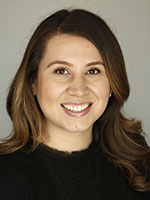 Nina spent seven years dedicated to working at the Ambulatory Clinic of Children's Hospital Los Angeles, an experience which helped pave the way for her current role as a psychotherapist at the hospital, which she assumed after completing her MSW degree in 2015. In this role, she serves as coordinator and primary provider of adolescent and young adult psychosocial support services with the My VOICE Transition Program within the Division of Adolescent and Young Adult Medicine. She provides individual psychotherapy, including intake, assessment, diagnosis and treatment planning, focused on adolescents and young adults with chronic illnesses. Nina has presented to current MSW interns at Children's Hospital Los Angeles about the various ways the Division of Adolescent Medicine and Young Adults uses Medical Social Workers. She has also presented the field of social work as a career for adolescent and young adults through participation in a career day.
Drew Ollero, MPAMW '12, Associate Director of Admissions, Evening & Weekend MBA, UC Berkeley, Haas School of Business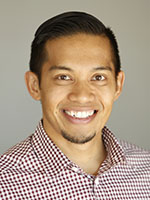 Drew considers himself an "intrapreneur"—you can often find him having a coffee chat with people across departments, or saying "this might be a little out there, but what if...." in meetings. He excels at planning and execution, and enjoys leading teams and getting projects off on the right foot. In his current role at UC Berkeley's Haas School of Business, he works with current and prospective students and alumni to plan and execute strategic initiatives for the Evening & Weekend MBA Program. This includes developing a collaborative/holistic advising framework, new market exploration, and technology/digital marketing integration. He received a SPOT award for planning, analysis and implementation of expanded student services through the development of the holistic advising initiative. His previous roles include business program manager for a small business incubator for underserved students, assistant director of operations for the USC Suzanne Dworak-Peck School of Social Work's online MSW program, and a policy analyst for the City of Pasadena. Drew is also a mentor and coach for youth and peers.
Board of Governors Liaison
Justine Schreyer-Lewin, MSW '13
Staff Liaison
Harmony Frederick, Director of Alumni Relations