A Community's Support Helps Student and Single Mom Earn Her Doctorate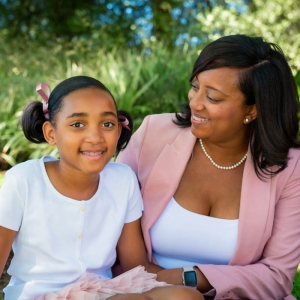 DSW student Dezetta Burnett has drawn strength from her daughter, Amaiya, and others in her community. (USC Photo/Eric Lindberg)
For years, every time Dezetta Burnett drove by USC's University Park Campus, her young daughter would pipe up from the backseat: "Mommy, you should go to school one more time."
Burnett had earned her master's in social work at USC while pregnant with Amaiya, now age 8. But as a single mom working full time, she was wary about the commitment of enrolling in college again.
Still, her daughter persisted, promising she'd help around the house as her mom wrote papers and presentations. Burnett isn't sure why she was so interested in Mom getting another degree. Maybe it's because education and self-improvement are a big emphasis at home.
Burnett finally relented, applying to the new Doctorate of Social Work program at the USC Suzanne Dworak-Peck School of Social Work. True to her word, Amaiya became her biggest cheerleader, helping her study for tests and pressing her to stay positive when working on a tough assignment.
Then something heartwarming happened: Amaiya told her friends that her mom was going back to school, and Burnett's lifelong community of South Los Angeles ­— and beyond — turned into a cheering section.
Now third-graders from her daughter's class ask about her progress. Other parents check in regularly to make sure they haven't missed her graduation. Her mom helps out with babysitting. Her sorority sisters, work colleagues, friends and family send messages urging her on.
"I just got a text this morning: 'How's it going? You're almost at the finish line!'" Burnett said. "To see all these people rally to support my education, it's been amazing and humbling."
It still feels a little surreal that so many children look up to her as an inspiration. But it has started to sink in that she has become a role model for her community, and it's a responsibility she takes very seriously.
"Seeing young girls and boys of color who are interested to know more about academia at such a young age is unreal," she said. "I can't give up, even if I wanted to, because they are looking. They are watching me."
USC student has lifelong bonds to local community
Burnett can relate to many of the kids in her neighborhood near Normandie and Florence avenues. She spent her own childhood in South L.A., not far from where 1992 riots started, and has lived in the area ever since. Looking back now, she recognizes the negative influences that surrounded her as a kid.
But back then, it was no big deal for Burnett to walk past gang members on the way to school. She remembers someone snatching the chain from around her neck as she got on the bus. One evening, her father took her outside to stare wide-eyed at a man lying dead in a nearby alley, a stark warning to stay out of trouble.
"It was a harsh reality," Burnett said.
But she feels lucky in many ways. She grew up with both of her parents. For a time, they were the only family on the block with dial-up internet. When she got kicked out of eighth grade for fighting — "I had to do it to survive," she said — she ended up at Westchester High School, now a magnet school for the sciences.
It helped her refocus on her education, and she redoubled her efforts when her grandmother had a stroke. She wanted to be sure her family saw her finish high school and college.
Inspired to help others, L.A. native pursues social work career
Burnett graduated a year early and enrolled at California State University, Northridge. She was among the first people in her family to go to college, second only to her adopted brother. Over time, she felt a call to give back to her South L.A. community. But how?
Her father had always encouraged her to consider becoming a teacher or social worker, recounting how as a kid she regularly brought home friends who needed a meal or cared for sick or wounded animals.
Burnett never saw herself in that role, and even resisted it. But in the months after her dad died — not long after she graduated with a degree in sociology — she kept returning to his advice.
"Now I know it's where I'm meant to be," she said.
Burnett applied and was accepted to the master's program in social work at USC. She wanted to understand the complex factors at play in her community, from strengths like its tight-knit social network to troubling aspects like violence and poverty.
Dorian Traube, an associate professor at the social work school, remembers her as a diligent and inquisitive student who never missed a class. She also recalled how Burnett tended to sit in the middle of the classroom, as if she wanted to absorb all the ideas and perspectives that her classmates shared.
"Dezetta is somebody with a really strong moral compass, and she came into social work for all the right reasons," Traube said. "She has that internal fire and a really great quality of having intense lived experience and being able to channel it in a very positive way to generate change."
At daughter's urging, single mom returns to USC for doctorate in social work
While pursuing her master's, Burnett became pregnant with Amaiya. After graduating and giving birth to her daughter, she became a single mom and struggled to find work — even spending a humbling month on public assistance. She battled with depression until a childhood friend and fellow USC grad posted on Facebook about a job in a family preservation agency. She interviewed and got the position, which involved assessing and providing recommendations to parents to help them keep custody of their children.
Burnett later went into the private industry, working in therapy and substance abuse treatment. She rose through the ranks to become the director of quality assurance and clinical supervisor at an addiction treatment facility in Bel Air.
As Amaiya got older, she began bugging Burnett to think about going back to school. After three years of dogged encouragement from her daughter, she decided to give it a shot.
"I told her, 'If you can support me, I'll do it. But you have to know it's going to take lots of time and energy,'" Burnett said. "When I was accepted, she was so happy."
USC student plans to advocate for people of South L.A.
Burnett also liked the idea that her new doctorate could help her identify how she might improve her community.
To that end, she is focusing her capstone project on older adults and the kind of support they'll likely need by 2030. She is particularly worried about older people of color, especially because they are more likely to lack access to healthy and affordable food.
After graduating, she plans to champion the needs of vulnerable groups in South L.A. She might even run for local office to advocate for her neighbors, she said.
For now, Burnett is on track to finish her degree this winter and plans to walk in the university's commencement ceremony next spring. And Amaiya is already dreaming about throwing a party to celebrate Mom's big accomplishment. She's planning to invite all the friends and supporters who helped make it happen.
"She's so excited," Burnett said. "It's all she talks about."
To reference the work of our faculty online, we ask that you directly quote their work where possible and attribute it to "FACULTY NAME, a professor in the USC Suzanne Dworak-Peck School of Social Work" (LINK: https://dworakpeck.usc.edu)