Alumni Nominated for KCET 2019 Local Heroes Award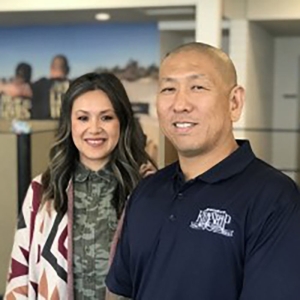 Two decades ago, Steve Kim, MSW '06, turned his life around. Thanks to the intervention of people who helped him envision a life beyond what he calls the worst mistakes of his life, he's been paying it forward ever since.
In 2014, he and fellow alum Mary Vu Iammarino, MSW '05, co-founded Project Kinship, a nonprofit based in Orange County that works to reintegrate former gang members and the incarcerated back into their local communities. Their work has now earned them a place among the 14 nominees for the 2019 KCET Local Heroes Award.
"What we really do is work with the most vulnerable and high-risk youth and adults in the county," Kim said.
Walking the Talk
The award nomination by Jason Lacsamana of St. Joseph Health comes after a period of fast growth for Project Kinship. A California Endowment seed grant to do a landscape analysis of Orange County's re-entry population brought Kim and Iammarino together in 2014.
Both had worked together at Orange County's Department of Education after earning their master's degrees. The opportunity was perfect for them: a way to tap into their individual experiences working with traumatized and abandoned youth, as well as their passion to help heal those impacted by violence and abuse.
Pilot projects grew into full-blown social programs. Religious, county and state grant money began to flow in for projects such as their Community Intervention Worker Certificate Program, done in partnership with the USC Suzanne Dworak-Peck School of Social Work. That program aimed to train community members about violence prevention and intervention. A new program for  schools started after that. They soon outgrew the small apartment-sized office space they rented and also needed to hire staff.
Today, Project Kinship has 40 additional staff members working out of an 8,000 square-foot space. A focus on hiring the formerly incarcerated allows the organization to "walk the talk" when it comes to creating opportunities for re-entry. Kim points to the fact that 70 percent of their staff are formerly incarcerated. The hiring practice also helps create stronger community networks, which  assists their clients in developing  coping skills that lead to meaningful and productive lives.
"We envision a world where hope lives and the cycle of despair ends," Kim said.
Upending the Orange County Cliche
Both founders hope that the award nomination will shine a light on the larger landscape of criminal justice reform and the things we can do to ease re-entry. It starts with getting to know and understand the people in Orange County who are trying to turn their lives around after incarceration.
"There's this cliché of Orange County as wealthy, white and conservative. But we have urban centers, gang violence, trauma, just like other areas," Iammarino said. "We want to show everyone what a true reentry face looks like in Orange County. It's different than everyone thinks."
When the landscape analysis she and Kim did showed the breadth of the re-entry population in Orange County, both drew inspiration from the reentry and gang intervention programs created by Father Gregory Boyle through Homeboy Industries in Los Angeles. With this successful model as a base, they set out to create their programs to bring hope and kinship to people seeking to return from the margins of society. 
Key to their success is a willingness to see their clients as fellow humans in need of healing, not as patients in need of fixing. "We follow the heartbeat of Father Greg," Iammarino said. "There is no us and them, only us."
To reference the work of our faculty online, we ask that you directly quote their work where possible and attribute it to "FACULTY NAME, a professor in the USC Suzanne Dworak-Peck School of Social Work" (LINK: https://dworakpeck.usc.edu)