Curriculum
New and emerging challenges in the 21st century demand a different kind of social worker. 

The USC Suzanne Dworak-Peck School of Social Work curriculum is designed to produce highly-skilled social workers that are fully prepared to find solutions that will address the pressing issues of today... and be proactive in problem-solving for tomorrow. Students need to feel confident when they graduate that they have the knowledge, skills and vision necessary to embark on successful social work careers.

Our courses and training incorporate evidence-based and evidence-informed research and practices, including new findings in future-forward areas such as artificial intelligence and neuroscience that are pushing the envelope in prevention and intervention and providing more interdisciplinary opportunities for social workers. 
Our MSW Curriculum
Our MSW program is created for people like you, who can't wait to change the world.
We have streamlined courses and made our program more customizable so you can focus on your interests.
On-campus, hybrid and online options mean that you can earn your degree with a schedule that makes sense for you. 
Our partnerships with major organizations in LA mean that you can get invaluable real-world experience that often leads to job placements after graduation.
Be a part of the next generation of change-makers. It all starts here.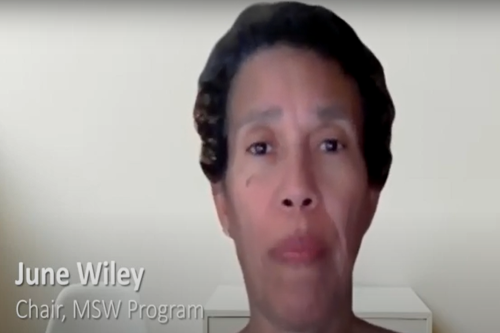 Integrative Social Work Curriculum
June Wiley, associate teaching professor, provides comprehensive details on the new curriculum beginning in fall 2022. 
Track Options
MSW students also have the option to pursue specialized training along one of the following tracks based on client populations, settings or systems: