Social Work is Advancing Addiction Science Research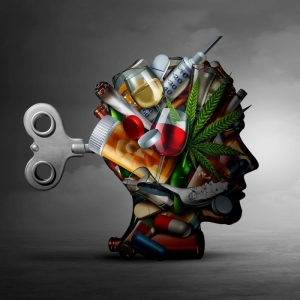 Tens of thousands of Americans die from drug use and addiction every year, with overdoses killing over 63,000 people in America in 2016, according to the National Institute on Drug Abuse. Add in deaths linked to alcohol overuse and tobacco, and the number climbs above half a million Americans.
The collective work of several researchers at the USC Suzanne Dworak-Peck School of Social Work, in collaboration with other USC faculty and outside organizations, is advancing knowledge of substance use disorders. Social work has become a hub where researchers and practitioners drive understanding and improve treatment for this disease that impacts millions of families each year.
"Either as a cause or consequence, addiction relates to every problem we deal with in social work," said John Clapp, professor and associate dean for research and faculty development at the USC Suzanne Dworak-Peck School of Social Work.
Addiction's complexity
The social work field is uniquely poised to help effect change because of its holistic approach to individual well-being and the public good. According to Clapp, substance use disorder problems are inherently ecological, impacting and being impacted by individuals, families, peers, neighborhoods, communities and public policy in complex and dynamic ways. Untangling those causes and effects and interdependencies is one part of the solution. The other part is understanding that simple solutions may stay out of reach.
"We will not find a one-size-fits-all answer," said Clapp. Looking at addiction as a genetic, psychological or sociological issue only shows one piece of the overall cause. A comprehensive approach is essential, he said, especially when statistics from the National Institute on Alcohol Abuse and Alcoholism (NIAAA) show alcohol use disorders alone as the third leading cause of preventable death in the world.
A hub for addiction science
The need for a transdisciplinary response to this worldwide crisis was behind the 2018 creation of the USC Institute on Addiction Science (IAS), a joint venture between social work and the Keck School of Medicine of USC, with membership from 10 different schools, colleges and hospitals. Its vision is to strengthen the discipline of addiction science and improve the lives of those touched by the disease. Clapp is co-director of the institute and one of its founding architects.
IAS is quickly becoming the foremost place for a broad effort focused on addiction that brings together researchers from the fields of public health, social work, law, public policy, mathematicians, computer engineers and others in recognition of the promise of new approaches to longstanding problems.
The USC Suzanne Dworak-Peck School of Social Work has eight faculty making substantial contributions to the prevention of addiction-related disorders as members of the IAS:  Professor Avalardo Valdez, associate professors Julie Cederbaum and Alice Cepeda, and assistant professors Jordan Davis, Shannon Dunn, Jungeun Olivia Lee, Danielle Madden, and Hans Oh.
"Social work brings one of the broadest perspectives on the underpinnings and solutions to the addiction crisis," said Adam Leventhal, director of IAS and professor of preventive medicine and psychology at Keck. "By approaching addiction as a health condition and a social justice issue, social work brings to the table the opportunity for high-impact, multi-modal intervention and social policy approaches, which are needed to address the addition epidemic."
A holistic approach
Social work faculty are raising the bar in addiction science research, developing new and novel approaches to improving outcomes for those affected by addiction. In a study recently published in Addiction, a multidisciplinary team lead by Davis and Clapp found gender differences in the risk factors for relapse following treatment for opioid use disorder. The study was the first in this field to use machine learning techniques to process large data sets and identify risk factors for relapse, said Davis, who also serves as associate director of the USC Center for Artificial Intelligence in Society (CAIS). The findings may result in more personalized treatment for opioid use disorder with lasting results.
This dovetails with additional research Davis is conducting with computer science engineers at CAIS to collect and input neighborhood and census data into their models in an effort to better understand how these macro variables affect relapse. "We are finding that data points such as crime statistics, population density and concentrated poverty tend to be some of the most important predictors of relapse, over and above individual-level predictors such as impulsivity, motivation or gender," Davis said.
These findings echo Clapp's description of addiction as ecological and point to the need for holistic solutions. "These machine learning techniques are helping us gain an apparent picture of what the most important factors are surrounding someone's recovery," Davis said. "Environment matters greatly."
Davis is also collaborating closely with Eric Pedersen, associate professor at Keck School of Medicine at USC, on several research efforts examining substance use among veterans. Most recently, they have assembled a survey group of approximately 1,200 veterans whom they survey quarterly about their well-being. A recently conducted survey of the group found that veterans with PTSD prior to the COVID-19 pandemic were now managing their symptoms with more frequent alcohol and cannabis use. Another joint research endeavor between the two is examining the use of mindfulness smart phone apps to help reduce substance use in Operation Enduring Freedom/Operation Iraqi Freedom veterans with PTSD and alcohol use disorder.
Where well-being and inequalities intersect
Jungeun Olivia Lee also seeks to decode the network of relationships between socioeconomic status, adverse childhood experiences and drug use. Her experience as a social work practitioner working directly with clients drives her motivation to demonstrate to policymakers what she sees as a linkage between unemployment, economic stress and substance use disorders. She is lead author on a paper published in Nicotine & Tobacco Research that found unemployment may advance nicotine addiction among young adults, rather than the idea that nicotine addiction may lead to unemployment.
Lee's research interests lie at the intersection of substance use and co-occurring mental health, social inequalities (such as poverty and low socioeconomic status), and adverse childhood experiences. She is interested in combining these three areas of inquiry to explore their influence on addictive behavior that can persist over generations of at-risk families, such as adolescent mothers and their children.
Her memories of working directly with clients struggling with the impact of addiction remain clear in her mind. When Lee hears policymakers and others suggest that individual willpower will solve substance use disorder problems, she has a straightforward response: "People are not born with addiction." In her view, many factors contribute to the triggered distress, including socioeconomic status and adverse childhood experiences.
Lee is exploring an idea with other IAS researchers to investigate the relationship between financial strain and employment uncertainty and addiction. "Individual circumstances, such as losing a job, certainly influence substance use, but policy-level decisions, such as the generosity of unemployment insurance, can mitigate the impact," she said.
Transdisciplinary collaboration with social scientists, psychologists and medical researchers at IAS and across the USC campus enriches and amplifies her work. "We are breaking down discipline-specific silos and bringing new and valuable perspectives to this work," she said. "The synergy is both useful and inspiring."
Looking ahead
Researchers also hope to spark interest in the field among the next generation. A new minor for undergraduate students in addiction science was introduced at USC in Fall 2020. The minor is an interdisciplinary collaboration of the Keck School of Medicine, the USC Suzanne Dworak-Peck School of Social Work, the USC School of Pharmacy and the USC Dornsife College of Letters, Arts, and Sciences. It is designed to provide students with a transdisciplinary approach to understanding and treatment of the broad spectrum of addiction-related problems.
The goal of addiction science research and education is to improve the long-term effect of addiction treatment and save lives. As society's understanding of the cause of addiction grows, researchers like those in the school of social work and the IAS strive to bridge the gap between science, practice and policy to positively impact outcomes for those affected by addiction.
To reference the work of our faculty online, we ask that you directly quote their work where possible and attribute it to "FACULTY NAME, a professor in the USC Suzanne Dworak-Peck School of Social Work" (LINK: https://dworakpeck.usc.edu)