COVID-19 Pandemic Increasing Substance Use Among Veterans with PTSD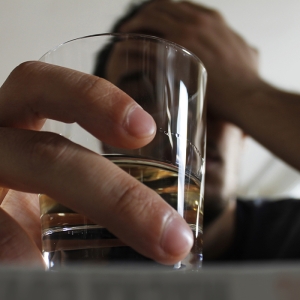 Nine months into the pandemic, everyone has been affected by COVID-19 in some way. However, one group that needs special attention and support is U.S. veterans who were already struggling with symptoms of posttraumatic stress disorder (PTSD).
A recently conducted survey by Jordan Davis, assistant professor at the USC Suzanne Dworak-Peck School of Social Work, and Eric Pedersen, associate professor at Keck School of Medicine of USC, found evidence that veterans with PTSD prior to the pandemic were now managing their symptoms with more frequent alcohol and cannabis use.
"The pandemic has not been easy on folks, especially for those that have PTSD or an alcohol use disorder (AUD)," said Davis, who also is associate director of the USC Center for Artificial Intelligence in Society (CAIS). "Some of the stories I've heard [from study participants] have been heart-wrenching."
An extraordinary resource of veterans not affiliated with VA services
Davis and Pedersen lead several efforts examining substance use among veterans. They have assembled a survey group of about 1,200 military veterans, a percentage of whom struggle with PTSD symptoms but have not yet sought professional help via the Department of Veterans Affairs (VA) to improve their wellbeing.
"We've decided to focus on the population of veterans who, for one reason or another, say they don't need mental health care," Davis said. Attitudes about care, transportation barriers or perceived stigma from others may deter them from seeking care for PTSD symptoms, and some self-medicate with alcohol, cannabis, cigarettes, or more rarely, methamphetamine or cocaine. Davis cited larger studies 1,2 that found only about half of the veterans who need some sort of mental health care receive it.
Many studies of veterans recruit subjects from the VA who are likely already receiving care. The unique sample group that Davis and Pedersen have created may offer fresh insights into how to motivate these veterans outside the VA system to seek care and how best to deliver it.
Tracking pandemic effects on mental health
It all began with a one-time survey of young adult veterans to measure drinking habits and willingness to seek help. Pedersen and others had developed a brief intervention that had yielded some success reducing drinking in the short-term, but he knew that sustaining those reductions would be difficult unless the veterans agreed to more formal care. The one-off survey, conducted in February 2020, would set a baseline that could be used to inform the brief intervention content.
Then COVID-19 cases began multiplying. Affected cities and states began to impose restrictions on public gatherings and more. Pedersen and Davis soon obtained additional funding from the Keck School of Medicine of USC COVID-19 Funding Program and the National Institute of Alcohol and Abuse to follow up with their sample group and see how these veterans were coping with the unprecedented health crisis.
"The result is that we can follow up with these veterans from a pre-COVID-19 time period for the next several years, tracking their depression, anxiety and PTSD symptoms and substance use," Pedersen said. The researchers aim to understand how the veterans are  sleeping, what their stress levels are like, and how things have changed as the pandemic wears on. They hope to gain new insights about what motivates some to seek care and how that can be replicated.
So far, the results point to some unfortunate, but not unexpected, news.
"We're finding that those veterans who were struggling with PTSD prior to the pandemic are actually doing worse in terms of their substance use behaviors, drinking and cannabis use, as well as their stressful reactions to the pandemic," Pedersen said.
Pedersen and Davis will continue to follow up with these veterans through at least February 2022, surveying them every three months to see how they are progressing. In addition to the survey, they also conduct in-depth qualitative interviews with a subset of the group to enrich their understanding of what their lives are like now and how things have changed for them. The interviews last about an hour, sometimes more.
"We talk about the positive and negative things that have happened and what their expectations are for the future," Davis said. The details are confidential, of course, but it is clear that the pandemic has upended people's lives and livelihoods across the United States. The toll on those who were already experiencing mental health issues and addiction has been heavy, but Davis and Pedersen are hopeful that their insights and findings will lead to better treatment and outreach in the future.   
Reducing barriers to care
One bright spot over the past nine months has been the quick embrace of telehealth. The VA was already leading the way to telehealth as a way to improve access to its services, and following the stay-at-home orders of the pandemic, telehealth has grown in acceptance and use. Now, online counseling sessions, Alcoholics Anonymous meetings and medical visits are commonplace. Pedersen and Davis don't see that changing even when face-to-face gatherings become the norm once again.
It has been a promising start to the research, and Pedersen and Davis are even more excited about what the future may hold. They plan on submitting for more grants to continue to track the mental health and substance use of this group of hundreds of veterans with the goal of understanding what factors lead individuals to seek care. Down the road, they hope to use this longitudinal data to help identify profiles of people more or less likely to seek care. "Then we can tailor interventions to increase their willingness to seek care for a problem like a substance use disorder or PTSD," Davis said.
Recognizing patterns in substance use and when to seek care is very important in helping that part of the veteran population that is trying to deal with symptoms of depression, anxiety, PTSD or substance abuse on their own.
"We know that things are bad now and we can expect that there will be lingering effects for years to come," said Pedersen. "What we hope is that these findings and our future work will help the VA and others create more effective programs and outreach to address the unique needs of veterans."
 
---
1 Veterans Health Administration Office of Patient Care Services, Analysis of VA Health Care Utilization Among Operation Enduring Freedom, Operation Iraqi Freedom, and Operation New Dawn Veterans. Washington, DC: U.S. Department of Veterans Affairs, 2017. www.publichealth.va.gov/epidemiology/reports/oefoifond/health-care-utilization/.
2
 Tanielian, Terri and Lisa H. Jaycox, eds., Invisible Wounds of War: Psychological and Cognitive Injuries, Their Consequences, and Services to Assist Recovery. Santa Monica, CA: RAND Corporation, 2008.
www.rand.org/pubs/monographs/MG720.html
.
To reference the work of our faculty online, we ask that you directly quote their work where possible and attribute it to "FACULTY NAME, a professor in the USC Suzanne Dworak-Peck School of Social Work" (LINK: https://dworakpeck.usc.edu)