Dual Degree Students
To enroll in a dual degree program, you must apply and be admitted to both professional schools. We strongly recommend that you apply to both schools at the same time, even though the application processes are completely separate and may have different timelines and requirements. It is important that you contact the other professional school to which you are applying to find out its deadlines and requirements. In the event you are admitted to only one of the two schools, you may choose to enter the admitting school in the standard program. Virtual Academic Center applicants are not eligible for any of the dual degree programs.
Toggle

Dual Degree FAQ
Can online MSW students pursue a dual degree?
Unfortunately, the dual degree option is not available to online MSW students.
Can I apply for a dual degree if I have already begun the MSW program?
We highly encourage all students to apply for both programs simultaneously. However, the MSW/MPA, MSW/MPH, MSW/MPL and the MSW/MSG programs will allow students to apply within their first year of the MSW program due to how the curriculum is structured. The MSW/MBA, MSW/JD and MSW/MAJNM programs do NOT allow students to begin the MSW program prior to applying, as the MSW courses do not come first in the curriculum structure (there is no flexibility regarding this).
Will I qualify for MSW scholarships while in the dual degree program?
Yes, all dual degree students are eligible to apply for MSW scholarships at the time of application. Please be advised that if awarded an MSW scholarship, the funds will not be applied to your account until you are enrolled in MSW courses, i.e., students in the MSW/MBA program will not receive MSW scholarship funds until the second year of their program. For more information regarding MSW scholarships, please contact mswscholarships@usc.edu.
Are dual degree students required to complete a practicum internship? If so, how many hours?
Yes, all dual degree students must complete 1,000 practicum hours as a requirement of the MSW degree.
In this webinar, Admissions Counselor Yessenia Carranza explores the eight dual degree programs and application tips and two current MSW dual degree students share their experiences and answer questions. 
Application Process
You must complete all six components listed in our application process, in addition to the following special instructions:
Online Graduate Admission Application: You must create and submit two online applications to USC (one for each school). Dual degree program applicants must pay for their first application and are exempt from paying for the second application as long as the programs they are applying for are valid dual degrees listed on the university's website. To request an application fee waiver, contact the USC Office of Graduate Admission.

MSW/MPH Applicants: Applicants for the MSW/MPH program will need to submit two applications on separate portals. The MSW program application is accessible through the USC CAS Application and the MPH program application is accessible through SOPHAS.

Transcript(s): You do not need to submit academic records directly to the USC Suzanne Dworak-Peck School of Social Work; we have access to the documents you send to the USC Graduate Admission Office. If the other school to which you are applying also does not require academic records to be sent directly, then you will only need to send one set of transcripts to USC. All MSW/JD applicants will be required to send in two sets of transcripts -- one to the university for the MSW program and one directly to the law school.
Letters of Recommendation: All dual degree applicants must submit separate letters of recommendation to each program. Per university policy, professional schools are not allowed to share letters of recommendation. However, students applying to the MSW/PhD program will only need to submit one set of letters of recommendation to the USC Suzanne Dworak-Peck School of Social Work.
Please refer to the dual degrees page for curriculum plans and contact information for each dual degree program.
Deadline: Dual degree applications for fall 2022 must apply to the MSW program by Monday, December 6, 2021.
We invite you to contact our admissions manager if you have any questions about the dual degree programs.
Ron Rubalcaba
Assistant Director of Admissions
ronnieru@usc.edu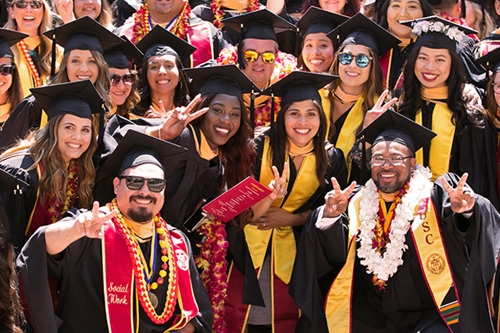 Please reach out to our admissions team with any additional questions about MSW dual degree programs.