How To Apply
MSW Application Process for Domestic Students
International Student Information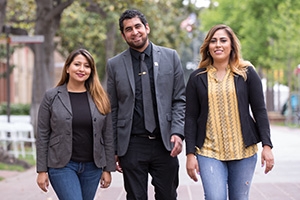 Applications for Spring and Fall 2024 now open! 
Toggle

Admission Requirements
Academic Requirements for All MSW Programs:
Bachelor's degree from a regionally accredited college or university.
Minimum cumulative GPA of 3.0 (Based out of a 4.0 grading scale)
Minimum of 18 units of liberal arts coursework, such as coursework from humanities (E.g. Anthropology, communication studies, cultural studies), social sciences (E.g. Sociology, psychology, political science), biological sciences (E.g. Biology, zoology, ecology), and natural sciences (E.g. Astronomy, physics, chemistry).
Note: GRE scores are not required or evaluated.

Additional Requirements for All MSW Programs:
Dedication to the Profession: Potential for professional competence, strong interest and motivation, and commitment to social work values such as the appreciation for cultural and ethnic diversity; belief in the dignity and freedom of every individual; promotion of social justice and equal access to resources; and institutional responsiveness to human needs and social change.
Personal Qualifications: Professionalism, sensitivity and responsiveness in relationships, capacity for self-awareness, concern for the needs of others, the ability for abstract reasoning, conceptual thinking, and strong communication skills.
Experience: Providing service to people preferred (1-2 years of social work-related or volunteer experience).

Special Requirements for Advanced Standing MSW Candidates:
Bachelor's degree in social work or social welfare from a Council on Social Work Education (CSWE)-accredited school of social work.
BSW degree earned within the past 5 years.
Cumulative undergraduate GPA of 3.0 or higher.
Minimum GPA of 3.0 in all social work courses.
Timeline
Your application is considered complete once all application materials have been processed, including transcripts and letters of recommendation. Completed applications will be reviewed and notifications will be made according to the deadlines below. To check the status of your application, please contact the Office of Recruitment and Workforce Development. *Please note some applicants may be asked to complete a short virtual interview or phone call if needed for clarification purposes.
Deadlines
Please note that applications, including all supplemental documents, must be completed by the listed deadline.
Traditional (4 Semesters) & Part Time Program (7 Semester)
Program Start: Spring 2024
 Deadline: Wednesday, November 1, 2023
Traditional (4 Semesters) & Part Time Program (7 Semester)
Program Start: Fall 2024
Priority Deadline: Monday, January 8, 2024
Decision notification: Friday, March 29, 2024
Main Deadline: Monday, April 1, 2024
Decision notification: Monday, June 3, 2024
Late Deadline: Monday, June 3, 2024
 
International Students
Program Start: Fall 2024
Application Deadline: Monday, January 8, 2024
Decision Notification: No Later than April 1, 2024