$3.25 Million Grant Helps MSW Students from Underserved Communities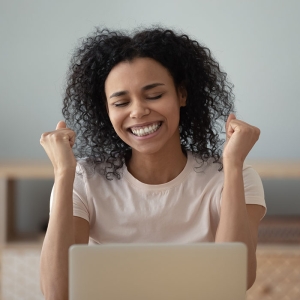 A few months ago, LaRaine Koen faced a tough decision. Financial worries, made worse by the COVID-19 pandemic, made it seem like her only option was to postpone the final year of her Master of Social Work (MSW) degree she was earning online through the USC Suzanne Dworak-Peck School of Social Work's Virtual Academic Center (VAC).
The Sacramento resident knew she ran the risk of not coming back if she took a break from her studies. It had happened to other students. A semester off could become a year off, two years off, and so on, depending on what trajectory her life took. She hated to hit pause, but it seemed like the only option. As an emancipated foster youth, she did not have a deep support network to fall back on.
Then everything changed. Koen learned she was one of 22 students selected for a $30,000 scholarship through the school's new Primary Care Project to support her during her final-year internship at a counseling center.
"I was so relieved I cried," Koen said. The funds meant she could stay in school and graduate on time this spring. "I couldn't be more grateful or excited," she said.
A lifeline for students with limited resources
Available to all campus-based and VAC MSW students, the five-year Primary Care Project will help MSW students from disadvantaged backgrounds fulfill their training in integrated behavioral health services within a primary care setting as part of their final MSW internship. Each year, 22 students will receive a $30,000 scholarship.
The program launched in July 2020, thanks to a $3.25 million award from the U.S. Department of Health and Human Services, Health Resources and Services Administration FY20 Scholarships for Disadvantaged Students program.
"The increased need for competent social workers to work in primary care settings in California is acute, particularly in historically underserved communities," said Suh Chen Hsiao, clinical associate professor and co-principal investigator. According to Hsiao, the goal is to form academic-practice partnerships, which are formal and strategic relationships between educational and clinical practice settings established to advance future behavioral health practitioners as well as to promote good health outcomes and decrease health disparities impacted by various social determinants.
"This scholarship is one way to create opportunities for students to pursue practice in their communities without the worry of unmanageable student loan debt," Hsiao said.
With the national health pandemic curtailing some financial assistance programs, the Primary Care Project is a lifeline for students with limited resources. Part of the USC Suzanne Dworak-Peck School of Social Work's Workforce Development and Stipend/Scholarship Programs team headed by Clinical Professor Omar Lopez, the program is one of several that offers students financial incentives to specialize in an area of practice with a high need for qualified social workers. Students benefit from specialized curricula and field placements that match their interests and career goals. 
The Primary Care Project's goal is to train 110 MSW students from 2020 to 2025 to provide integrated and interprofessional behavioral health services in primary care settings for vulnerable populations. In addition to the scholarships awarded to students, the school will  commit $10,010 of cost sharing annually.
Attracting more students to primary care practice
The grant was awarded on July 1, 2020, and by August 18 all 22 students were identified for the Primary Care Project's first year. The school was able to move so quickly because it already attracts a broad and diverse student body. For example, in 2018-19, 70% of students identified as first-generation college students and between 61-75% of enrolled students were from underrepresented minority groups and/or considered economically, environmentally or educationally disadvantaged by federal government definitions.
While having a lot of students who meet the profile undoubtedly helped secure the grant, faculty and staff are most excited about the potential to do even more recruitment of students from disadvantaged backgrounds. Simply put, programs like the Primary Care Project attract, retain and help employ students who may otherwise hold back from pursuing graduate studies for financial reasons. Not only will the scholarship ease their financial burdens, but it will also spur interest to work in primary care settings.
"If the question is how can we build better health care in areas that don't have it, one answer is by building up the workforce," said Tory Cox, clinical associate professor and co-principal investigator. "We know that individuals are more likely to accept care from someone who is a little more like them in language, in background, or ethnicity. We have to encourage people to get the training they need to succeed in these jobs."
The Primary Care Project will also make a real difference in the places where students live and work. Jenebah Lewis, clinical assistant professor and co-investigator for the grant, knows about this firsthand. She has lived and worked in "healthcare deserts" where access to clinics and to services is very limited, and sees these scholarships as a way for students to help promote well-being and increase local, high-quality care.
"The Primary Care Project scholars have a real opportunity to help transform the delivery of services and contribute to the improvement of health outcomes in these communities," Lewis said.
In addition, Hsiao said that the school's community partners, typically field agencies, wholeheartedly supported the grant submission. "In the next five years, they will continue to be our key stakeholders providing interprofessional, integrated behavioral training to our students in various primary care settings," she said. 
Toward holistic patient and client care
Voices and perspectives of social workers can be critical during physical health check-ups, drawing in mental health issues that allow for a more holistic treatment of clients. For Primary Care Project scholarship recipient and MSW student Stephanie Munoz, removing the stigma of mental health care is key, especially for historically underserved Black and Latino communities. 
Several years ago in a neuroscience class, Munoz remembers learning about epigenetics, or the study of how people's experience and environment affect the expression of their genes. The idea that stress can be passed from mothers to infants struck a deep chord with her.
Growing up just ten minutes' drive from USC, Munoz understands the challenges that many people, particularly mothers, in the Latino and Black communities face when trying to access high-quality health care — both physical and mental.
"I want to find a way that we as mental health practitioners can collaborate with them to build more resilient families," Munoz said.
A work of heart
The successful grant application would not have been possible without a broad team of faculty and staff who spent many hours and many web conference calls pulling together the data and program description needed.
The Primary Care Project is managed by the school's Workforce Development Stipend/Scholarship Team in collaboration with Co-PIs Cox and Hsiao, who also serve as associate directors of field education for the school. They are joined by Co-Investigators Ruth Supranovich, director of field education; Omar Lopez, clinical professor; Jenebah Lewis, clinical assistant professor; and Melissa Singh, clinical associate professor.
Also instrumental in the development and implementation of the grant are Necole Yaacoub, director of admissions; Charles Kaplan, interim associate dean of research; and Workforce Development Stipend/Scholarship Programs staff Melissa Woolley, Ja'Quay Callahan and Keisha Lee, as well as the administrative team of Carolina Peralta-Ventura and Rebin Azad Zangana.
Cox described the development of the Primary Care Project as a "work of heart" for the faculty and staff striving to make it reality.
"We all had a sense of connection to it," Cox said. "Most of us needed scholarships to be successful in school; several of us came from underserved or disadvantaged backgrounds."
Singh agreed. "As a first-generation student who benefited from scholarships and a faculty member trying to help others along this path, I wanted to go the extra mile for the school to obtain this national grant," she said.
Moving forward, Singh hopes to help ensure that each aspect of the program — from the application process to trainings and orientation — is inclusive of the school's diverse MSW student population. That can mean scheduling training sessions with a sensitivity to the different time zones where students may reside, providing encouragement and being available to answer questions as they go through the program. "We're here to help," she said.
For Koen, the scholarship was just the impetus to keep her aiming toward her goal of helping others. "You fight so hard to be successful, but sometimes things keep knocking you back. Without this grant, I wouldn't have been able to be in school now," she said.
Cox, Hsaio and the Primary Care Project team could not have imagined a better outcome.
To reference the work of our faculty online, we ask that you directly quote their work where possible and attribute it to "FACULTY NAME, a professor in the USC Suzanne Dworak-Peck School of Social Work" (LINK: https://dworakpeck.usc.edu)