100X100 Scholarship Initiative
A social work education touches many lives beyond those of our MSW students. Whether they are applying their classroom education in their field internships or conducting research to develop society's next big social innovation, our students give back to others every day. Our master's students counsel children in schools, help veterans navigate resources, lobby for policy change and even create visionary solutions to society's most pressing issues.
Social Work Touches All of Us.
At some point in our lives, we will have a direct or indirect interaction with a social worker. Whether we are coordinating health services for an aging parent, signing a petition to advocate for a cause we are passionate about, or meeting with our child's school guidance counselor. Social workers play a vital role in helping the people and communities we care about thrive and live resiliently.
Quote
Developing a skilled workforce of social workers is critical and it all starts with education.
What they do is crucial. And so is your support.
The majority of our students need financial assistance to make their educational dreams a reality. More than 90% of our MSW students need financial aid and/or scholarships to earn their degrees. As we approach our centennial year, help us provide 100 impactful scholarships to these deserving students to help relieve their burden of debt.
Give Today - Multiply social good!
The impact our MSW students make goes beyond the classroom.
Our MSW students provided 1.2 million service hours at their field internships in 2018, which is equivalent to more than $34 million in community impact. Our students work with a variety of clients across different settings. From school children to homeless individuals in transition, supporting scholarships for social work students pays it forward in more ways than many people realize.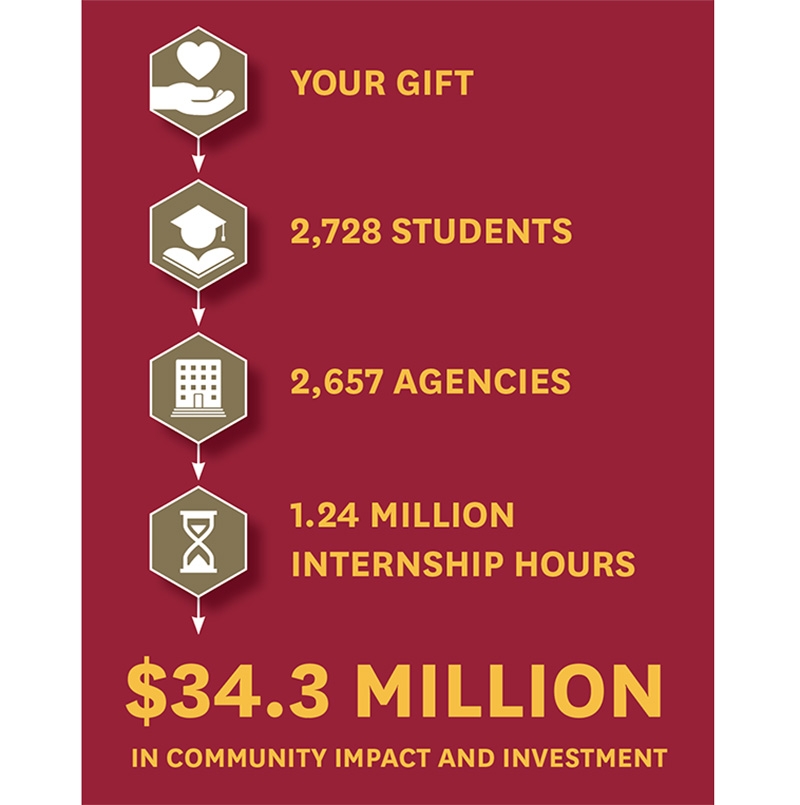 Did you know?
Social workers play a vital role in helping individuals and communities navigate a myriad of complex issues and obstacles to help them live happier and healthier lives. Every day, social workers help people of all ages and backgrounds and provide a variety of services, including:

Toggle

Learn how social workers help society by clicking here
Mental health services for children, youth, adults, and their families.
Transitional services for veterans.
Group therapy for individuals overcoming problems such as substance use addiction, crises, trauma.
Transitional housing, health, and mental health resource allocation and services for the homeless.
Counseling for individuals and communities affected by mass shootings and natural disasters.
Treatment planning and care coordination for people living with chronic health conditions and physical limitations.
Adoption and foster care services for children and youth.
Care coordination and resource identification for aging adults and those living with Alzheimer's Disease and Dementia and the people who are caring for them.
Advocacy and policy reform.
Support services for recently immigrated individuals and families.
Support for victims of sexual assault and human trafficking.
Reintegration support and transitional services for formerly incarcerated individuals.
Corporate social responsibility program execution for public and private organizations.
Society needs help. We are preparing an educated workforce to help tackle the greatest challenges of our time.