Applying to USC
MSW Program at the USC Suzanne Dworak-Peck School of Social Work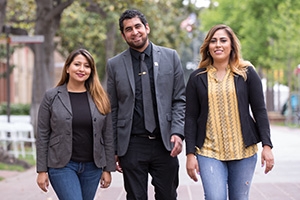 Apply Now

For fall 2019 enrollment, the application will be available on September 15, 2018. The priority deadline is November 16, 2018.
Academic Requirements
Bachelor's Degree: The USC Suzanne Dworak-Peck School of Social Work requires a bachelor's degree from a regionally accredited college or university.
Prospective students must have a minimum cumulative undergraduate GPA of 3.0 (based on a 4.0 grading scale) to enroll in a full-time program. Prospective students with a cumulative undergraduate GPA below a 2.7 will not be considered. 
The GRE is not required.
Required Coursework: The USC Suzanne Dworak-Peck School of Social Work requires a minimum of 18 units of liberal arts coursework.
This coursework may include courses from various disciplines such as:

Humanities (ex. anthropology, communication studies, cultural studies, history, etc.)
Social sciences (sociology, psychology, political science, economics, etc.)
Behavioral sciences (psychology, genetics, etc.)
Biological sciences (biology, zoology, ecology, etc.),
Natural sciences (astronomy, biology, physics, chemistry, etc.).
Toggle

Additional Requirements
Dedication to the Profession: Potential for professional competence, strong interest and motivation, and commitment to social work values such as the appreciation for cultural and ethnic diversity; belief in the dignity and freedom of every individual; promotion of social justice and equal access to resources; and institutional responsiveness to human needs and social change.
Personal Qualifications: Professionalism, sensitivity and responsiveness in relationships, capacity for self-awareness, concern for the needs of others, ability for abstract reasoning, conceptual thinking, and strong communication skills.
Experience: Providing service to people preferred (1-2 years of social work-related or volunteer experience).
The following components are required for an MSW application to be considered complete:
Toggle

1. Graduate Admission Application
USC Graduate Admission Office has developed a single online application system that allows you to login and complete university and social work required sections.
Application: To start your-on-campus application for the MSW Program, click here: Graduate Admission Application.
Fees: The online application requires a non-refundable application fee of $90.
If you are interested in learning more about an application fee waiver, click here to see if you qualify: Fee Waiver.
City Year: Please provide a verification letter from City Year to waive your application fee. Please see the City Year website to request the letter. For assistance, please contact Ron Rubalcaba at ron.rubalcaba@usc.edu.
Toggle

2. Resumé
This resumé must specifically highlight your social work-related experience. You must upload your resume in the designated section of the graduate admission application:
Please refer to the MSW Resume Instructions for content requirements.
Toggle

3. Statement of Purpose
The USC Suzanne Dworak-Peck School of Social Work requires a Statement of Purpose that specifically addresses your motivation in seeking an MSW. Your statement should demonstrate an ability to synthesize your professional/personal experiences and desire to enter the field of social work. This statement will be used to assess your creativity, critical thinking, self-awareness, and writing skills.
You must upload your statement of purpose to the designated section of the graduate admission application:

For content and formatting instructions, refer to the MSW Statement of Purpose Instructions.
Toggle

4. Recommendations
You are required to submit a minimum of two recommendations; a third recommendation is optional. Preferred recommendations are those that come from academic instructors or professionals who have supervised you in a social work-related position (paid, volunteer or internship). Personal recommendations are not acceptable. There is no specific format or set of questions for recommenders.

Recommendations must be submitted online through the online Graduate Admission Application. Each recommender must have a valid email address and internet access in order to use the online recommendation system.
Toggle

5. Official transcript(s)
The USC Graduate Admission Office requires an official academic record from EVERY post-secondary school you have attended, regardless of transfers. Make sure to upload a copy of your university-issued transcripts (i.e. issued on official letterhead) with your online application. Additionally, you must also send a copy of your official transcripts to USC Graduate Admissions Office.
There are two options for submitting your official transcripts to USC:
E-transcripts (Preferred): USC accepts e-transcripts from institutions in the United States and India. Transcripts from authorized providers should only be submitted to admissions processing (etrans@usc.edu) for retrieval and uploading. Sending transcripts to any other email address will not be accepted. Please see list below for authorized providers.

We accept electronic transcripts provided they are submitted via the following carriers:
1. eSCRIP-SAFE
2. eTranscript
3. Texas Server
4. Docufide
5. University to university
If e-transcripts are delivered through another method and not through the above carriers, they will be considered unofficial.
Mail: Please mail these documents to the USC Graduate Admissions Office. It takes 10-15 business days for transcripts to process, so please plan accordingly to meet our application deadlines. Please include the College/University Transcript Cover Page.
University of Southern California
USC Office of Graduate Admission and Financial Aid
3601 South Flower Street, Tyler 112
Los Angeles, CA 90089-0915
Applying to the program but have not graduated yet?
You must complete the Concurrent Enrollment Form if you are submitting official transcripts without a conferred bachelors degree. Sign and scan the form, then upload it to the following section of the application:

Please click here for the link to the Concurrent Enrollment form.
Toggle

* TOEFL/IELTS (international applicants only)
For students whose native language is not English, the TOEFL or the IELTS exam is required. You will need to submit TOEFL or IELTS scores in order to complete an application and be reviewed for admission to the MSW program.
For information about required test scores and submitting your test scores, visit the International Admissions page.