$1 Million DoD Grant Awarded to MVP Faculty Members to Study the Impact of Diversity and Inclusion on Military Performance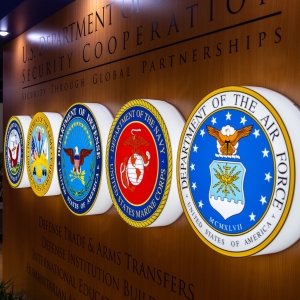 The research project will examine how a gap between inclusion policy and practice affects performance outcomes in the military.
The U.S. Department of Defense (DoD) has long valued diversity in demographic representation across military branches. In recent years, it has funneled more energy, talent and capital into research on diversity and inclusion in the hopes of both positively impacting the experience of service members by creating inclusive climates, and helping the military to fulfill missions more effectively.
This fall, USC faculty members Michalle Mor Barak, Carl Castro and Sara Kintzle were awarded a $1 million grant from the DoD to conduct research that aims to achieve just those objectives. Mor Barak, Castro and Kintzle are on the vanguard of a movement to narrow the gap between inclusion policies and applied inclusion practices in the military and in civilian business and nonprofit organizations.
The purpose of inclusion research
Members of the DoD's Army Research Institute for the Behavioral and Social Sciences, which has been increasingly investing in research on diversity and inclusion, encouraged the MVP team to apply for the grant. The team submitted a formal application for review, and after a round of proposal revisions, was selected for the grant from a competitive pool of applicants. Researchers plan to kick off the project within the next couple of months.
"The Department of Defense is interested in this kind of research because they want to ensure that military personnel from diverse backgrounds feel valued, appreciated and included, and to leverage effective inclusion practices in military leadership," said Mor Barak, the Dean's Professor of Social Work and Business at the Suzanne Dworak-Peck School of Social Work. She and her colleagues believe that a better understanding of applied inclusivity could promote fairness and facilitate more successful collaboration and ultimately execution of critical missions.
Mor Barak emphasizes that developing better applied inclusion practices—whether in the military or in business—must begin with an understanding of inclusion as the missing piece to the puzzle of diversity initiatives. "In the past, leaders believed that diversity alone would lead to better performance outcomes. However, recent research indicates that simply bringing people from different backgrounds together is not enough. You need to actively manage the workforce to create inclusive climates," Mor Barak said.
An inclusive climate in which all people are not just welcomed but encouraged to collaborate, must be effectively fostered and managed. As such, the next critical step is to address any discrepancies between the policies that are in place and how inclusion is actually put into practice in the organization or military unit.
Focus and scope of the study
The project, "Performance Outcomes of Inclusion Policy-Practice Decoupling: Diversity, Leadership and Climate for Inclusion," will investigate inclusion climate and the discrepancies that persist between inclusion policy and implementation. The study will include both qualitative and quantitative assessments, and centers upon three primary objectives:
First, the research seeks to develop and validate a quantitative measure for the gap that exists between an inclusion policy and its implementation. This will be achieved through qualitative interviews and focus groups aimed at understanding and unpacking the discrepancies between what a commander or leader may say about inclusion and how she or he actually acts in the context of everyday activities.
Secondly, the research will address inclusion policy and practice decoupling—assessing how applied inclusion practices may or may not bridge the gap between the introduction of demographic diversity and improved performance.
Finally, the project will test the conceptual model of the relationship between diversity, inclusion climate, policy-practice decoupling, leadership practices and performance outcomes. Essentially, researchers will explore how leaders can enact inclusion policies in a way that will both improve the well-being of service members and enhance military performance.
Mor Barak, who herself served in the Israeli military, stresses the groundbreaking impact that this research may have from both a scientific and a practical perspective."If both military and business leaders understand that low performance outcomes are often not due to an inclusion policy failure, but rather a failure to correctly implement that policy, they can begin to create a better climate for collaboration and mutual understanding," she said.
To reference the work of our faculty online, we ask that you directly quote their work where possible and attribute it to "FACULTY NAME, a professor in the USC Suzanne Dworak-Peck School of Social Work" (LINK: https://dworakpeck.usc.edu)