Practicum Education FAQ
When does practicum placement begin and end?
Practicum placement begins approximately two weeks after the start of classes and ends the Friday of the last week of spring semester classes, usually the last week in April or first week in May.
Can I choose my practicum placement?
No, the placement committee will select your first-year practicum placement based on your departmental choice, prior experience, expectations, specific circumstances and geographic location while striving to provide an internship that will broaden your educational and life experiences.
Can I do my practicum placement where I work?
A practicum placement at a current place of employment (POE) is discouraged. The USC Suzanne Dworak-Peck School of Social Work adheres to the guidelines and standards of the Council on Social Work Education (Accreditation Standard 2.2.11 page 13) regarding MSW internships at your current employment. If you would like additional information, please email sswpracticum@usc.edu.
Will my practicum placement be close to where I live?
We make every attempt to locate an educationally appropriate placement as close to your residence as possible. At times, the best placement match is further from your home than you may prefer. Students are responsible for transportation to and from the placement site, up to 30 miles in one direction. The amount of time that it takes for you to arrive at your placement site is not credited towards your practicum hours requirement.
Do I get paid?
Most of our practicum placement agencies do not provide a stipend or salary for students. While some offer stipends based on language ability or other special circumstances, a stipend is never guaranteed.
What days am I in the practicum placement?
First-year students are in their practicum placement a minimum of 16 hours per week (Mondays & Wednesdays), with at least one eight hour day on Wednesdays during regular business hours. Second-year students are in their practicum placement a minimum of 20 hours per week (full days on Mondays, Wednesdays, and half day on Fridays). Practicum placements occur on weekdays during regular agency business hours.
Are there weeknight and weekend placements available?
Practicum placement agencies are not able to accommodate interns on weeknights and weekends.
How many hours a week will I need to commit to my practicum placement?
You will need to complete a minimum of 16 hours per week for a total of 450 hours for the first-year placement, and 20 hours per week for a total of 550 hours for the second-year placement.
How many hours a week will I need to commit to my practicum placement if I am pursuing the Pupil Personnel Services Credential (PPSC)?
You will need to complete 20 hours per week for a total of 600 hours. The breakdown of the 600 hours is as follows: 450 hours of school-based practice activities (which must be conducted in at least two of the grade range populations), and 150 hours of child welfare attendance activities.
Will I receive a grade for the practicum placement?
Practicum is a three-unit (first year) course and a four-unit (second year) course for which you may receive a CR (credit) or an NC (no credit). An IP (in progress) may also be given if all of the practicum requirements have not been met, but only if due to extenuating circumstances and there is every indication that they will be met with an extension of time. You will receive an evaluation and a grade for each semester you are in a placement.
Will I be placed with the target population of my choice?
In the first year, the placement committee assigns your practicum placement based on your designated department. The purpose of the first-year placement is to expand your knowledge base and offer you an area of learning that may be different from your past experiences. In the second year, you will participate in selecting your own placement and have the opportunity to choose based on your specialization.
Can I do an administrative practicum placement in the first year?
A strictly administrative practicum placement is reserved for second-year students who are specializing in social change and innovation. However, all first-year/first-semester social change and innovation students will practice clinical work with individuals, families and groups. In the second semester of your first year, your placement experience will include a combination of both macro work and direct clinical practice. It is important for macro practitioners to have a strong base of clinical skills and the first-year placement is intended to provide that experience.
How will I be notified where I have been placed?
You will receive an email notification with the placement information and a request to contact your assigned agency for a preplacement visit so you can begin to fulfill the specific agency requirements. Some agencies may require an interview prior to practicum placement confirmation. Please keep us informed of your current email and mailing address.
What specific requirements must be completed prior to starting the practicum placement?
Many practicum placement agencies require fingerprinting, criminal clearance and TB testing. Some agencies require proof of car insurance, a good driving record, a medical evaluation or drug testing. Cost of preplacement screening is the student's responsibility. You will be notified as to what your assigned practicum placement requires. Students may incur nonrefundable costs for additional health/security clearance, specialized training or other agency requirements.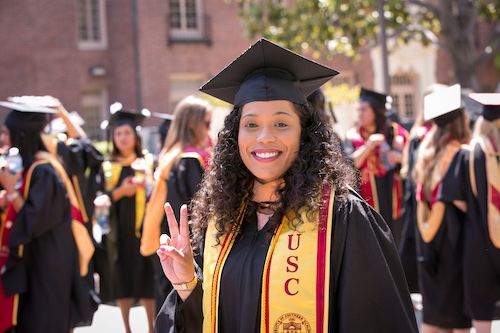 Drive Meaningful Change With Your MSW
Ready to chart a new path forward? View steps to apply or start your application to our world class MSW today.