Our Team
The Center for LGBT Health Equity is led by John R. Blosnich, whose primary area of expertise is disparities in suicide risk and prevention among LGBTQ+ individuals, with a specific emphasis on social determinants of health.
The Center has four core areas of support:
The Administrative Core is responsible for oversight of the Center, organizing meetings, grant and conference submissions, invited symposiums and other core oversight activities, as well as collaborating with the other core areas as appropriate to facilitate educational and writing opportunities.
The Methods Core houses two scientific workgroups on qualitative and quantitative research methodologies.
The Community Engagement Core is primarily responsible for organizing both the community and research advisory boards.
The Populations Core organizes focused workgroups for special populations including children and youth, homelessness, adults and aging and military service.
The Center's mission is supported by faculty, staff and students interested in promoting and leading research within the initiative.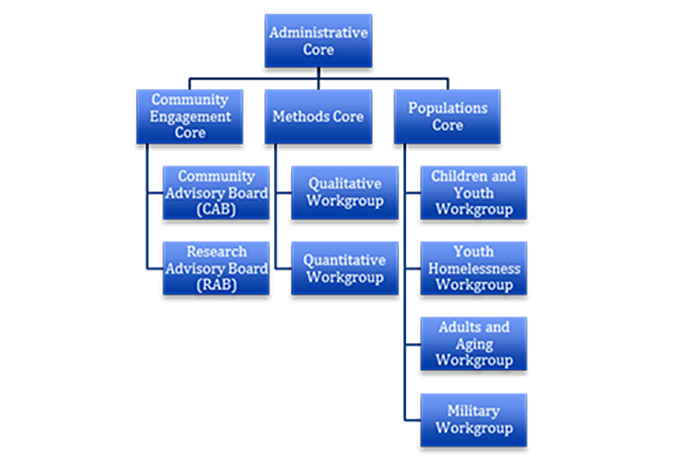 Toggle

Faculty and Staff
John R. Blosnich, PhD, MPH
Pronouns: he/him
blosnich@usc.edu
John is the director of the Center for LGBTQ+ Health Equity at the Suzanne Dworak-Peck School of Social Work. His primary area of expertise is disparities in suicide risk and prevention among lesbian, gay, bisexual, and transgender (LGBT) individuals, with a specific emphasis on social determinants of health. Prior to joining the faculty at USC, Dr. Blosnich spent nine years working with the U.S. Department of Veterans Affairs (VA). At the VA, he led foundational research about transgender veterans' health and health care utilization, with a specific focus in suicide risk, mortality, and social determinants of health. In addition to VA-supported research, he has conducted LGBT-focused research supported by competitive awards from foundations and the National Institutes of Health. Over the last five years, he has worked on efforts to improve LGBT health equity research in the US by addressing the lack of sexual orientation and gender identity data in mortality surveillance.
Jeremy Goldbach, PhD, LMSW
Pronouns: he/him
jgoldbach@wustl.edu
Jeremy developed the CLHE during his tenure at the University of Southern California, and now works as a professor at Washington University in St. Louis. Goldbach completed both his master's and doctoral degrees in social work at The University of Texas at Austin.  His work is primarily focused on measuring, understanding and intervening upon experiences of minority stress and discrimination among LGBTQ+ children and adolescents. Goldbach's work in the area has been continuously funded since 2012 by the Substance Abuse and Mental Health Services Administration (SAMHSA), the National Institute on Minority Health and Health Disparities (NIMHD), the National Institute of Child Health and Human Development (NICHD), the National Institute on Drug Abuse (NIDA), the Department of Defense (DOD) and through foundations.
Sheree M. Schrager, PhD, MS
Pronouns: she/her
sschrager@csudh.edu
Sheree is the Dean of Graduate Studies and Research at California State University, Dominguez Hills, and serves as the Director of the Methods Core for the Center for LGBTQ+ Health Equity. She holds Master's degrees in Statistics and Psychology and a PhD in Psychology from the University of Wisconsin-Madison. An expert in quantitative human subjects research methods, her work focuses on the role of minority stress in understanding the behavioral health and risk outcomes of sexual and gender minority youth and young adults.
Harmony Rhoades, PhD
Pronouns: she/her
hrhoades@usc.edu
Harmony is a Research Associate Professor at the USC Suzanne Dworak-Peck School of Social Work. Rhoades collaborates with several prominent faculty exploring a wide range of research endeavors focused on improving the health of vulnerable populations. She holds a PhD in Sociology and an MS in Epidemiology, and her research interests include HIV prevention, sexual health, homelessness, sexual and gender minority populations, and suicide prevention.
Mary Rose Mamey, PhD, MA
Pronouns: she/her
mmamey@usc.edu
Mary is a Research Professor in the USC Suzanne Dworak-Peck School of Social Works whose work focuses on the use of advanced statistical and methodological techniques and procedures. She completed her PhD in Experimental Psychology with an emphasis in Quantitative Research in Health Sciences and has worked previously as a senior biostatistician for the Division of Hospital Medicine at Children's Hospital Medicine at Children's Hospital Los Angeles. Mamey is an expert in longitudinal structural equation modeling (e.g., latent growth curve models) and psychometrics (e.g., item response theory). Her research is currently concentrated in both understanding stress in sexual and gender minority adolescents and risk factors in children's medicine.
Erik Schott, EdD, MSW, LCSW
Pronouns: he/er
erikschott@sbcglobal.net
Erik is a professor in the School of Social Work at California State University at San Bernardino and Palm Desert and brings nearly two decades of clinical, research, and teaching knowledge to the Center for LGBTQ+ Health Equity. Schott completed both his master's in social work and doctoral degree in education at the University of Southern California and holds a bachelor's in psychology from the University of California at Berkeley. His work is focused on LGBTQ2SIA+ health promotion and equity, hoping to better understand sexual and gender minority (SGM) health disparities within direct clinical practices. His current project is looking at the effectiveness of a Trans+ Affirming Letter Writing Training (TALWT) for empowering social workers to provide affirming support for transgender clients.  His latest book with Routledge is titled LGBTQIA Workbook for CBT (2021). Erik was instrumental in developing The Center's new certificate program which will offer specialized advanced training in LGBTQ+ affirmative care.
Luis Armando Parra, PhD, MS
Pronouns: he/him
luis.parra@usc.edu
Luis trained as a developmental scientist at the University of California, Davis and applies an intersectionality lens to further contextualize the lived experiences of adolescents and emerging adults who belong to multiple marginalized social groups. Luis studies the effects of heterosexism, racism, and social support from family and peers, as sources of stress and resilience, on neurobiological and immunological regulation, affective forecasting, and behavioral health (e.g., anxiety, depression, suicidal ideation). Before coming to the Brown School, Luis served as Provost Postdoctoral Scholar for Faculty Diversity in the Suzanne Dworak-Peck School of Social Work at the University of Southern California.
Jack Senese IV, MSW
Pronouns: he/him
senese@usc.edu
Senese is a Project Administrator and oversees all the projects taking place at the CLHE. He also works as the clinician for our clinical work, including the Proud & Empowered intervention study. Jack's research interests vary from body-image concerns of gay men and LGBTQ+ youth to the treatment and prevention of chronic trauma. Jack was trained as a clinician at the LGBTQ Center of Long Beach and currently sees clients through his private practice. 
Andrew Lopez, MA
Pronouns: he/him
alopez23@usc.edu
Andrew is the Data Management Specialist for the Center for LGBTQ+ Health Equity.  He received a Master's of Arts in American Studies with an emphasis on the gender and sexuality perspectives commonly held within American culture and represented through the media, public policy, and everyday life.  Before joining our team Andrew was the Director of Programs for a non-profit research-based community center in Hollywood that focused primarily on a harm-reduction approach for those most severely impacted by HIV.  Andrew has also held a Fellowship with the California HIV/AIDS Research Policy Center in California and served as a Commission Member on the Los Angeles County Commission on HIV.
Juan R. Cabrera Jr., PsyD, MS
Pronouns: he/him
juanc@wustl.edu
Juan is a Statistical Data Analyst who integrates research, data science, and statistical methods to support the Center for LGTBQ+ Health Equity studies. Juan holds a BS in Psychology and Statistics, and an MS in Biostatistics from California State University, East Bay. He recently completed his PsyD from Touro University Worldwide in Human and Organizational Psychology; his dissertation concentrated on the influence of attachment style dimensions on social media usage and how that relationship impacts social skills, anxiety, and depression in low-income minority adolescents. Juan is also a statistical consultant for the Evidence-based practice & Research Fellowship Program at NorthBay Healthcare and concurrently pursuing a Master of Public Health degree, concentrating in Epidemiology and Biostatistics at the University of California, Berkeley.
Alex Haydinger, BA
Pronouns: she/her
haydinge@usc.edu
Alex is the project specialist for several current studies within the Center for LGBTQ+ Health and Equity at the Suzanne Dworak-Peck School of Social Work. She graduated from the University of Southern California with degrees in Psychology and Narrative Studies. She cultivated a passion for research during her years of research as an undergraduate, specifically over the course of her year in Post-Traumatic Stress Research within the School of Social Work. Her current research interests include the research and treatment of trauma, and suicide prevention. 
Kierstin McMichael, MSW
Pronouns: she/her
kjmcmichael@wustl.edu
Kierstin is a Research Manager at Washington University in St. Louis.  She received a Master's in Social Work with an emphasis in public policy and domestic social and economic development. Before joining our team Kierstin worked on the Diversity and Equity team in the Office of the Provost at the University of Kansas, where she helped to establish the first LGBTQ youth community resource center in Lawrence, KS.
Toggle

Students & Post-Docs
Shannon L. Dunlap, PhD, MSW
Pronouns: she/her
sldunlap@usc.edu
Dunlap's research focuses on transgender adolescent psychological functioning and family stress and support. Specifically, her research uses a dyadic and mixed-method approach to explore transgender adolescent and parent perceptions of adolescent minority stress, adolescent-parent stress and support processes and assess correlations with adolescent psychological functioning. Through her current and future research, she hopes to use evidence to: (1) identify potential benefits of involving parents/family within transgender adolescent specific research and behavioral health interventions; (2) promote inclusivity within mainstream parenting and developmental literature; and (3) identify ways to improve social justice oriented policies that promote well-being for transgender adolescents and families.
Emmett Henderson, PhD, MS
Pronouns: he/him
emmetthe@usc.edu
Emmett is a Postdoctoral Scholar at the USC Suzanne Dworak-Peck School of Social Work. Emmett received his PhD in Behavioral and Community Health Sciences from the University of Pittsburgh and MS in Health Outcomes Research from Saint Louis University. His dissertation focused on the effects of stigma and social support on cognitive function of midlife and older gay and bisexual men. Additionally, he uses both qualitative and quantitative methods to explore social determinants of health for transgender and gender diverse populations. 
Rory P. O'Brien, MSW, MPH, PhD Student
Pronouns: they/them
rpobrien@usc.edu
Rory's research focuses on policy as it shapes the health of LGBTQ youth, and especially trans and nonbinary youth. Rory focuses on organizational and policy structures that shape youth experiences in the hopes of informing policy and advocacy for LGBTQ youth health and wellbeing. Before starting their doctoral studies, Rory worked as an advocate and program coordinator at local, state, and federal levels on a variety of initiatives related to LGBTQ mental health, human trafficking, abortion access, and sexual health education. Rory holds a Master of Social Work and Master of Public Health from Washington University in St. Louis.
Corinne E. Zachry, MA, MSW/PhD Student
Pronouns: she/her
czachry@usc.edu
Corinne's research explores LGBTQ+ mental health, with an emphasis on understanding the role of social policies, structures and stigma in exacerbating mental health disparities and creating barriers to access to mental healthcare services for LGBTQ+ people. She hopes to promote mental health equity for LGBTQ+ people at the micro, mezzo and macro levels. Prior to beginning her doctoral studies, Corinne managed a clinical psychology research lab at Hunter College focused on the prevention of gender-based violence and promotion of trauma recovery for LGBTQ+ people. Corinne also holds a Master of Arts degree in Psychology from Wake Forest University. 
F. Hunter McGuire, MPH, PhD Student
Pronouns: they/them or he/him
hunter.mcguire@wustl.edu
Hunter is a PhD student in Public Health Sciences at Washington University in St. Louis. Their work is situated at the intersection of psychiatric epidemiology, LGBTQ+ health, and systems science. In particular, they use epidemiological and systems science (i.e., agent-based modeling, system dynamics, social network analysis) methods to study risk/protective factors influencing the development of eating disorders, body dysmorphic disorder, and muscle dysmorphia among individuals in LGBTQ+ communities. Hunter has a Master of Public Health degree from the University of North Carolina Gillings School of Global Public Health. More information on their current work can be found at: www.fhmcguire.com
Joshua A. Rusow, PhD, MSW
Pronouns: he/him
rusow@usc.edu
Joshua's work primarily focuses on sexual and gender minority youth, and understanding the experiences of minority-related stress on relationships, behavior, and mental, physical, and sexual health. His dissertation research highlights the occurrence of teen dating violence and sexual assault among sexual minority adolescents in different contexts throughout the United States. His work employs longitudinal modeling to identify correlates before and after physical and sexual violence experiences to understand the mechanisms that may contribute to the well-established relationship violence and health disparities observed in sexual minority adolescent populations. Rusow holds an MSW and PhD in Social Work from the University of Southern California, and a BA in Psychology from the University of California at Los Angeles (UCLA).