Where to begin? Relieving the Stress from the Election, Pandemic and Social Unrest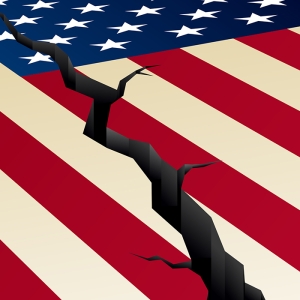 As the United States looks toward January 20, 2021 and the inauguration of a new president, its citizens continue to deal with the stress and anxiety of the global pandemic, fights for equality and racial justice, and an election cycle rife with anger and, most recently, violence and incursion.
Social workers may find themselves in a unique position of leadership, helping individuals and communities cope, heal and move forward.
According to Dorian Traube, associate professor at the USC Suzanne Dworak-Peck School of Social Work and mental health expert, people are suffering the fatigue of chronic discrimination, social unrest and moral quandaries. "I think it's definitely reached a kind of critical mass right now, with the storming of the Capitol," Traube said. "These are things we haven't seen in hundreds of years… in my mind you cannot extract what happened at the Capitol from what happened this summer with Black Lives Matter protests."
Many people have heightened anxiety; they are feeling despondent and dismayed. Particularly in Los Angeles, where the coronavirus has disproportionately impacted certain communities, people are experiencing even more isolation from their normal social support networks.
"I think all of that combined is leaving people feeling like they are very depressed, very overwhelmed, very anxious and not able to tap into their normal coping strategies that they've had in the past because it's kind of like a brave new world," Traube said.
Making sense of behavior
Melissa Singh, clinical associate professor, describes herself as a person of color, first generation Floridian living in a "blue" county surrounded by "red" counties. She maintains it is important to identify herself this way because it provides a lens for how she engages in her environment.
Singh watched the events unfold at the Capitol, during the formal count of electoral votes on January 6, 2021, and immediately thought of the core course on human behavior and the social environment that is required for all students enrolled in the Master of Social Work (MSW) and Master of Science in Nursing (MSN) programs.
"The election, the pandemic, it all ties in to what is taught in that course," Singh said. "How people act and why they act certain ways is influenced by a person's experience, their environment and beliefs. For me, it's so important to understand so that I can get to that next level of helping others, so that I can begin to self-care."
Singh believes that during this time of transition in the country, it is important for social workers to focus on assessment tools and to remember the National Association of Social Workers (NASW) code of ethics about the dignity and worth of a person. "While people may be different than you, or have different opinions or different thoughts, you have to believe in that dignity and worth," Singh said. "Hear those perspectives to understand why the behavior might be occurring."
As she continued to watch the siege on the Capitol, Singh could not help but think of others like herself in underrepresented groups, women, BIPOC (Black, Indigenous, People of Color), and how the last four years has impacted them; what their feelings and thoughts might be as they watched this happening.
"If you understand your environment, and you're aware that what might be true for me isn't true for others, what works for me isn't going to work for somebody else— that's what it takes for community healing," Singh said. "Continuously rebalancing, being aware of your senses, saying no when you need to and offering support where it is needed."
Community healing
Social workers strive to help others find their normal, but normal does not seem to make sense right now. Singh admits it is hard for her to define healing or restoration in the present moment because she is constantly having to rebalance as new external factors come into her life.
For Traube, one thing that has made the past ten months of the pandemic somewhat manageable is that everybody is impacted by it. While everyone may not be impacted equally, there is no one who has not been impacted in some way by COVID-19.
"I think that we just have to keep reminding ourselves that when we all started this, we never thought we would be here ten months from now," Traube said. "But we've made it… by taking it a day at a time we've gotten through the last ten months."
Traube believes social workers will play a huge role in helping people gain access to vaccines. However, she stresses it is important to keep in mind the multiple layers of what is happening right now. "So many of our colleagues that are social workers are also members of communities that are disproportionately impacted by pervasive racism, pervasive gerrymandering, pervasive voter suppression and that intersects directly at who is at highest risk for COVID," she said.
Similarly, parents have an additional layer of stress on top of the stresses of social isolation, the election and racial inequality. According to Traube, parents are feeling a sense of overwhelm and doom, and need to provide as much stability as possible, and assure their children that everyone is trying their best and nobody is perfect.
"I think the main thing I would say to parents who are really struggling is children are remarkably resilient," Traube said. "I think they're going to be okay. I think that there is something very beautiful that can grow out of the kind of adversity that is mutually experienced."
The necessity of self-care
Social workers have a special connection to the communities they serve, and are trusted and valued within them. However, Traube cautions that as they are directly impacted and also providing relief, extra support is needed. She stresses that social workers need to remember to apply everything they recommend to clients, to themselves: communities of support, social media, friends, professional organizations and self-care.
"Reasonable boundaries on your time, your effort, your energy and how you will replenish that," Traube said. "I think the important thing to think about is: pre-COVID, how did I replenish and how can I approximate that given the constraints of what is happening in this world? If I need to be talking to a lot of people, is that on a video conference? Or is that a socially distanced walk with a friend in a park with masks on?"
Traube suggests considering whether or not seeing a therapist will be helpful. There are many more platforms for telehealth now and fewer barriers to accessing help.
Singh references the 'oxygen mask on first for you, then others' directive. If one is balanced and checked in, then they are able to reach out to others in their communities. And communities are defined differently for every individual; they can include family, loved ones, friends and pets.
"That networking, the value of human relationships, empathizing with others and others empathizing with you—there's so much strength and energy within those moments," Singh said.
Singh has felt a big responsibility to ensure she is stressing wellness and mindfulness to her students, as well as taking notice and addressing their thoughts and feelings of anger and disappointment. She instructs her students on the first day to write down five people they identify for support. It is important to have that list nearby and know there are people on whom one can rely. "It makes a big difference for somebody to check in and ask 'how are you doing?'" she said.
During this time, Traube suggests looking for forms of social support in new ways. "There's been a boon around people picking up new hobbies and therefore joining new Facebook groups, new Instagram groups, around that hobby and meeting new people," she said. There has also been a proliferation of faith-based organizations providing online services.
Social workers are in their communities providing education and resources, armed with adaptability and agility skills, bringing people together, understanding their environments, and always viewing the issue through a lens of equity, diversity and inclusion.
"As people are wondering, what should I do? What am I doing? What is going on, and what do I do about it? Social workers— we're helpers and so much more," Singh said. "We lean in. This is what you can do about it."
To reference the work of our faculty online, we ask that you directly quote their work where possible and attribute it to "FACULTY NAME, a professor in the USC Suzanne Dworak-Peck School of Social Work" (LINK: https://dworakpeck.usc.edu)