What is the USC Military Academic Center?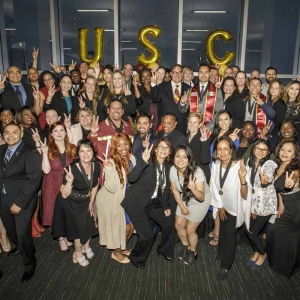 USC's Military Academic Center offers students a bevy of unique community engagement opportunities and resources that promote academic and professional development.
The military-affiliated community at USC includes more than 1,000 veterans and dependents currently enrolled in courses—in addition to many active-duty and reserve service members and civilian students engaged in military-focused academic programs.
Founded as part of Military and Veterans Programs (MVP), the Military Academic Center (MAC) serves as the heart of the military social work track curriculum at the USC Suzanne Dworak-Peck School of Social Work. The MAC provides social, academic and professional support to military track social work students, as well as all military-affiliated students at USC.
"The overarching goal of the Military Academic Center is to facilitate a rich academic experience and equip students with effective resources for securing meaningful employment in the area of their choosing," according to MVP Project Specialist Eva Alday, who manages the MAC.
Through four key components—an interactive military-focused social work curriculum, a range of community engagement opportunities, a series of professional networking events, and robust academic resources—the MAC is able to deliver on this goal.
An interactive military-focused curriculum
According to Research Associate Professor Sara Kintzle, "The military social work curriculum at the USC Suzanne Dworak-Peck School of Social Work is largely informed by the core competencies outlined by the Council on Social Work Education, which contributes to our reputation as among the best military social work programs in the country."
The MAC oversees and implements the military-focused curriculum, through which graduate-level social work students gain the knowledge and experiences necessary to meet the needs of service members, veterans and their families through culturally competent practices in both clinical and macro-level settings.
And the military-focused curriculum at the MAC extends beyond the classroom. "Through exclusive workshops, seminars and events, students gain firsthand knowledge of the groundbreaking research emerging from MVP," Kintzle said. "At the same time, the MAC offers students valuable opportunities to interact with faculty members whose specialties align with their own academic and professional interests."
An emphasis on community engagement
Through a breadth of challenging community engagement opportunities, the MAC promotes on-the-ground outreach, advocacy and service—experiences that enrich students' social work education and inform their understanding of social work in practice.
"We encourage students to become thoughtful stewards of and active participants in the community outside of USC," Alday said. "For example, one opportunity invites students to work alongside members of the Los Angeles Veterans Collaborative, a USC Military and Veterans Programs initiative in which a network of community stakeholders, agencies and representatives come together to serve veterans and military families throughout the Los Angeles area."
Opportunities for professional networking
The MAC facilitates networking not only by providing a forum for military track social work students and faculty to gather, but also hosting formalized networking events where students can meet potential employers and professional contacts in their areas of interest.
"Events including the MAC Welcome Event for New Students, the Veterans Day Luncheon, the LAVC and MAC Employer Networking Event, and the Military Awards and Recognition Reception provide valuable opportunities for military-affiliated students to connect with one another and lay the groundwork for a future career," Alday said.
While these events are designed with military social work students in mind, the MAC "hopes to integrate within the larger university and expand its focus soon," Kintzle said.
Promoting academic success
Enabling students to achieve their full potential at USC requires that they have access to effective financial, mental and physical health resources. As such, the MAC hosts a robust referral program that can connect students with the services they need to succeed.
Students preparing to graduate, for example, may benefit from seminars on competitive job market entry or navigating the social work licensure process.
"We offer services to all MAC students, but the emphasis has always been on promoting the academic wellbeing of veteran students, regardless of whether or not they are enrolled in the military social work program," Kintzle said.
The MAC also allocates specific resources for providing extra support to community members who may need it. "Every year, with funding from the Ahmanson Foundation, we award scholarships to several student veterans who have demonstrated academic excellence," Alday said. "Alleviating some of a student's economic burden can reduce their stress while enabling them to focus more energy on achieving their academic goals."
Providing USC's military-connected students with a place to call home
By offering everything from social and recruitment events to financial support services, "the MAC acts as a conduit for cultivating the personal, academic and professional development of all military-connected students at USC," Alday said.
However, those who operate the MAC day in and day out know that the center is about much more than providing students with resources.
"More than anything, the MAC provides faculty members and military social work students with invaluable opportunities to know one another and to connect more deeply." Kintzle said. "We want all military-connected USC students to know that they belong here, that they are valued in the USC Suzanne Dworak-Peck School of Social Work, and that there are professionals within the school dedicated to ensuring they have a positive experience and achieve success," she concluded.
To reference the work of our faculty online, we ask that you directly quote their work where possible and attribute it to "FACULTY NAME, a professor in the USC Suzanne Dworak-Peck School of Social Work" (LINK: https://dworakpeck.usc.edu)