Top 10 Tips for New Social Work and Nursing Grads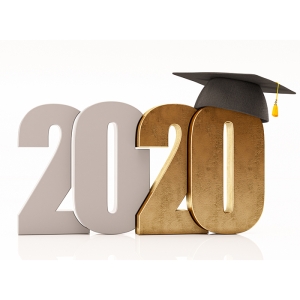 Life post-graduation can be intimidating, but it does not have to be. Here are 10 tips designed to help recent graduates navigate life after completing their MSW or MSN.
A host of emotions surround graduation. Pride, excitement and anticipation are as commonplace as anxiety, fear and uncertainty as graduates close one chapter and boldly step into a new one. For many, finding not just a job — but the right job — is a top priority.
Fortunately, the demand for health care and social services is projected to grow over the next 10 years—and with it, the number of social work jobs. In 2019, the U.S. Department of Labor reported that the social services field would add nearly 81,200 new jobs by 2028, representing an increase of 11 percent. That's more than double the average growth rate for all occupations. In tandem with this widespread growth are increasing career opportunities within medical social work, policy analysis, corporate social responsibility and beyond.
But despite the ocean of opportunity that awaits new grads, navigating life post-graduation can still be daunting, even for the most qualified candidate. To help ease the transition, we've pulled together this list of the top 10 tips every new social work grad needs to know:
1. Stay connected
Making new connections is an important part of any professional's career. Networking events, industry conferences and professional development workshops are all designed to empower social workers to create new relationships and grow together. But equally as important as making new connections is maintaining old ones.
The USC Alumni Association was developed to engage USC alumni across the world for life and build decades-long relationships among the Trojan Family. As a member of the Trojan Family, alumni gain access to a wide array of exclusive benefits, including extensive career services and job listings, discounts at campus retailers, special offers from corporate partners and more.
To receive these benefits and stay connected, alumni must update their contact information and sign up for an @alumni.usc.edu email. All @usc.edu student accounts will be disabled six months following graduation, so registering for this new account is essential. To do so, graduates must follow these simple steps:
●             Click here
●             Click on "New?"
●             Fill in the form with required details
2. Build your social work or nursing alumni network
Your fellow Social work alumni are there to support your journey as a social work professional. To build and maintain your Trojan Network, look no further than Dworak-Peck Connect, an innovative online platform that links alumni, students, faculty, staff and friends of the USC Suzanne Dworak-Peck School of Social Work.
Members of the platform can network specifically with USC social workers and nurses, find other practitioners with similar skills and career interests and interact with all class years and programs around the world. Browse job resources, search for job openings, post a job for free to our job bank. For those interested in licensure information, there are significant Social Work Licensing Resources, including a list of LCSWs offering clinical supervision and LCSW exam test prep and discount codes! Discussion boards, instant messaging, video chats and geographic- and practice-based discussion groups all exist to help facilitate genuine, constructive connections.
Dworak-Peck Connect is also a great tool for arranging informational interviews. These interviews allow graduates to learn more about a specific field from a seasoned professional, helping them decide whether it's the right fit for them.
3. Create a robust resume and cover letter
Well-crafted, thoughtful cover letters and resumes play a pivotal role in differentiating strong candidates who receive interview opportunities from those who don't. These documents are often an employer's first introduction to a new recruit and serve as a window into their experience level, qualifications and personality.
Recent graduates are encouraged to review existing resume templates and connect with a career counselor to learn how best to position their experience within the framework of a cover letter. When it comes time to put pen to paper, experts advise:
●             Utilize clear, concise language
●             Display experience in chronological order
●             Include data where possible, such as weekly caseload or size of budget managed
●             Tailor resumes and cover letters to each unique job and position
●             Proofread to avoid sloppy mistakes that may communicate poor attention to detail
4. Understand financial aid next steps
Many students at USC take advantage of loans and other forms of financial aid to support their studies. Repaying these loans following graduation can feel overwhelming, but most federal student loans offer a six-month grace period, allowing recent grads to gain their footing in the working world before they begin the repayment process.
Students and/or their parents or guardians can choose from a number of repayment plans, depending on the type of loan selected. Payments may be fixed or graduated and can generally be paid off within 10, 15, 25 or even 30 years, depending on the amount owed and the repayment plan selected. It's important for each student to find the right plan for their personal financial needs and goals.
Public Service Loan Forgiveness (PSLF) may also be an option for professionals employed by a U.S. federal, state, local or tribal government or not-for-profit organization. PSLF forgives the remaining balance on a graduates Direct Loans after they have made 120 qualifying monthly payments under a qualifying repayment plan while working full-time for a qualifying employer.
5. Keep an eye out for opportunities
New job opportunities emerge on a daily basis, ready to entice the perfect candidate. It's up to recent graduates to remain diligent in their search for new opportunities. That means regularly checking LinkedIn and other job posting sites, attending networking events and proactively scouring the career pages of relevant organizations.
The USC Suzanne Dworak-Peck School of Social Work Job Bank is also an excellent resource for USC social work alumni. This free, online job bank features a variety of positions across the social work field, posted by a range of employers in Southern California and across the nation. USC graduates are academically prepared to work in all areas of practice: micro, mezzo and macro arenas, making them attractive candidates for many potential jobs.
6. Partake in professional development courses
Education is an ongoing endeavor that continues well after graduation. Regardless of their practice type or licensure, all social work graduates are encouraged to maintain their competitive advantage in the professional world through the pursuit of professional development and continuing education opportunities. Professional seminars, workshops and webinars all help sharpen skills and keep individuals up-to-date on the latest evidence-based techniques.
Licensed clinical social workers (LCSWs) are required to complete a certain number of hours of continuing education units (CEUs) to keep their license current. A CEU is a unit of credit offered by a continuing education provider approved by a state licensing board. The exact number of hours earned varies by state. In California, LCSWs must earn 36 hours of CEUs over a two-year period. In Maine, that number drops to 25.
To learn more about CEUs, watch Episode 1 of the USC Suzanne Dworak-Peck School of Social Work's professional development series, Work It With Juan.
7. Considering Licensure? Evaluate next-steps
You graduated, now what?  A Licensed Clinical Social Worker (LCSW) is a practitioner who has been approved by a state licensing board to provide comprehensive mental health services and assume greater responsibilities than a social worker who is not licensed. LCSWs are often eligible to supervise other social workers at their place of employment, manage agency programs, provide consulting for health plans, schools or businesses and practice independently.
The process for becoming an LCSW differs by state, but applicants must typically follow some form of the following:
●             Earn a master's degree in social work
●             Complete additional supervised clinical experience
●             Pass the required licensing exams
●             Renew license as appropriate
8. Sign up for an employee assistance program
Social work and nursing are extremely rewarding careers, but they can also be emotionally and psychologically draining. If available, social workers and nurses are encouraged to enroll in their employer's employee assistance program (EAP). According to the U.S. Office for Personnel Management, an EAP is a "voluntary, work-based program that offers free and confidential assessments, short-term counseling, referrals and follow-up services to employees who have personal and/or work-related problems."
Enrolling in an EAP can help new and seasoned social workers and nurses alike navigate both personal and work-related stress in a healthy, constructive setting.
9. Prioritize self-care
Following up on the last tip, it is critical that social work and nursing professionals find ways to manage secondary trauma, also known as compassion fatigue, and avoid burnout. Social workers and nurses are encouraged to practice self-awareness and create a detailed self-care plan. This plan should include a mix of activities and practices designed to address physical health, intellectual stimulation, as well as environmental and spiritual wellbeing.
Many social workers and nurses turn to mediation, group exercise classes, breath work, literature and socialization to nurture their minds and bodies. By investing in their own wellbeing, social workers are better equipped to provide support for those they serve.
10. Share stories from the frontlines of social work and nursing
Twenty-four hours a day, seven days a week, social workers and nurses are making a difference in the lives of individuals across the globe. As the world evolves, so does our need for these dedicated, passionate individuals.
Social workers' and nurses' stories deserve to be shared, honoring their impact and inspiring others to follow in their footsteps. The USC Suzanne Dworak-Peck School of Social Work News webpage is just one channel shining a spotlight on those making a difference in the world today. Many of the articles depict fellow Trojans on the frontlines of change, serving as advocates for a vast array of diverse populations. USC is always looking for new alumni to feature, asking members of every class, "Are you ready to share your story?"
To reference the work of our faculty online, we ask that you directly quote their work where possible and attribute it to "FACULTY NAME, a professor in the USC Suzanne Dworak-Peck School of Social Work" (LINK: https://dworakpeck.usc.edu)