Social Worker Leads Transdisciplinary Study on Alzheimer's and Sleep Quality Among African Americans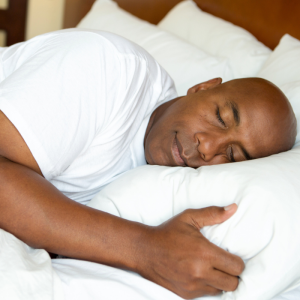 With a body of work that brings rigorous, transdisciplinary research directly into the communities that need it most, Karen Lincoln, associate professor at the USC Suzanne Dworak-Peck School of Social Work, contradicts the myth that social work is a discipline, not a science. Lincoln's work proves it can be both.
Her latest research partners social work with medicine and engineering to focus on the critical need of the underserved African American population who have the highest rate of Alzheimer's disease and related dementias — approximately 13.8 percent of the U.S. population 65 and over. Lincoln is principal investigator on the first human study to use neural imaging to gain a deeper understanding of how sleep quality impacts the brain clearance process, a potential predictor of Alzheimer's for the community at greatest risk for the disease. She is joined by co-investigators Jeiran Choupan, assistant professor of research neurology medicine at the Keck School of Medicine's USC Mark and Mary Stevens Neuroimaging and Informatics Institute, and Michael Khoo, Dean's professor of biomedical engineering and pediatrics at the USC Viterbi School of Engineering.
Poor sleep quality, linked to less effective brain clearance, is highest among African Americans. In a 2018 study by the Centers for Disease Control,  development of Alzheimer's disease is projected to nearly triple within the U.S. population by 2060, impacting 2.2 million Black Americans. However, the majority of research focuses on disparities in sleep by race, as opposed to the cultural and environmental factors that contribute to those racial disparities. Lincoln's new study, BrainWorks 2.0: Sleep Tight, builds on her previous groundbreaking BrainWorks study, which used culturally tailored text messaging to promote education on Alzheimer's disease and prevention to the African American community.
"As a social scientist, I focus on the social, environmental and public health factors related to disease in older African Americans," Lincoln said. "When you include the neural imaging and the sleep data, what you end up with is a study that is pretty novel."
Participants will wear sleep-tracking wrist bands for approximately one week to monitor their sleep and wake patterns and the quality of those patterns in their normal home environment. Light and sound sensors in their sleeping areas will monitor environmental factors. Then, they will receive a high-resolution MRI to measure the perivascular space, an indicator of their brain clearance system's effectiveness at flushing the waste proteins that are linked to increased risk of Alzheimer's. This quantitative data will be combined with both standardized sleep quality and cognitive status assessments and a custom questionnaire measuring culturally relevant factors for a comprehensive look at sleep and brain health among African American older adults.
Social work as a scientific discipline
Lincoln is strengthening the concept of social work as a scientific discipline by bringing her expertise in survey and cohort development to transdisciplinary research collaborations, expanding the knowledge and data that can be gained through the unique lens of social work.
"I think social workers are really undervalued in terms of how we understand the connections between larger societal factors and how they actually impact individuals," Lincoln said. "We understand the spaces and the places where individuals live, work and age, but we also understand the larger social factors that determine the neighborhoods that people live in, what they look like and the resources that are available. We bring a broader picture of many different intervention points that go beyond individual behavior."
As director of the USC Hartford Center of Excellence in Geriatric Social Work, senior scientist at the USC Edward R. Roybal Institute on Aging, and founder and chair of Advocates for African American Elders at USC, Lincoln's research focuses on the African American community and its relationship to Alzheimer's disease and related dementias, stress and other chronic conditions. She is named among the top 2% of scientists in the world for 2021 in a study by Elsevier and Stanford University.
"In my 30 years at USC, I've never collaborated on a study with a social work researcher before, but this project presented the perfect opportunity," noted Khoo, a sleep expert who will oversee and interpret the sleep data collected from participants. "I'm excited to see the additional dimension it brings to the team."
Lincoln believes that the value in transdisciplinary research that integrates social work researchers elevates the perception of social work as a science and humanizes traditional hard science research. For BrainWorks 2.0: Sleep Tight, Lincoln is designing and testing all participant surveys, data collection and analysis. Additionally, she will manage the training of study staff; outreach to and engagement of participants and community partners; and the enrollment of participants into the study. She will also lead the dissemination of findings.
Lincoln's goal for the new study is not only collecting data but disseminating practical applications for the findings. She believes that understanding participants' communities, culture and available resources is essential to identifying and implementing effective interventions.
"First you have to show that there's a relationship, then you have to figure out how to disrupt that relationship," Lincoln noted. "As a critical sociologist and social worker I'm interested in disrupting those factors that lead to disease. I think with respect to social determinants of health you can't get a better perspective than a social worker."
Developing a strong African American research cohort
A significant challenge for any study focused on African Americans is wariness of medical and scientific research given the significant history of abuse in their community. Lincoln has addressed this barrier in Los Angeles through the development, over the past several years, of a large African American cohort who are invested in having their voices and experiences heard by the research community.
Harnessing the principles of social work practice to recruit participants, Lincoln and her team hold culturally appropriate information sessions, asking for input from the potential participants and engaging in a recruitment process that focuses on mutuality and what they can give to the community rather than take. As an African American herself, Lincoln knows that being Black alone is not enough to earn trust. She ensures that respected community partners are the core of her team so that an additional trustworthy source can validate her end goal — to improve the long-term health and well-being of African Americans.
"When you know the person that's doing the research looks like you and has the credentials, there's a comfort," said Yolande Bankston, who has helped Lincoln recruit participants for the cohort and will be a participant in the BrainWorks 2.0: Sleep Tight study, along with her mother. "Dr. Lincoln engages people in a dialogue. She shares information about different studies and how difficult it is to get African Americans to go through studies like these. Then it's like, okay, I can do something about that. I want to be a part of it. I want my voice heard."
Lincoln views the cohort as valued participants in important research, not subjects, and solicits their perspectives on the issues that are most important to the aging African American community. Their first-hand knowledge of the social determinants that affect health outcomes in their communities help the research team understand how to best structure a study for this population. For example, as part of her recruitment process, Lincoln uses nontraditional methods such as a live talk show where potential participants hear from researchers in a comfortable, familiar venue that invites audience participation.
"There's a science to engagement," Lincoln notes. "It's about how you approach people — whether you're having a conversation or you're being scientific and paternalistic. I'm able to share that as African Americans ourselves we're doing this work for personal reasons as well as scientific. That it's for my family as well as theirs."
Lincoln will undergo neural imaging herself to demonstrate its safety for her potential participants. "Of course I'm going to get an MRI. We don't ask people to do something that we won't do ourselves," she said.
The study is funded by an internal grant from USC's Strategic Directions for Research Award program, which seeks to spur and support innovative, transdisciplinary, collaborative research across multiple USC schools.
To inquire about participation in this study, please contact Karen D. Lincoln, PhD, MSW, MA, FGSA at klincoln@usc.edu or (213)740-5733.
To reference the work of our faculty online, we ask that you directly quote their work where possible and attribute it to "FACULTY NAME, a professor in the USC Suzanne Dworak-Peck School of Social Work" (LINK: https://dworakpeck.usc.edu)