Remembering Kathleen Ell, Social Work Pioneer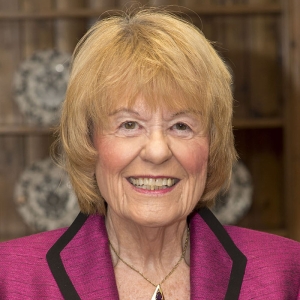 The USC Suzanne Dworak-Peck School of Social Work is deeply saddened by the loss of a beloved professor, colleague, mentor, and friend. Professor Kathleen Ell was a social work practitioner and researcher who left an indelible mark on the profession, pushing the boundaries of mental health care.
Professor Ell passed away on January 29, 2021. She dedicated 37 years to USC, where she held the Ernst P. Larson Professorship of Health, Ethnicity and Poverty. She served as director of the Hamovitch Research Center and as the behavioral health research director of the Center for Innovation and Research on Veteran and Military Families (CIR). Professor Ell was among the leaders of the Los Angeles Basin Clinical and Translational Science Institute (CTSI). She mentored numerous doctoral students and scholars throughout her career.
"Kathy Ell was my mentor when I joined the school as an assistant professor," said Michalle Mor Barak, Dean's Professor of Social Work and Business. "She was kind and gracious. The best advice she gave me was to not give up on a publication or a research proposal that I believed in. I have followed this good advice my entire career and now share it with my own mentees and doctoral students."
Professor Ell was one of 30 social workers inducted into the one of the first classes of Fellows for the American Academy of Social Work and Social Welfare (AASWSW), and served as a member of the Board. In 2012, she was awarded the Knee-Whitman Award for Lifetime Achievement in Health and Mental Health Practice by the National Association of Social Workers (NASW), and received the honor of Social Work Pioneer from the NASW Foundation in 2014, bestowed upon social workers "who have explored new territories and built outposts for human services on many frontiers."
In a research career that spanned four decades, Professor Ell served as an advocate for social work in translational science and transdisciplinary research partnerships, including community care systems. She was the first to link depression with an increase in mortality among coronary care patients, and this groundbreaking work was incorporated into a 1996 National Institute of Health (NIH) depression trial of 3,000 heart patients. She expanded on the role that depression and stress play in outcomes related to serious illness such as cancer and diabetes. She embraced the study of rapidly emerging technology to increase access to mental health care for underserved populations, active duty military and veterans, and was at the forefront of the development of the telehealth care model. Professor Ell's research focused on – and confirmed – the theory that patient self-care management is heavily influenced by choice, stigma, culture, practical barriers and physical health combined with contextual supports and barriers. She served as principal investigator on multiple longitudinal studies funded by the Centers for Disease Control, the National Institute of Mental Health and the National Cancer Institute.
"I feel honored to have collaborated with Professor Ell," said Shinyi Wu, associate professor. "We first collaborated on a Diabetes-depression Care-management Adoption Technology trial in 2010, and our collaborations continued until she retired. Memories of her will never leave us."
In 2017, Professor Ell and her husband Lawrence sponsored a two-day symposium at USC on research synthesis, an approach that involves combining and analyzing results of existing studies to reach a stronger conclusion. The symposium brought expert faculty and leading scholars together to address issues such as enhancing current approaches to meta-analysis and systemic reviews, developing a collective approach to improving knowledge and employing research synthesis in social work and nursing.
"As a colleague, she was always ready to offer encouragement, support and help," said Jacquelyn McCroskey, the John Milner Professor of Child Welfare. "She had a beautiful smile, a wonderful sense of humor, and genuine appreciation not only for her Trojan family but for her extended social work family."
Professor Ell's passion for her work, enthusiasm to collaborate, and love for the social work profession will be sorely missed. She was a champion for social good and her contributions will educate and inspire the next generation of social workers. 
To reference the work of our faculty online, we ask that you directly quote their work where possible and attribute it to "FACULTY NAME, a professor in the USC Suzanne Dworak-Peck School of Social Work" (LINK: https://dworakpeck.usc.edu)