Multidisciplinary Team of Researchers Aims to Measure Health Safety Climate for COVID-19 Control in Diverse Communities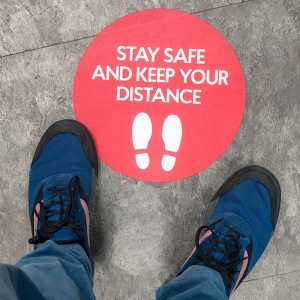 Across campus, USC researchers from diverse disciplines are coming together to understand the impact of COVID-19 on different communities.
A new USC Zumberge grant to a cross-campus team of faculty led by the USC Suzanne Dworak-Peck School of Social Work and including USC Dornsife College of Letters, Arts & Sciences, USC Price School of Public Policy and USC Viterbi School of Engineering will fund a study examining the climate in which behaviors such as mask-wearing, hand-washing and social distancing are encouraged. The goal is to develop a way to measure the community climate for health-safety and then use this tool as a way to influence behavior and slow the spread of virus transmission.
"Research has underscored just how vital it is to understand community members' social and health safety-related behaviors to slow the spread of the virus," said Michálle Mor Barak, principal investigator and a dean's endowed professor holding joint appointments at the USC Suzanne Dworak-Peck School of Social Work and the USC Marshall School of Business. "This is especially true when states re-open their economies before there is a vaccine or cure."
Competing Values
Science is clear that wearing a face covering and other measures such as physical distancing go a long way in preventing the spread of COVID-19 in communities. However, people do not always choose to follow those measures.
"What we've seen in the pandemic is that there are a variety of competing values that people think about and that inform their behaviors," Mor Barak said. While it might seem straightforward to take simple actions to prevent the spread, other values like personal liberty, a sense of freedom, self-determination, a person's right to earn a living and keep their business open compete with those simple behaviors. With the introduction of potential vaccines, it is also important to understand people's attitudes towards taking a vaccine and what affects their confidence in its reliability and efficiency.
In addition, Mor Barak said, it is clear that it works differently in different communities. In one place, a person not wearing a face mask might be met with strange looks. In another, wearing a mask would earn negative reactions. 
In this new study funded by the USC Zumberge grant, the team aims to create a measure that will show how diverse communities communicate those norms to their members. Importantly, it will also show what can make a difference in enforcing or in strengthening or weakening those behavioral norms.
"I think what we have been missing is a validated instrument that will allow us to navigate this pandemic at the community level in a confident and scientific way. Our aim is to create such a measure that will, for the first time, inform policymakers and community leaders on how to provide the best leadership to increase health-safety behaviors," Mor Barak said.
The research is one of 19 interdisciplinary studies selected in June 2020 for seed funding by the USC Office of Research through a special solicitation for epidemic and virus-related research. The grant is jointly sponsored by the USC Office of the Provost and the USC Stevens Center for Innovation.
Co-investigators on the project are Arie Kapteyn, professor of economics, USC Dornsife; Charles Kaplan, professor, USC Suzanne Dworak-Peck School of Social Work; and Shinyi Wu, associate professor, USC Suzanne Dworak-Peck School of Social Work with a joint appointment at USC Viterbi. Significant contributors include Ali E. Abbas, professor with a joint appointment at USC Viterbi and USC Price, and Gil Luria, associate professor of social welfare and health sciences at the University of Haifa.  The researchers are assisted by PhD students Leslie Schnyder, Mona (Ruotong) Liu and Anthony Liu.
A Community-wide View and Communities of Color
The COVID-19 pandemic has disproportionately affected U.S. communities of color, far beyond their representation in the population. According to Kaplan, examining why people do not wear masks and socially distance means taking into account community climate as well as individual decision-making processes.
"People make decisions based on personal values but also on the opportunities and the information they have," Kaplan said. Those living in economically disadvantaged and under-resourced communities may have more pressure to work in less-than-ideal conditions for preventing the spread of coronavirus. For example, in the restaurant industry, large chains may have robust health and safety guidelines and resources in place for their employees, but the small businesses in communities of color may not, in part because of unequal distribution of federal COVID-19 relief.
Community members' trust in the government may also be an issue. "We have to look at whether or not people in these communities trust messages about prevention from authorities," Kaplan said. "I suspect that the levels of trust may not be as strong as in other communities."
The USC Zumberge grant will fund an initial study looking at five Los Angeles-area communities: the Chinese American community in Monterey Park, the Jewish and ultraorthodox Jewish communities in the Pico-Robertson district, the Latino/Hispanic community in Boyle Heights, African Americans in South Los Angeles and whites in Pasadena.
"Los Angeles is a microcosm of the world, making it a good, diverse laboratory for this initial study," Kaplan said.
Impact and expected results
USC Zumberge grants offer seed funding for research projects, enabling faculty researchers to conduct a proof of concept and collect preliminary data that can develop into a larger scientific study. Because the grants are available to researchers across the university, competition for the grants is intense.
For these researchers, the initial study in Los Angeles will hopefully lead to a National Science Foundation grant for a national study. The aim is to help policymakers move beyond one-size-fits-all policies and find ways to effectively adjust health and human services and outreach campaigns in line with local norms and climates. 
"We know it is critical that people follow those behavioral health safety guidelines," said Mor Barak. "Creating this kind of measure would be crucial for understanding health safety climate among diverse communities, and for planning ahead, especially for policy makers and community leaders."
To reference the work of our faculty online, we ask that you directly quote their work where possible and attribute it to "FACULTY NAME, a professor in the USC Suzanne Dworak-Peck School of Social Work" (LINK: https://dworakpeck.usc.edu)