Military Academic Center Students Gain Career-Building Experience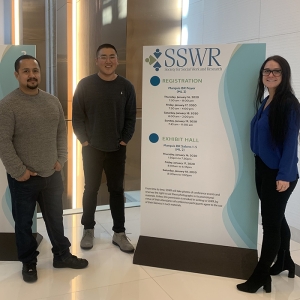 Three USC military-track and military-connected students had unique opportunities to network and learn more about their chosen field when they attended the annual conference for the Society for Social Work and Research, held this January in Washington, D.C.
Wilmer Rivas, a Marine veteran; Justin Lee, a human resources officer with the Army Reserve Officer Training Corps; and Savannah Mercado, a cadet with the Army Reserve Officer Training Corps were selected by the Military Academic Center (MAC) at the USC Suzanne Dworak-Peck School of Social Work from a pool of applicants.
The MAC evaluated the students based on a submitted essay, interest in research, academic achievement, and how they thought this conference would fit into their career trajectory.
"Each of these students demonstrated a real commitment to research and to scholarly activities that enhance their knowledge and practice of clinical military social work," said Sara Kintzle, deputy director of the Military and Veterans Programs at the school. 
Networking directly with scholars
For Rivas, a first-year student, the opportunity to meet and collaborate with academic professionals in the smaller sessions devoted to special interest groups was the most beneficial aspect of the conference. He attended one for the LatinX community and one related to military social work.
"I enjoyed being able to meet more intimately with these experts in the field,and to learn about their plans to advance research," Rivas said.
At the military social work session, Rivas observed with deep interest as scholars set concrete dates to meet with each other, and to organize virtual group meetings to further discuss what they were researching.
"I liked seeing how the process is being done, and how people are taking actual steps to make research happen," he said. "I would like to be involved in some research, especially here at USC, and I wanted to get more of an idea of how these things work in the real world."
Rivas also networked with scholars who said they would be happy to meet with him to discuss his interests and how he could get involved with research, particularly at USC.
Attending the conference "made me consider going into a PhD program," he said. "Now it's definitely something that's achievable. It's within my reach."
Lee, a second-year student, came away from the conference with a greater understanding about the scope of military social work, and also made new connections with scholars.
Of particular interest to Lee was a lecture on how to evaluate the wellbeing of student veterans. The research study found that looking at GPA alone will not tell you if a student veteran is doing alright and has made a smooth transition to civilian life, as veterans tend to perform better academically than their non-veteran peers. "It made me understand how important it is to look at data holistically," he said.
During the conference, Kintzle arrange a dinner for USC students, faculty and alums, and this afforded Lee an opportunity to connect with an Air Force social worker who received her PhD from USC. "She was able to give me a lot of advice" about working in the military space, he said. "Hearing about her experience was extremely helpful."
Gaining knowledge of the latest research
Last semester, Mercado, a third-year student, wrote a paper on neonatal abstinence syndrome and at the conference she was able to attend a lecture on that very subject, furthering her knowledge about the various research that is currently happening around this issue.  "That was one of the more powerful sessions I went to," she said. "It was a great experience."
The conference also reminded her of how important it will be in her career to stay aware of the latest research― and to attend conferences like this one.
"As a social worker, it's your duty to stay on top of research moving forward, to add theories to your practice, to add interventions, just to know," Mercado said. "In the future, I will know this [conference] exists, and I can go to it annually.
The students' travel and conference expenses were covered by USC, through the generous support of Cigna Foundation and The Ahmanson Foundation, who are committed to providing military-connected and veteran students with unique and extraordinary experiences during their studies at USC.
"The Military Academic Center is grateful for the support from these two foundations which helps us continue our efforts to provide exciting and innovative opportunities for our military-track and military-connected students outside of the classroom," Kintzle said.
To reference the work of our faculty online, we ask that you directly quote their work where possible and attribute it to "FACULTY NAME, a professor in the USC Suzanne Dworak-Peck School of Social Work" (LINK: https://dworakpeck.usc.edu)