Meet the LAVC's Lauren Trosclair Duncan, Advocate for Women Veterans and Military Families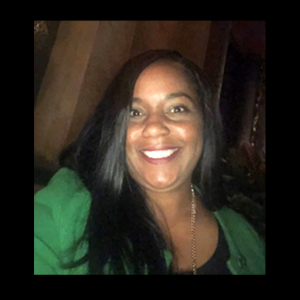 Lauren Trosclair Duncan—co-chair of both the Women Veterans and the Families and Children working groups of the Los Angeles Veterans Collaborative—connects veterans and military families with a range of resources, from health care to resiliency training.
When military service members transition from active duty to civilian life, they face a number of new challenges—from navigating the workforce to understanding the benefits due to them as veterans. Today, California has the highest concentration of veterans of any state, many of whom struggle with low income levels, homelessness and a lack of access to vital resources and support networks.
To centralize services and increase access to resources for veterans, the USC Suzanne Dworak-Peck School of Social Work's Military and Veterans Programs launched the Los Angeles Veterans Collaborative (LAVC). Lauren Trosclair Duncan serves as both the co-chair of the LAVC's Women Veterans working group and the co-chair of the Families and Children working group. She spoke to us about her passion for providing veterans and military families with support, whether by organizing benefits counseling or offering free makeovers to LA vets.
USC Suzanne Dworak-Peck School of Social Work: Where did your passion for working with veterans — specifically women veterans and military families — begin?
Lauren Trosclair Duncan: My father served in both World War II and the Korean War, so I grew up around military culture. Later, I married a serviceman—which deepened my understanding of the military and my investment in caring for service members. A close female friend also served in the military, which sparked my passion for addressing issues that affect women veterans. 
I became involved in a number of military- and veteran-focused initiatives, including serving as a Family Readiness Group Leader with the Army Reserve, where I had the opportunity to educate more than 350 families on the military benefits accessible to them through the GI Bill and the Yellow Ribbon Reintegration Program (YRRP). I have also served as a YRRP briefer since its inception, traveling across the country to provide skill and behavioral training to service members and their families to aid them in the transition out of the Army.
Eventually, I became the American Red Cross Director of Service to the Armed Forces and Veterans for the Los Angeles Region. We are congressionally chartered to provide emergency communication to all service members and their families, and have made it our mission to provide unwavering support to women veterans and military-connected family members. I've also undergone extensive training in military and veteran suicide prevention.
USC: What inspired you to get involved with the LAVC?
LTD: My husband was an assistant professor of military science at USC, which is how I learned about the USC Center for Innovation and Research on Veterans & Military Families. I began attending LAVC meetings and later became co-chair of the Women Veterans working group. Since then, I've also become co-chair of the Families and Children working group, where I have had the opportunity to develop programs that address the unique experiences of military children. 
USC: What events or programs are you involved in that benefit women veterans specifically? 
LTD: I'm proud of the nonprofit partnerships I have helped to establish—specifically with Beauty Bus, which offers full makeovers to patients with chronic illnesses. Thanks to its partnership with the American Red Cross-Los Angeles Region, Beauty Bus has agreed to partner with me to offer makeovers to women veterans as well. While a makeover may sound trivial, it can actually be profound. I work with a lot of women veterans who may not feel beautiful, and sometimes a makeover can simply boost a woman's confidence in herself. 
Three years ago, the Greater Los Angeles VA requested that we host a women veteran lounge. Since then, we have also hosted a women veteran lounge at the Compton Stand Down. In addition to the Beauty Bus makeovers, we offer Red Cross Resiliency Workshops, resources and referrals—not to mention a stress-free and safe area to connect with other women veterans.
USC: What initiatives have you spearheaded as co-chair of the Families and Children working group?
LTD: I'm particularly excited about Los Angeles County Supervisor Janice Hahn's upcoming Veteran Resource Day, a veterans' resource fair I've helped to organize in conjunction with the Los Angeles County Military & Veterans Affairs to provide homeless veterans with food, shelter, clothing, health screenings and on-site benefits counseling. We'll also conduct a resiliency training session, and will be conducting interviews for the Red Cross Veteran History Project, in which military veterans are invited to tell their stories on film.
The LAVC's Families and Children working group will look after the children during the event, providing hygiene items and school supplies, a pop-up movie theater compliments of Los Angeles Metro, and a place to do arts and crafts. The point is to honor military children—we want them to have fun, to feel that their experiences are valid and to know that we are there to support them. My hope is that through this event, we can also encourage more participation in the LAVC from homeless veterans who can benefit from the many resources available to them.
USC: How has your work with the LAVC intersected with your leadership role within the Red Cross?
LTD: I truly carry the mission of LAVC with me everywhere. My current role with the Red Cross involves visiting active military bases and helping current service members prepare for their transition out of the military. I often tell them, "If you feel lost or if you aren't sure what you want to do after you leave the military, get connected with LAVC," because I believe that the collaborative is providing veterans with critical services and the support of a community that understands and values their unique experiences. I was never able to serve in the military, but I am proud that I am able to serve veterans through the LAVC.
To reference the work of our faculty online, we ask that you directly quote their work where possible and attribute it to "FACULTY NAME, a professor in the USC Suzanne Dworak-Peck School of Social Work" (LINK: https://dworakpeck.usc.edu)