4 Things Military Veterans Should Consider When Choosing a Civilian Career Path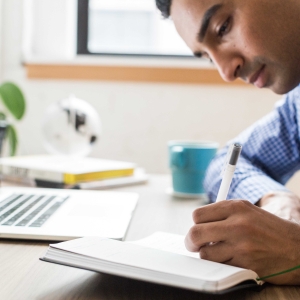 By preparing for the challenges that come with re-entering the labor force, military service members can transition into a civilian career that is both financially stable and personally fulfilling.
Transitioning from active duty to a civilian career path often comes with a variety of unanticipated challenges. In addition to the new financial burdens of housing and health care, veterans often face difficulty finding their place within a job market that values traditional work experience over the skills gained during military service.
Today, some eight in 10 American service members leave the military without a job—but with a few proactive measures, veterans can embark on a stable and fulfilling career path and secure their financial future. We spoke with Sara Kintzle, associate research professor at the USC Suzanne Dworak-Peck School of Social Work's Military and Veterans Programs, who offered a few useful guidelines for those transitioning into new civilian careers.
1. Consider Your Long-Term Goals
The period after you leave the military can be a confusing and emotionally stressful time. For many veterans, their status as a service member brings a sense of meaning and identity, so leaving the military may be associated with an identity crisis of sorts. To find this same sense of meaning in civilian work, it's crucial for service men and women to identify their passions and values and use them to formulate a career roadmap.
"Think about what's meaningful to you and what you envision yourself doing in 20 years," Kintzle said. "Pursue a path that will bring meaning and purpose into your life." Keep in mind that prioritizing long-term goals may require accepting a job that you don't love in the short-term — but this position can act as a stepping stone to a future in the field you want.
2. Rethink the Importance of "Skill Transfer"
"'Skill transfer' is a hot-button term in hiring that's meant to promote the use of skills you already possess in a new job," Kintzle said. However, Kintzle emphasized that veterans shouldn't feel tied to their current skills or experiences, but rather, should explore the fields that interest them and seize opportunities to develop new skills on the job.
A number of nonprofits and military partners provide free or low-cost training programs, classes and certification courses in everything from business management and cybersecurity to coding and supply chain management. For veterans interested in leveraging their current skill set to find a fulfilling career, the government's Military Skills Transfer platform can help them to translate military-specific skills into language that employers understand.
3. Maintain Reasonable Expectations
The reality of transitioning to the civilian workforce is difficult and often unfair — after sacrificing time and effort to serve their country, many veterans still face disproportionately low wages and underemployment rates.
While all veterans should pursue opportunities in their desired field, it can be difficult to land the perfect job right off the bat. When they leave the military, veterans are forced to compete with applicants who have been in the traditional workforce longer and may be viewed by conventional employers as more desirable based on past job experience.
Those leaving the military should psychologically prepare themselves for the challenges to come, and understand that they may face a long road before securing a career that is up to par with their personal and financial expectations. "Maintain flexible salary requirements," Kintzle stressed, "and recognize that successful careers for veterans begin by building up experience and laying the groundwork for long-term success."
4. Take Advantage of Veteran-Specific Benefits
There a number of federal, state and private-sector financial and career benefits available specifically to veterans. "These benefits can ease the transition for many veterans while offering a bit of direction," Kintzle said.
The Veterans Benefits Administration can connect service members with a range of financial resources — including everything from life insurance and higher education benefits to mortgage loan programs that guarantee low interest rates and debt-to-income ratios.
For career transition assistance, the Career Transition Assistance Plan (CTAP) and the Interagency Career Transition Plan (ICTAP) grant preferential hiring status for government jobs to eligible military service members. In addition,"veterans can receive hiring preference (for roles from administration to social work and psychology) at government-run facilities such as Veterans Health Administration (VA) hospitals," Kintzle said.
To reference the work of our faculty online, we ask that you directly quote their work where possible and attribute it to "FACULTY NAME, a professor in the USC Suzanne Dworak-Peck School of Social Work" (LINK: https://dworakpeck.usc.edu)