4 Ways to Financially Prepare for Your Transition Out of the Military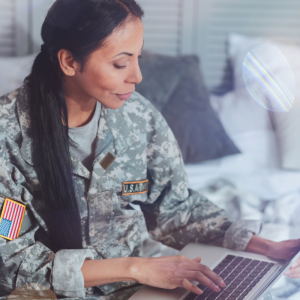 For service members preparing to leave the military, these financial planning tips from the Military Academic Center, part of the Military and Veterans Programs at the USC Suzanne Dworak-Peck School of Social Work, can ease the stress associated with this transition.
Transitioning from active military duty to civilian life can come with a range of unanticipated challenges. During this period of emotional, social and professional readjustment, many veterans also need support to establish a secure financial future.
As discharged service men and women prepare for their new lives, they may struggle to navigate the complex landscapes of health care, insurance, housing and more—benefits that were provided for them during their tours of duty. For recent veterans and those preparing for discharge, these financial preparation guidelines can help smooth the transition into civilian life.
1. Plan Ahead and Take Advantage of Professional Resources
Ideally, service members should be searching for their next job while still on active duty. Still, finding an ideal job may take longer than anticipated, so create a transition fund before your discharge date: experts recommend saving enough to cover living expenses for nine to 12 months of unemployment. Tools like VeteransPlus' Yellow Ribbon Compass can make planning and budgeting for this period a breeze.
When you're ready to begin your job search, there are a number of government and community resources and services available that can help you brush up on interviewing skills, find a position you love and plan for your financial future.
The Department of Defense (DoD) offers career and transitional services for every branch as well as the DoD SkillBridge, a career planning service for all service members exiting the military. The Department of Labor's Veterans Employment and Training Services (VETS) also offers comprehensive professional resources for veterans. If you are eligible, consider applying for either the Career Transition Assistance Plan (CTAP) or the Interagency Career Transition Plan (ICTAP), which can give you priority in the hiring process for federal roles.
In addition, there are many private organizations and services that offer assistance to veterans navigating the career transition process. Many colleges and universities, including USC, have their own on-campus resources available to service members and veterans.
2. Manage Your TSP Account
Many service men and women take advantage of the military's Thrift Savings Plan, a tax-advantaged retirement fund. When leaving the military, members are offered a number of options. They may choose to withdraw the balance from their account, keep their funds within the account, roll the funds over to a comparable plan with a new employer, or roll the funds over into a traditional IRA.
Over time, tax-free combat pay can accumulate tax-free earnings, so maintaining the original account may be wise in the long term. However, rolling the account over to an employer's plan may be a prudent option for many, as you may be able to access the funds earlier or take advantage of your employer's matching contribution program.
Some veterans may opt to liquidate their TSP, which experts recommend against unless you are of retirement age, since the balance of the account then becomes subject to income taxes and a potential early withdrawal penalty of 10%.
3. Live Within Your Means
For newly discharged veterans, money management can be a complex and intimidating prospect: they are now faced with a bevy of expenses, from health insurance to housing and car payments, that they may not have been responsible for previously. This is especially true for those who entered the military directly from high school and have never lived independently or balanced a budget of their own.
Successfully living within your means requires vigilant budgeting: separate wants from needs, and pay above your minimum credit card payment when possible to boost your credit score. Ensure you pay your bills on time and trim down your budget as much as is reasonably possible based on your income (after taxes!). Put away whatever is left over at the end of the month in a 401K, an IRA, or stocks and bonds.
In addition, the Veterans Benefits Administration can connect you with a range of financial resources, covering everything from life insurance and opportunities in higher education to mortgage loan programs that guarantee low interest rates and higher debt-to-income ratios.
4. Seek Support from Your Spouse
For married service members and veterans, leaning on a spouse for support can help alleviate the stress of transitioning into civilian life, while also playing an important role in ensuring the family's financial health. The Department of Defense's Transition Assistance Program (TAP) aims to facilitate this partnership, providing "information, tools and training to ensure service members and their spouses are prepared for the next step in civilian life, whether pursuing additional education, finding a job in the public or private sector, or starting their own business."
Educating yourself about the services available to you as you transition into civilian life can yield benefits for your whole family. Did you know, for example, that many service members can transfer their GI education benefits to their spouse or dependents?
Your spouse can prepare for your homecoming by revisiting the family spending plan and adjusting as necessary to account for your financial needs (and future income). Together with your partner, go over a transition checklist, like this one from SaveAndInvest.org, which offers helpful tools for comparing your civilian pay to your total military compensation package, finding housing, and taking advantage of military benefits programs.
To reference the work of our faculty online, we ask that you directly quote their work where possible and attribute it to "FACULTY NAME, a professor in the USC Suzanne Dworak-Peck School of Social Work" (LINK: https://dworakpeck.usc.edu)