How CTAP and ICTAP Can Benefit Veterans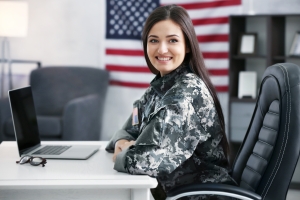 Those who are transitioning from active duty in the military may be eligible for employment priority status under CTAP or ICTAP. The Military Academic Center, part of the Military and Veterans Programs at the USC Suzanne Dworak-Peck School of Social Work, is offering this guide to students and prospective students who may benefit from these programs.
Transitioning out of a service role can come with unanticipated emotional, psychological and financial stressors for many veterans. Military service men and women transitioning into civilian life may experience a loss of identity and can find it challenging to take the steps necessary to ensure a stable future for themselves and their families.
Luckily, a number of resources and services are available to support service members and ease this transition. The Career Transition Assistance Plan (CTAP) and the Interagency Career Transition Assistance Plan (ICTAP) are two such programs. Designed to provide employment selection priority to certain qualified federal service employees as they exit their current role, CTAP and ICTAP support all U.S. federal employees, but may be especially valuable programs for military service members who are transitioning into a new role.
What is the difference between CTAP and ICTAP?
CTAP in an intra-agency program, meaning that participants apply for new positions within their current agency, and if qualified, will gain selection priority for such jobs.
ICTAP, on the other hand, is an inter-agency program, which means that participants are eligible for positions outside of their current or former agency. For instance, if you are leaving a role within the Defense Commissary Agency (DeCA), you will be eligible to apply for jobs within a different agency of the Department of Defense—such as the Defense Threat Reduction Agency (DTRA)—or in another department entirely.
Who is eligible for each program?
Federal employees eligible for CTAP or ICTAP include those considered either "surplus" or "displaced." To qualify as a displaced employee, one must have received a Reduction in Force notice (RIF), separated due to a compensable injury, or retired due to either disability or under the discontinued service retirement option. Read more to find out if you're eligible for CTAP or ICTAP consideration.
If you are considered a surplus or displaced employee, the following statements must be true to secure both ICTAP and CTAP eligibility:
You have received

a Reduction in Force (RIF) separation notice, a certificate of expected separation, notice of proposed removal for declining a directed reassignment, transfer of function outside of the local commuting area or other official certification indicating that the position is surplus

You are qualified for the job for which you are applying (meaning you are applying for a position that is at or below the grade level from which you are being separated and that doesn't have a greater promotion potential than the position from which you are leaving)

You

have a current performance rating of at least successful or equivalent

You can provide

proper eligibility documentation

Your current position

falls within the same local commuting area of the vacancy or you receive permission of exception to this rule from the bureau
In addition to the above, the following statement must be true for CTAP eligibility:
You have applied for a new position in your agency by the official date of separation from your previous role
While the following is required for ICTAP eligibility:
You apply to the new role within one year of being discharged from your previous position

The agency in which you are applying for a position is accepting applications from candidates outside of the agency
How does the hiring process work?
If you meet all eligibility requirements and have submitted proper documentation, you can apply for the vacancy of your choice. Each agency is required to include a definition of "well-qualified" on vacancy listings so applicants understand the evaluation process. The agency will review applications against selective factors and qualifications. If you are considered well-qualified, you may be hired.
If the agency does not deem you well-qualified, they will conduct another review of your application. After this evaluation, they will provide written advice in the results of the review. If the agency determines that there are no well-qualified CTAP or ICTAP applicants, they will likely hire a qualified non-priority applicant.
Stop by the Veterans Resource Center at USC for more career- and financial-planning resources to smooth your transition into civilian life.
To reference the work of our faculty online, we ask that you directly quote their work where possible and attribute it to "FACULTY NAME, a professor in the USC Suzanne Dworak-Peck School of Social Work" (LINK: https://dworakpeck.usc.edu)