Leading the Charge to End Homelessness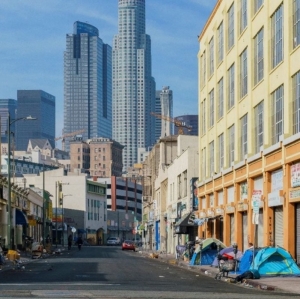 Homelessness has become more than a serious issue affecting society. It is also a public health epidemic nationwide. In Los Angeles, the crisis is particularly acute, with more than 69,000 people experiencing homelessness in 2022. For most, the problem appears unsolvable and the best we can hope for is to mitigate it. Ben Henwood, professor and director of the Center for Homelessness, Housing, and Health Equity Research (H3E) at the USC Suzanne Dworak-Peck School of Social Work, has a different view. He unapologetically believes it is within our reach to end homelessness in the United States.
"It's not really that complicated, it's just politically challenging," Henwood said. "We know how to do it. All the research shows that if you provide people with access to housing and supportive services, and you do it right, the vast majority of people — about 80% — will exit homelessness and not return."
Under Henwood's leadership, H3E brings a holistic, science-based approach to research conducted with the goal of promoting discovery and dissemination of evidence-based solutions to reduce homelessness and health disparities. Their work is funded by the National Institutes of Health (NIH), National Science Foundation (NSF), the Hilton Foundation, Google.org and the Epstein Family Foundation. H3E also partners with the Los Angeles Homeless Services Authority (LAHSA) to conduct data collection, analysis and reporting for the annual Greater Los Angeles Homeless Count, which is the largest survey of the unhoused population in the United States.
Henwood and H3E also lead the new Ending Homelessness Graduate Certificate program at USC Social Work, open to graduate-level students from all disciplines as well as employed professionals. The 12-unit curriculum provides an opportunity to delve into cutting-edge research and deepen understanding of the underlying dynamics of homelessness, ultimately creating a more knowledgeable workforce ready to take on the challenge of ending homelessness in Los Angeles and beyond.
The dignity of knowing their own needs
One element that is consistent throughout research or workforce development at H3E is a focus on allowing people experiencing homelessness to drive decision-making for their own care, using the tools and evidence-based approach of the social work discipline in concert with scientific inquiry.
At the core of this philosophy is Henwood's early and consistent commitment to the Housing First model of addressing homelessness. Housing First does exactly what it says: prioritizes asking people experiencing homelessness about their most urgent needs which almost always means helping them to find safe, affordable, permanent housing before addressing any other issues. This approach is effective in developing a trusting relationship with the social services staff that visit people in their apartments to offer support and treatment after they are housed. The approach was created in New York City in the 1990s by Sam Tsemberis to address the needs of unhoused people who were seen as "not housing ready" due to their mental illnesses and substance use. Over and over, Tsemberis heard his clients say that what they really needed before anything else was "a place to live." He took the radical step of listening, and treating them as experts on their own needs. Housing First was originally controversial, but it has since become the standard required by nearly all federally-funded homelessness programs.
"Housing First is not actually about housing," Tsemberis said. "It's a different way of working with people experiencing homelessness and diagnosed with mental illness and addiction. It's a person-centered approach that supports client's self-determination, invites them to have a say so in their treatment plans and to determine the type and sequence of services that matter to them. We flipped around the medical model's approach to treatment."
Henwood trained with Tsemberis, first in New York City and then running the Pathways Housing First program in Philadelphia. To support the launch of the Ending Homelessness Graduate Certificate program, students have the same opportunity to learn from the "Father of Housing First," as Tsemberis is teaching one of the certificate program's foundational classes.
Henwood and Tsemberis acknowledge that adjustments must be made to the original Housing First model to recognize shifts in demographics in order to be effective for the variety of populations experiencing homelessness today. Families, for example, may require less psychiatric care, but may need job training or educational support for childcare. The increasing rent process and shortage of social workers and other support personnel also leads to challenges in bringing this effective model to scale, as does the consistent government underfunding for housing and support services.
Henwood points out that shifting this dynamic could be as simple as rethinking government housing incentive policies, which currently subsidize owning a home through the mortgage interest tax deduction rather than applying subsidies to develop affordable housing and ensure that everyone has a place to live.
Innovative program tackles financial and relational poverty
H3E consistently explores new frontiers in understanding the root causes of homelessness, how to best reach people where they are and innovative interventions that can make a meaningful difference. Henwood is currently principal investigator on a new guaranteed income study. in partnership with homeless advocacy nonprofit Miracle Messages. The "Miracle Money" study will distribute unconditional $750 monthly cash payments for 12 months to approximately 100 Los Angeles and San Francisco Bay Area residents experiencing homelessness. It is based on an informal pilot program previously conducted by Miracle Messages with 12 participants, half of whom were able to successfully exit homelessness by the end of the program. Henwood has designed a more extensive, randomized control study to determine if this result holds true with a significantly larger sample size and measured against a control group. He likens this work with guaranteed income to his early days of the Housing First movement.
"It was seen as a radical idea," Henwood said. "'You're going to give people with active mental illness and substance use the keys to an apartment, and you think this is a good idea?' However, randomized control trials demonstrated how effective it is, so it went from being a fringe idea to being national policy today. The Miracle Money program is a more revolutionary extension of that thinking." A unique aspect of Miracle Money is that in addition to addressing financial insecurity, it focuses on what Miracle Messages founder Kevin Adler terms "relational poverty," or the lack of connection that many people experience after becoming homeless. This can be due to shame or a lack of traditional socially interactive situations such as family, workplace or neighborhood. The informal guaranteed income pilot grew out of the Miracle Friends program, where volunteers from the community are assigned to reach out to a person experiencing homelessness through weekly phone conversations, and this component has been incorporated into the Miracle Money study.
"Societally, there is a dearth of high-quality, best practice, evaluative tools to measure social impact," Adler said. "It's very tempting to rest on individual stories and anecdotes, but we're giving out more than one million dollars, so we want to know the true impact of this once in a lifetime opportunity."
One of the aims of Miracle Money is to scientifically examine the impact of reducing financial and relational poverty. Participants will be randomly assigned to three groups for the study period: one that receives a Miracle Friend only, one that is assigned a Miracle Friend as well as receiving cash payments, and a control group that receives neither. The structure of the study will allow for examination of a variety of physical and social factors as well as housing insecurity.
"One challenge in this work is confronting the idea that you're going to give money to people who are perceived as not having 'earned it.'" Henwood said. "People are concerned about what they're going to spend it on. But the idea is that people have different needs and we're empowering them to focus on what's going to help them individually."
To reference the work of our faculty online, we ask that you directly quote their work where possible and attribute it to "FACULTY NAME, a professor in the USC Suzanne Dworak-Peck School of Social Work" (LINK: https://dworakpeck.usc.edu)