How One DSW Candidate is Combating Human Trafficking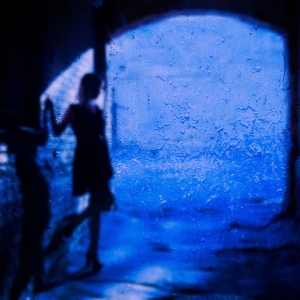 This USC DSW candidate and Army veteran is in the vanguard of activists working to eradicate human trafficking across the globe through technology and cross-industry collaboration. Because of the sensitive nature of her work and to maintain her anonymity, we have redacted her full name.
According to the International Labour Organization, there are 5.4 victims of modern slavery for every 1,000 people across the globe. One in four of those are children, and women and girls are disproportionately affected by forced labor, making up 99 percent of those trafficked for sex and 58 percent in other sectors.
When M, a U.S. Army veteran and current DSW candidate at the USC Suzanne Dworak-Peck School of Social Work, learned about the reality of human trafficking during her final semester in the MSW program at USC, she felt compelled to take action.
"I'm an abolitionist. I am committed to eradicating human trafficking, and I believe it's possible by working together," said M, who received her MSW in 2017. M recently opened up about her experiences as a veteran and social work student, and provided insight in to how leveraging technology and cross-industry partnerships – along with the help of some famous friends – will aid in tackling human trafficking head-on.
USC Suzanne Dworak-Peck School of Social Work: Tell us a bit about your background and the factors that have contributed to your passion for helping others.
M: I grew up in a military family and was raised in an environment that prioritized values such as loyalty, duty and service, so it has always been important for me to find a way to serve those in need.
Those values informed my decision to pursue a master's degree in counseling at the University of Southern Alabama. After graduating, I spent a few years as a licensed professional counselor working with patients with drug and alcohol problems.
When I became a full-time parent, I gained a new opportunity to embody a different kind of service role that has provided me with great fulfillment.
After a few years, I began thinking back to my childhood and what I had learned from growing up in a military family. This sparked a new interest in me, and at 41 years old, I took a chance and enlisted in the Army. I became an intelligence officer and spent nearly a decade in service. This was an extremely rewarding, life-changing time in which I developed a number of skills that I still carry with me.
USC: Why did you decide to pursue your MSW at USC?
M: When I sustained an injury on active duty, I was forced to medically retire. Since I had always been interested in exploring social work, pursuing my MSW felt like a natural step forward.
The MSW program at the USC Suzanne Dworak-Peck School of Social Work caught my eye because it was available online, which was a requirement for me at the time due to my injury. What's more, USC touts an impressive lineup of highly experienced faculty members.
I was also attracted to the program due to its focus on both micro- and macro-level social work. As a former intelligence officer, I was looking for an opportunity in which I could leverage my military skills and bring about systemic change.
USC: How did human trafficking become a major area of interest for you?
M: During the last semester of my MSW program, I took a course with Clinical Professor Annalisa Enrile in which she tasked students with developing innovative interventions for aiding human trafficking victims. I had no idea how widespread such a horrifying human rights problem like modern slavery was.
The more I learned about human trafficking, the more compelled I felt to make a difference. I channeled my anger and sadness into my work that semester and developed the idea of BlueB, a tool that aims to reduce incidences of human trafficking, sexual assault and abuse through the use of digital access points. The response was overwhelmingly positive.
The BlueB technology won the audience approval award at the USC Social Impact Fast Pitch competition.
USC: How have the skills and knowledge gained at USC informed your work in battling human trafficking?
M: I learned so many valuable theoretical frameworks and applicable skill sets in my MSW program that I decided to pursue my doctorate and was accepted to the DSW program at USC. I'm working on my capstone project now, which is focused on Harnessing Technology for Social Good, one of the 12 Grand Challenges for Social Work as laid out by the American Academy of Social Work & Social Welfare. I'm on-track to graduate in December.
Working on my capstone has honed my skills and opened new possibilities for combating human trafficking in innovative ways. In fact, the original BlueB technology design blossomed into a for-profit company called Blue B Innovations, Inc.
The software solutions we've designed include built-in smart technology and computer applications that are non-deletable and non-hackable. They are designed to enable victims of trafficking abuse or assault to self-report within a matter of seconds to notify authorities, emergency contacts, the human trafficking hotline and state trafficking task force organizations. By increasing the accuracy and accessibility of self-reporting, BlueB technology will be able to reduce instances of assault and trafficking for at-risk individuals.
USC: How have your efforts to fight human trafficking evolved since officially launching Blue B Innovations?
M: Throughout my studies and the development of the for-profit company, Blue B Innovations, I've met a number of pioneers in the anti-trafficking area, including activist "Doc" (name also withheld for protective purposes), who has helped me take the BlueB technology designs to the next level. When we met and decided to partner together, we realized that because of the vast connections and endorsements associated with sports, our organization really needed to be non-profit. So we effectively combined the BlueB technology designs and multiple other initiatives and formed our non-profit organization, Sports World Against Trafficking (SWAT) League.
SWAT League works alongside professionals and non-professionals in the sporting leagues, teams, government and non-government organizations, and private sector individuals who share the common goal of eradicating human trafficking. We are set up similar to a United Way concept and have multiple organizations sitting at our round table with us who share the same mission and vision as we do in this fight. We are a resourcing center where all participating can help one another.
In March of this year, SWAT League partnered with WanderSafe, an organization whose digital safety tool recommends safe traveling routes and enables users to alert friends or family when they feel unsafe, providing emergency contacts with exact geographical coordinates. We are integrating the BlueB functionality into their application to create access points for potential victims of human trafficking.
The founder of WanderSafe invited me to speak about human trafficking at the UNESCO World Summit on the Information Society (WSIS) in Geneva, Switzerland, this year.
USC: Why did you choose to partner with the sports world in the fight against human trafficking?
M: Major sporting events often see high rates of human trafficking activity, simply due to the principle of supply and demand. Human traffickers can easily conduct their business unnoticed among thousands of tourists and fans. By partnering with the sporting industry, we're calling attention to a crime that's hidden in plain sight.
The SWAT League has gained immense traction already. We've garnered public support through our many endorsements from the sports world itself. Retired NFL linebacker Ray Lewis is a founding board member of SWAT League, and he is our spokesperson. We've received public support from well-known sporting stars, commentators and coaches across leagues and eras—from future MLB Hall-of-Famer Albert Pujols and NBA All-Star Kyle Korver to University of Alabama football coach Nick Saban and WWE star Sting.
Not only is SWAT League receiving critical support from the sports world, but our educational training curriculum is provided through some of our supporting partners on the forefront of national anti-trafficking efforts, including the U.S. Department of Education, the U.S. Department of Homeland Security, the U.S. Department of Labor, the U.S. Department of Housing and Urban Development, the American School Counselor Association, the National Association of School Nurses, the U.S. Institute Against Human Trafficking and many, many more. This cross-industry support creates a network of organizations committed to working together to end human trafficking.
USC: Can you summarize the ultimate goals of SWAT League and what you believe is the best approach to fighting human trafficking?
M: It's our mission—through our collaborating partners including Rescuing Hope, StrikeOut Slavery, Street Grace, Operation Underground Railroad and other partnering organizations, such as Deliverfund, Verafin, and Digital Ally—to educate individuals across schools and university systems, law enforcement, communities and beyond on how to identify potential trafficking victims and take preemptive and proactive action whenever possible.
In truth, I believe this is a war—and we cannot win this war by doing the same thing that's been done over and over. It's time to build an 'army' that integrates and leverages a number of 'weapons'—from education and collaboration to technology and activism—in order to combat the enemy from all vantage points. That is what we are attempting to do at SWAT League.
Our organization will dedicate its time and efforts moving forward to developing solutions that integrate technology and cross-sector collaboration to achieve the goal of eradicating human trafficking on a large scale. We are protecting your family one access point at a time.
Note: This article has been updated to more accurately reflect the development of SWAT League.
To reference the work of our faculty online, we ask that you directly quote their work where possible and attribute it to "FACULTY NAME, a professor in the USC Suzanne Dworak-Peck School of Social Work" (LINK: https://dworakpeck.usc.edu)