How Digital Solutions Can Improve Cognitive Processing Therapy Training for Clinicians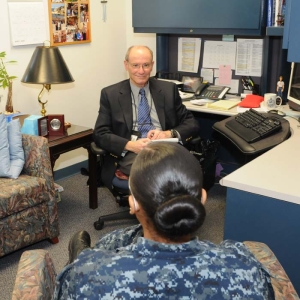 Research Associate Professor Hazel Atuel is developing new digital solutions for Cognitive Processing Therapy training so that clinicians can treat veterans with PTSD more effectively.
Due to a combination of factors that may include exposure to high-stress environments and combat trauma, military service members and veterans are at an increased risk of developing post-traumatic stress disorder (PTSD). Other factors, such as pre-existing mental health conditions, drug and alcohol use, previous traumas, and even enlisting at a young age can worsen a service member's odds of suffering from PTSD.
Though many kinds of treatment may help to successfully mitigate the symptoms of PTSD,  Cognitive Processing Therapy (CPT)—an evidence-based cognitive behavioral therapy model—has proven to be highly effective. Through research on how digital tools can increase the efficiency and efficacy of CPT clinician training, USC Suzanne Dworak-Peck School of Social Work Research Associate Professor Hazel Atuel is seeking to modernize CPT with the goal of increasing the reach of health providers working with military and veteran patients with PTSD.
Cognitive Processing Therapy for the treatment of PTSD
CPT centers upon "the connections between thoughts, feelings, behavior and bodily sensations," according to the treatment's developers. By identifying and understanding the ways in which trauma shapes thoughts and behaviors, patients who have experienced traumatic events can learn to challenge and shift these beliefs to mitigate stress, depression, shame, anxiety and other symptoms.
"CPT was originally designed with victims of sexual assault in mind. As with any evidence-based therapy, it began to be applied to patients who did not experience sexual assault, but exhibited similar PTSD symptoms," Atuel said.
Traditional training to achieve CPT provider status is rigorous: it requires professional licensure as a psychotherapist, completion of an online educational course as a precursor for a two- to three-day intensive in-person training, many hours of sanctioned group CPT consultation with trainers, and more.
To increase access to and streamline the process of CPT training through technology, Atuel teamed up with learning architect Luci Ursich, project specialist Ashley Schuyler, software developer Dax Berg, Research Associate Professor Sara Kintzle and Associate Professor Carl Castro. Funded by the U.S. Department of Defense (DoD) and the U.S. Department of Veterans Affairs (VA), Atuel and her team designed a virtual training course and a clinician-facing mobile application to be used during CPT consultation with trainers.
"Instead of a brief online session and three jam-packed days of training, the virtual learning course is divided into short sessions over a six- to seven-week period. This provides more time for trainees to digest the information and gradually implement CPT methods," Atuel said. The team also employed an actor to play the role of a patient, giving practitioners a valuable opportunity to interpret common PTSD symptoms and practice CPT techniques in a low-risk setting.
Additionally, Atuel's team developed a dynamic mobile application in which clinicians can access CPT training materials and resources from their online course, record notes on each of their patient sessions and complete virtual consultations by communicating directly with trainers.
"Both the virtual learning environment and the mobile app were created to increase access to CPT training for community-based mental health providers. Greater reach of providers means greater access for patients with PTSD," Atuel said.
Addressing hurdles to widespread implementation of digital CPT training
To complement the online training program and mobile application, the Knowledge Assessment of CPT Critical Skills (KACCS) Scale was developed and validated for use in the study (a manuscript describing the validation and implementation of the KACCS Scale has just been accepted and will be released in the March 2019 issue of Military Medicine). Utilizing the KACCS Scale in the CPT study, Atuel and her team found the online training program was effective in increasing participants' knowledge of CPT.
While these results are promising, a number of challenges remain before fully digitalized CPT training can be made accessible and effective on a large scale. "Two major barriers to adoption are time constraints and heavy workloads," Atuel said. A number of clinicians who signed up for the study were juggling case loads of up to 60 patients at any given time—and, as a result, many dropped out of the study before its completion.
Additionally, attempting to serve community-based clinicians across a spectrum of care systems is challenging. "When you are trying to effectively train one clinician from an independent practice, one from the VA and one from a private network, part of the data collection in the study is competing with different systems of care that have their own protocols and IT systems in place," Atuel said.
To lay the groundwork for successful digitized CPT training for PTSD, Atuel stressed the importance of facilitating and integrating new technologies into information systems that are already in place. For example, because clinicians are used to doing things according to their own organization's protocol, they are less inclined to use the notes feature of the app when there is already a system in place that requires them to record case notes.
"When we develop a comprehensive virtual program that can be seamlessly integrated with existing systems, I believe we will see higher rates of success—and perhaps even better patient outcomes," Atuel said.
To reference the work of our faculty online, we ask that you directly quote their work where possible and attribute it to "FACULTY NAME, a professor in the USC Suzanne Dworak-Peck School of Social Work" (LINK: https://dworakpeck.usc.edu)