California Social Work Hall of Distinction Honors Professor Emerita Jacquelyn McCroskey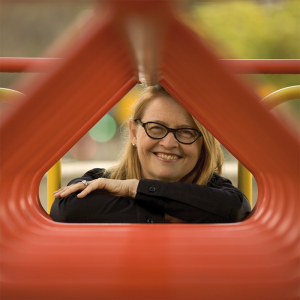 On October 21, 2023, the California Social Work Hall of Distinction hosts its 21st annual induction ceremony, honoring individuals who have made outstanding contributions to the social work profession and social welfare throughout California. Inductees to the Hall of Distinction are visionaries who have made transformational contributions to practice, policy and research for the betterment of our communities.
Jacquelyn McCroskey, professor emerita of the USC Suzanne Dworak-Peck School of Social Work, joins this distinguished consortium in the class of inductees for 2023. A well-deserved recognition for a career dedicated to improving the lives of children and families throughout California.
"I am honored, humbled and delighted to be in the company of the others in this class of inductees," McCroskey said.
Champion for children and families
McCroskey joined USC as an assistant professor in 1984. Her nearly 40-year career with USC Social Work included being named the John Milner Professor of Child Welfare in 2005, and was dedicated to research and social policy issues concerning children, families and communities. One of her mentors was fellow Hall of Distinction inductee Rino J. Patti, who served as dean of USC Social Work for one of its most respected periods, during which McCroskey became a tenured professor.
For more than two decades, McCroskey set the standard for creation of initiatives to evaluate systems and improve outcomes for children and families in Los Angeles County. She partnered with county, city and school district policymakers to investigate interagency collaboration, developed community partnerships across services areas and settings, and used data and scholarship to inform policy improvements in child welfare, juvenile justice, and early care and educational services. 
The undeniable results of her work to improve efficiency and effectiveness of service delivery systems across California led to countless leadership and advocacy appointments within city, county and state organizations. McCroskey served on the City of Los Angeles Commission on Children, Youth and Their Families for over a decade, under two mayoral administrations, providing guidance on enhancing coordination between city departments serving children and families. She was instrumental in the establishment of the Children's Planning Council which advised the Los Angeles County Board of Supervisors on improving conditions and integrating health and human services for children and families. She was appointed by California Assembly Speaker Anthony Rendon to the Blue Ribbon Commission on Early Childhood Education. Currently, she serves on the Los Angeles County Commission on Children and Families as well as the Los Angeles County Policy Roundtable for Child Care and Development. Most recently, she was appointed as an ex officio representative to the First 5 LA Board of Commissioners.
"I believe that people working together to support children, families and communities is one of the most important contributions we can make for the future," McCroskey said. "I think social workers are natural connectors, and we can help bring people together to work on the priorities they care about, the things that are most important to the children and families in the communities they know."
Innovating the use of data to improve outcomes
One aspect of McCroskey's work that has become synonymous with her long-standing commitment to improving outcomes for vulnerable children and families is the innovative use of data linkage to forge new models for service delivery throughout California. In 2013, McCroskey, in collaboration with fellow researcher Emily Putnam-Hornstein, established the Children's Data Network (CDN) — a first-of-its-kind research collaborative focused on the linkage and analysis of administration records. What began as an initial series of ad-hoc analyses quickly developed into a large-scale initiative centered on the use of administrative data to study children's service trajectories.
Nearly a decade later, this novel approach to integrating children's administrative records for research and evaluation across state and local agencies has produced notable statistical results relevant to program and policy design in child welfare and well-being. The CDN, for which McCroskey serves as co-director, has brought researchers, policy makers, agency administrators and community leaders together to answer pressing questions and generate new knowledge, significantly improving the health, safety and well-being of children.
"The CDN is framed around action and determining who needs to have information to improve outcomes for youth and families," McCroskey said. "We give agencies the perspective they need to provide better services for children on the county, state and national levels."
The critical insight provided by the CDN is how disconnected different family service systems can be, even when they are serving the same children, families and communities. By demonstrating the value of linked administrative data in connecting the dots between multiple child and family service systems, it has opened doors for this research to directly influence and inform policy and systems change. Studies by the CDN have been used as foundational information to create new state-wide programs and county motions to explore the need for policy change.
"Policymakers are not looking to academic journals for what they can do next," McCroskey said. "We need to bring them data that is likely to be relevant and actionable now."
McCroskey's understanding of the powerful impact that analysis of big data can contribute to systems change earned her the prestigious Golden Eagle Award from Los Angeles County in 2019 and the Achievement Award from the National Association of Counties in 2020 for the Moving Families from Hotline to Helpline project. Her knowledge brought a fresh perspective to the team at Los Angeles County Office of Child Protection that helped reimagine the roles of the County and its partner community agencies providing referrals.
A pioneering legacy for the profession
For McCroskey, educating students to look at the whole lives of children and families and not simply one particular service setting is key for those who choose to focus their careers in this area of practice. She stresses the need for social workers to be prepared with the skills to help families negotiate through myriad situations and systems. With the addition of the CDN to USC Social Work, McCroskey provided a further training ground for MSW and PhD students to obtain first-hand knowledge and experience of how data can be used to inform policy and create lasting change for their clients.
Through her pioneering research, practice and teaching, McCroskey has left an indelible mark on the profession of social work and the education of social workers. Her contributions will influence practitioners and scholars for generations. Most importantly, her transformative impact on services, program and policy ensure the most vulnerable children and families are provided with the support and care they deserve.
"I hope that my students and future social workers learn from the kinds of collaboration we've been working on here in L.A., as well as those in other places," McCroskey said. "We've seen the power of cross-system interdisciplinary collaboration, and possibilities for even more progress when community residents and people with lived expertise are at the center of these conversations. I see it as a practice of hope."
To reference the work of our faculty online, we ask that you directly quote their work where possible and attribute it to "FACULTY NAME, a professor in the USC Suzanne Dworak-Peck School of Social Work" (LINK: https://dworakpeck.usc.edu)