Helping Families by the Numbers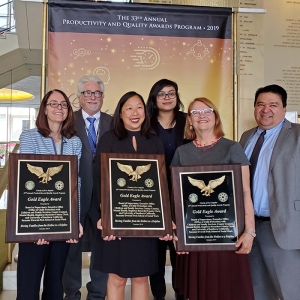 One virtue of big data is that it can unlock patterns that bring important insights about helping vulnerable children and families. Numbers, it is said, do not lie.
Jacquelyn McCroskey, the John Milner Professor of Child Welfare at the USC Suzanne Dworak-Peck School of Social Work and co-director of the Children's Data Network, had taken a sabbatical from her faculty duties to focus on child abuse prevention within Los Angeles County's Office of Child Protection. The County runs the largest child welfare agency in the world and operates one of the busiest hotlines, logging 220,000 calls a year reporting suspected child abuse or neglect.
A particular data point caught McCroskey's attention. After a call to the hotline, only one in ten families offered community services connected to a prevention or support agency. Many families either declined or dropped out during wait times.
"We asked, 'how can we increase that number?'" McCroskey said.
The answer to that question turned out to be an innovative project known as "Moving Families from Hotline to Helpline" that won her and her County colleagues—including the Office of Child Protection, Department of Child and Family Services (DCFS), Department of Mental Health and others—the County's prestigious Gold Eagle Award at its annual Productivity and Quality Awards Ceremony held in October 2019.
Fresh Perspective
The DCFS Child Protection Hotline operates 24 hours a day, seven days a week, taking up to 22,000 calls in a busy month from teachers, social workers and others who have reason to suspect child abuse or neglect. Not all calls rise to the level of needing an investigation.
"We had a process in place for responding to those calls where we see a need but can't justify sending a social worker out for an investigation because other criteria are not met," said Carlos Torres, DCFS Child Protection Hotline division chief. "We wanted to improve it."
Referring families to community agencies had been the practice, but the data showed this was not particularly effective. As DCFS and the County's Office of Child Protection trained their focus on how they could better prevent child abuse and neglect, increasing the number of families taking advantage of these referrals was key.
McCroskey brought a very fresh perspective to the problem, said Carrie Miller, assistant executive director of the Office of Child Protection, suggesting a reimagination of the roles of the County and its partner community agencies. In McCroskey's proposed model, multidisciplinary teams from the County and its partner community agencies would work together to offer services to families in need. Community partners would take the lead in contacting families, rather than waiting for the families to contact them.
At first, some worried that such an idea would not even be possible due to legal restrictions. Miller volunteered to check with the County Counsel and together they figured out the steps needed to make it happen. Everyone was surprised that such an innovative idea was feasible, Miller said. But it was.
Motivated, the cross-functional team of attorneys, agency representatives, consultants and researchers from academia came together to break down the process and look at every possible handoff as well as for additional funds.
"We knew this project was something special," Torres said. "It didn't feel like work. It felt like we were doing the right thing."
Real Results
The project launched on July 1, 2018. A year later, the data told the story of its success.
The number of families connected to prevention support tripled. Wait times for callers to the hotline have reduced by nearly half. The rate of children rereferred to DCFS decreased, and the number of children who were able to remain safely in their homes increased.
The project was chosen for the County's Gold Eagle award from 70 entries submitted by 30 departments.
"I am so proud of how this project was able to demonstrate tangible results showing improved child safety and increased family stability for our residents and communities," said DCFS Director Bobby D. Cagle. "This is a perfect example of a data-driven, innovative solution to an identified need benefiting vulnerable children and families."
"The best part of this program is how it benefits families," Torres said. "The award was just the icing on the cake."
For McCroskey, the award provided validation of the idea that collaborative, multi-disciplinary teams can solve problems that seem unsolvable. "It's so important that the public sector not have to try to do things alone," she said. "When public agencies work with others in the community, we get the best results."
To reference the work of our faculty online, we ask that you directly quote their work where possible and attribute it to "FACULTY NAME, a professor in the USC Suzanne Dworak-Peck School of Social Work" (LINK: https://dworakpeck.usc.edu)