California Social Work Hall of Distinction 2020: Honoring Two Extraordinary Alumnae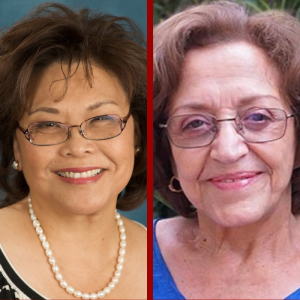 The 18th Annual California Social Work Hall of Distinction Induction Ceremony will be held virtually on Sunday, October 18, 2020, live from Bovard Auditorium at USC. The event is a tribute to the positive impact of social work practice, policy and research addressing health and welfare problems in California's most vulnerable communities. This year, seven extraordinary advocates will be honored, including two alumnae of the USC Suzanne Dworak-Peck School of Social Work, Marleen Wong, MSW '71, and Monika White, MSW '74, PhD '80.
MARLEEN WONG, PHD
Marleen Wong is the David Lawrence Stein/Violet Goldberg Sachs Professor of Mental Health and Senior Vice Dean at the USC Suzanne Dworak-Peck School of Social Work.
The sheer volume of Wong's career in practice and research is not easy to encapsulate into one category, but her primary focus has been the mental health of children, specifically those dealing with trauma. She is an internationally recognized mental health expert, and one of the pre-eminent experts in school crisis and recovery, having developed crisis and disaster training programs for school districts and law enforcement in the United States and abroad.
For her, being inducted into the Hall of Distinction by her peers and colleagues ― all of whom have long histories of advocating for underserved populations and ensuring social justice is applied equally to all people ― is a great honor.
Developing trauma-informed care in schools
Wong first discovered what would become her seminal contribution to the social work profession when she began working with the Los Angeles Unified School District (LAUSD) in 1974. While director of mental health and head of the crisis teams, Wong and her colleagues observed that children in neighborhoods with high rates of poverty, crime and gang violence, were subjected to greater levels of exposure to trauma as victims and witnesses. Her team went into schools after shootings and found that every child they asked said they had seen something similar before.
"They all had a story to tell," she said.
In 1997, Wong suggested to her research partners at Rand Corporation, an organization that develops solutions to public policy challenges in communities around the world, that Post Traumatic Stress Disorder (PTSD) might be rampant across these neighborhoods where violence was a regular occurrence in children's lives.
What Wong and fellow researchers uncovered was that 88-92% of 11-year-olds in their survey group had been hit, kicked, punched or threatened with a gun or a knife. Of those, they found 27% had clinical levels of PTSD, and an additional 16% had clinical levels of childhood depression. Because adults do not generally think about PTSD in children, none of these children had been referred to psychological programs or support, Wong said.
In response, Wong and her colleagues developed the evidence-based Cognitive Behavioral Intervention for Trauma in Schools (CBITS) ― a psycho-therapeutic intervention that school psychologists and clinical social workers can provide to students who are traumatized.
"We're not going to force them into it, but they've just experienced something incredibly disorganizing and frightening and traumatizing," Wong said. "So we're going to have these services available."
The intervention first trains teachers and administrators to be able to identify PTSD, and then where to get help or services that are available. Next, they are trained to understand the behavioral, emotional and spiritual changes that a child goes through that are disruptive to the learning experience. Finally, the teachers and administrators learn better ways to respond and speak to the children who have suffered a traumatic experience.
CBITS also addresses parent education. "For parents that don't understand that children can get PTSD, it's really an eye opener," Wong said. She explained that when she did parent education sessions, 76% of parents recognized that they or someone else in their family was also traumatized. "We knew then that it was a need within the whole community," she said.
In 2003, CBITS was recognized as an original contribution to medicine, and a study of its effectiveness was published in the Journal of the American Medical Association. Further, Wong and her associates made sure all the manuals for these interventions would be available in the public domain for download.
What started with her work at LAUSD has now been modified and continues to be used across the country and around the world in school districts that have experienced crises and disasters.
No sign of slowing down
In the current grant that Wong and her partners at Rand have from the National Child Traumatic Stress Network, they promote trauma-informed schools and school systems. Through their Trauma Services Adaptation Center for Resiliency, Hope and Wellness in Schools and Communities (TSA), they provide national leadership to point out what schools can do at the child level, teacher level and administrator level. In the coming year, they are hoping to further develop this at the superintendent or high level.
"You need trauma-informed leadership in order to really have a system that is truly trauma-informed," Wong said.
Looking ahead, Wong is interested in expanding her work to be applicable in the workplace as well. She has been gratified to see articles in the Harvard Business Review and Forbes about trauma-informed work places and the importance of employers being educated in trauma-informed care, especially with so many people in the workplace today struggling with financial challenges, family challenges, health problems and more.
"I think that social work is one of those professions that you can work at all your life, and no matter what age you began or what age you stop your professional activities, you have something to offer," Wong said. "It is a profession that is based on ethical values that we all share and recognize."
MONIKA WHITE, PHD
Over 40 years ago, Monika White was playing the banjo in her all-female string band, Old Mother Logo, traveling to bluegrass festivals around the country while working on her doctoral dissertation in various dressing rooms. She had landed on her dissertation topic after a chance meeting with a colleague at the USC Leonard Davis School of Gerontology, who offered her a paying job and an opportunity to further work on her dissertation.
"It changed my whole life," White said.
Professionally, she was always drawn to macro studies. In 1977, White became part of an 11-member team of researchers under a federal grant to examine what the government should be providing for frail, older adults, most of whom are also low-income. In the early 1970's, people were still being put into psych wards or nursing homes, known as "being warehoused," because aging was seen as an illness, White explained. Her focus within the team was coordinating community-based services to provide the elderly with options to stay in their homes.
White is a pioneer in laying out the process of what is needed for older adults within a community — what has to be made available and how it is secured.
"I didn't invent case management," White said. "But I think I'm the first person to formalize the process, in order to support people in their homes rather than, unnecessarily, in nursing homes."
Her research and dissertation led to her next position. The federal government had funded California, along with many other states, to develop a Medicaid waiver program to keep people in their communities. California needed someone to train case managers in coordinating care. This research became the basis for California's Multipurpose Senior Services Program (MSSP), which is still in place today.
"From then on, I was an overnight expert," White said. "I travelled around the country and the world."
She was then recruited to Huntington Hospital in Pasadena, California, and worked with June Simmons, MSW '70 and fellow Hall of Distinction inductee, to develop the Senior Care Network (SCN), a model program of how a hospital can offer services to seniors and their families within the entire community, not only to its patients. When Simmons departed SCN, White became director of the program for two years.
White's last full-time position, where she served for 13 years, was as President/CEO at the Center for Healthy Aging, a private, nonprofit agency serving older adults and their families in Santa Monica.
A lifetime of advocating
White spent her 40-year social work career as a leading authority on care management, eldercare services, caregiving, volunteer programs and healthy aging. She has spoken, taught, trained and consulted nationally and internationally.
White even advocated for herself and fellow classmates in her 1980 Doctorate of Social Work (DSW) cohort. She championed to have their DSW titles changed to PhD when USC changed the degree name for the same coursework in 1982. Professionally, it was important for them to be recognized with the PhD title, and they proved their coursework and dissertations were comparable.
White retired from full-time work ― twice, first in 2009 and then again in 2015. The day after her 2009 retirement, she started teaching part-time at both the USC Suzanne Dworak-Peck School of Social Work and the USC Leonard Davis School of Gerontology. Throughout her career she had always taught one or two classes a semester, but now she was able to do more. White fully retired from teaching in 2015.
Retired, yet still working
White, a Holocaust survivor, continues to lead an exciting life, as an advocate and musician. She is currently involved with about ten nonprofit organizations mostly related to aging, works with Jewish Family Services on their Holocaust Survivors Program, and helps with the City of Santa Monica's Martin Luther King Jr. birthday celebration each year. She met her husband of 42 years, Roger, at a jam session playing traditional Appalachian style music and they have been performing together since 1988, along with White's twin sister, as Roger & the Bookends, including Zoom performances since the start of the pandemic.
White serves as chair of the Los Angeles Department of Aging Foundation, and is chair and one of the founders of Help Guide, a nonprofit website with 50 million visits each year that helps people help themselves with mental health and aging.
Her induction is especially meaningful because during the 25 years that White served on the board of the California Social Welfare Archives (CSWA), including as president, she co-founded the California Social Work Hall of Distinction, which is now recognizing her career and contributions to the profession.
"I feel very honored to be selected," White said. "It wasn't about me at all. I have made contributions to the field, but I did my work based on social work principles and practices. I don't think anyone can go wrong having a foundation in social work."
To reference the work of our faculty online, we ask that you directly quote their work where possible and attribute it to "FACULTY NAME, a professor in the USC Suzanne Dworak-Peck School of Social Work" (LINK: https://dworakpeck.usc.edu)