Alumnus Uses the Power of Mentoring to Elevate Career in Service of Veterans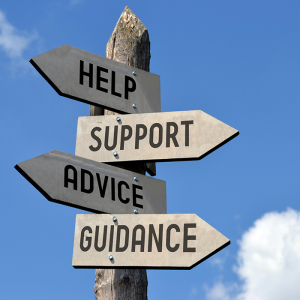 The USC Suzanne Dworak-Peck School of Social Work provides more than an education. The networks that students form can be the basis for rewarding, lifelong relationships that nurture academic potential and transform social work training into real-world leadership.
Blas Villalobos, MSW '12, DSW '18, not only met his future wife at USC, he also formalized a mentoring relationship with Steve Peck, MSW '97, that he credits as the foundation for his rise to leadership in advocacy on veteran's issues. Villalobos is CEO of Centerstone's Military Services and has held previous leadership positions in veteran advocacy at Chapman University, the Office of Los Angeles Mayor Eric Garcetti and U.S. VETS. He is also a proud veteran of the U.S. Marine Corps, having served honorably from 1999 to 2003, including one tour in Iraq.
During the final semester of his Master of Social Work (MSW) studies, one of his professors suggested to the entire class that they each identify someone who was a leader in the area they were interested in to help guide them. Villalobos immediately thought of Steve Peck, who had been his supervisor at U.S. VETS, became its CEO and was a fellow USC social work alum. That request led to a nearly decade-long mentorship that both men attribute to helping them excel in their individual positions, as well as the opportunity to reflect on how to better deliver on their shared passion for serving the veteran population.
"I wouldn't be where I am today without Steve," Villalobos said. "During my first internship, I quickly discovered that clinical wasn't for me, but Steve showed me that I could be successful and make a real impact on veteran service-related issues without being the one to deliver the services myself. Watching him at work – his passion for what he does and the skill with which he leads – was an inspiration."
Mentoring is more than giving back
Peck, president and CEO of U.S.VETS, says mentoring is not just about giving back; he gets a lot out of it as well. "When I mentor someone, especially someone as committed and ambitious as Blas, their enthusiasm rubs off on me and gives me the opportunity to step back and crystalize my own priorities," Peck said.
 A U.S. Marine Corp veteran who served in Vietnam, Peck has been working on behalf of veterans since encountering veterans experiencing homelessness while filming a documentary in the late 1980s. When he began doing this work, about 30 percent of homeless men in Los Angeles were veterans. Today, that number is down to approximately nine percent, thanks in part to the dedication of committed advocates and leaders like Peck and Villalobos.
"Part of what motivated me to make the transition into leadership is that I saw the need for a new generation of leaders to address the needs of a new generation of veterans coming back from Afghanistan and Iraq," Villalobos said. "What I learned at USC Social Work and through its military program has been an incredible resource. That, along with the relationships and network of faculty and students, gave me everything I needed."
USC Social Work alumni looking to establish mentoring relationships have access to Dworak-Peck Connect, an innovative online platform built for alumni to connect and network with social workers and nurses, find other practitioners with similar skills and career interests, and interact with all class years and programs around the world.
To reference the work of our faculty online, we ask that you directly quote their work where possible and attribute it to "FACULTY NAME, a professor in the USC Suzanne Dworak-Peck School of Social Work" (LINK: https://dworakpeck.usc.edu)