$4.8 million grant provides transdisciplinary workforce development opportunities for students in substance use disorder treatment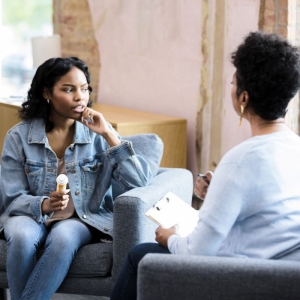 In 2022, approximately 2.9 million Californians had a substance use disorder (SUD), yet only about 10% received treatment, driven in part by a statewide shortage of SUD counselors. To help combat this public health problem, the USC Suzanne Dworak-Peck School of Social Work, in partnership with the USC Institute for Addiction Science, has been awarded a $4.8 million grant over three years to train a new generation of SUD professionals, particularly those from underrepresented communities where the need is greatest.
The grant from the State of California Department of Health Care Access and Information (HCAi) funds a transdisciplinary workforce development program and stipend available to students in the Master of Social Work (MSW), Master of Addiction Science (MAS) and Master of Science in Nursing (MSN) programs. Selected students will receive an award of $20,000 to be part of the program, as well as mentoring, tutoring and focused internships with USC Social Work's network of 50+ SUD-related community partner organizations.
"Addiction is so cross-cutting that it's part of the narrative for most of our clients," said Jennifer Lewis, associate teaching professor, director of the MSW program, and co-principal investigator for the HCAi grant. "Whether the addiction is related to substance abuse or behavioral addiction, training across disciplines on the use of evidence-based screening and interventions allows us to be more effective across the board, from homelessness to chronic disease and so many other areas."
The Inter-professional Training Program: Substance Use Counseling and Education (ITP-SUCE) stipend program is the newest addition to the school's workforce development offerings, designed to address the three most critical issues facing the mental health workforce in the addiction space — attraction, education affordability and retention — while also aligning professional education with community need.
"We're connecting our academic programming with workforce development," said Omar López, teaching professor and assistant dean for recruitment and workforce development, as well as principal investigator for the HCAi grant. "We're creating a symbiotic relationship between practical training, theoretical knowledge and the needs of communities across California."
Interprofessional education for improved outcomes
USC is at the forefront of addiction treatment with its new cross-disciplinary MAS, a curriculum partnership between the USC Alfred E. Mann School of Pharmacy and Pharmaceutical Sciences, USC Suzanne Dworak-Peck School of Social Work, and Keck School of Medicine of USC Department of Population and Public Health Sciences. The goal is to break the traditional barriers between disciplines in health care to provide a collaborative approach to SUD treatment.
"We know that the quality of addiction science and clinical services improves when professionals from various disciplines work together," said Adam Leventhal, director of the USC Institute of Addiction Science, professor of population and public health sciences at Keck School of Medicine, and the second co-principal investigator on the HCAi grant. "There is not a one size fits all method for addiction recovery that works for all people."
The new ITP-SUCE stipend program further expands the addiction science partnership to include MSN students, reflecting the fact that nurses and family nurse practitioners are frequently on the frontline of SUD diagnosis and treatment. Michelle Zappas, associate teaching professor and director of the MSN program and co-investigator on the HCAi grant, notes that the focus of the ITP-SUCE stipend program toward underserved communities reflects the disproportionate impact of substance use issues in these communities and can help address health care inequities.
"Developing a culturally competent, diverse workforce enhances patient care, improves access, reduces fragmentation, and lowers health care costs," said Zappas.
Fostering diversity in the behavioral health workforce
Studies show that receiving treatment from providers who share their client's cultural, racial or ethnic background and lived experiences increases treatment effectiveness, client satisfaction and trust.
Growing a professional workforce that looks like and comes from the communities it serves has long been a priority of the USC Social Work workforce development program, which dates back to the 1990s. Today, 63% of the school's student body population is Latinx, African American, Asian/Pacific Islander or Native American.
"We all need to see people that look like us," said Branden Bowles, MSW '21, a former foster youth inspired by his social worker to pursue a career with the Los Angeles Department of Child and Family Services (LADCFS). As a Black man, he is a rarity among his professional peers, and feels that being a person of color contributes to his ability to build relationships with the families with whom he works.
"In the field I work in, people of color are impacted at a very high rate," Bowles said. "It helps to see someone who may represent and understand them on their level. And on those rare occasions when I share my story with them, it makes a difference. When you're trying to connect with families at such a sensitive time, you have to use every tool you have."
Bowles was awarded a workforce development stipend during his MSW training that included a guaranteed placement with LADCFS upon graduation. It made his career dream possible.
"The stipend just clarified exactly where I was supposed to be, where I wanted to be, and where I needed to be," Bowles said. He has been with LADCFS as a children's social worker for two years, and is grateful for the USC Social Work faculty who helped him gain the skills and opportunities to be successful.
Client-provider race or ethnicity concordance may be even more important in SUD treatment, where racial and ethnic minorities frequently experience greater criminal justice involvement, fewer treatment referrals and lower treatment completion rates. However, SUD treatment and recovery programs, as well as most mental health providers, remain a largely white field of practice. According to López, one of the most important aspects of the HCAi grant is addressing this disparity in diversity by stipulating that students from underrepresented communities receive priority recruitment for the ITP-SUCE stipend program.  Expanding diversity in SUD treatment has also been intentionally built into the curriculum design to meet the needs of California's diverse communities.
"As human beings we relate to other people that look like us, have experienced what we have, or understand our culture," López said. "You don't need to look like me for me to trust you, but additional skills and training will be needed to get there. But if you look like me and you have effective and engaging clinical skills as well, then it is easier to be vulnerable and trusting to address sensitive issues."
Lewis adds that matching the workforce with the population they serve not only elevates individuals but communities as well. "We can empower disadvantaged communities by ensuring that the individuals within them have the same access to training and education."
López and his colleagues note that the decision to apply for this grant from the school of social work was a deliberate one. Social workers are the leading providers of mental health care services in the U.S. and bring a unique understanding of how diversity of background and lived experiences can impact substance use and other behavioral health treatment. Social work's emphasis on macro-level societal and cultural dynamics that influence individual experience make it uniquely suited to address widespread public health issues. This principle underlies the specialized curriculum requirements of the new ITP-SUCE stipend program and workforce development opportunity.
"Substance use has been in the realm of needed attention for decades," López said. "Now we are funded to collaborate and make a meaningful difference in careers and outcomes."
To reference the work of our faculty online, we ask that you directly quote their work where possible and attribute it to "FACULTY NAME, a professor in the USC Suzanne Dworak-Peck School of Social Work" (LINK: https://dworakpeck.usc.edu)