What Do Social Responsibility Managers Do?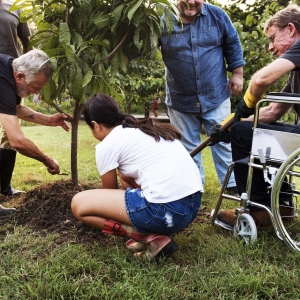 As consumers increasingly demand transparency around their favorite brands' environmental and community impacts, social responsibility initiatives have become central to many organizations' core values.
Social responsibility refers to a company's commitment to ethical practices, and generally encompasses the development of solutions-driven initiatives meant to address relevant social or environmental issues.
Social responsibility is driven by many of the values that define mezzo-level social work, making a profession in social responsibility appealing to many MSW students and alumni. Clinical Professor Renée Smith-Maddox, who serves as the associate dean of diversity, equity and inclusion at the USC Suzanne Dworak-Peck School of Social Work, addresses the opportunities and challenges that define a career path in social responsibility.
USC: How has your career path led you to your focus on social responsibility?
Renée Smith-Maddox: I started my career as an educational analyst, then an academic, then spent time as a nonprofit executive director and professional coach before eventually returning to higher education. I now hold leadership roles focused on diversity, equity and inclusion on both the school and university levels.
Through all of my professional experiences, I've developed an interest in how society addresses the well-being of its people—from children to older adults—and the innovations that can lead to creating a more just world.
USC: What issues does the typical social responsibility initiative aim to address?
RSM: The shape of social responsibility initiatives varies greatly depending on the values, goals and stakeholders' interests. For instance, it may be purely philanthropic, focused on addressing a specific social issue such as youth development, human rights, labor rights or respect for the environment. Or, it may be centered on creating opportunities for employees to design and launch a social venture that is beneficial to a local or global community.
Alternatively, the initiative may be cause-specific, with a focus on creating a response to social and/or political issues (e.g., outreach policies to recruit more women in a male-dominated sector or changing how compliance and harassment cases are handled within the organization).
Whether a social responsibility initiative falls into the domain of philanthropy, community relations or policy, the common denominator is taking the responsibility to create positive benefits for society.
USC: What factors should be considered by companies that are interested in developing or expanding their commitment to social responsibility?
RSM: First of all, a company must have adequate resources in terms of both financial and human capital. In order for a social responsibility initiative to be effective and sustainable, the company must have sufficient funds earmarked for the cause, as well as a reliable funding base.
It's equally important to build a team of people who are committed to effecting change. A successful social responsibility initiative requires the efforts of program managers, program developers, program evaluators, data analysts, grant writers, marketers, fundraising specialists, community engagement strategists and more.
USC: Could you describe the major challenges and rewards of a career in social responsibility?
RSM: No matter what sector your organization operates in, the three main challenges that accompany a typical social responsibility initiative are those surrounding sustainability, scalability and measuring impact. Stakeholders will be keenly interested (and invested!) in your plans for long-term growth and your ability to articulate the concrete results of the initiative, so lay the groundwork early to ensure that you are able to maintain buy-in from key entities.
A career in social responsibility can be extremely rewarding, as it allows you to develop human-centered solutions to the pressing social and environmental issues facing our society. The rise of social responsibility initiatives across industries in recent years has created new opportunities to analyze and assess the problems that plague our communities—and take action to address them in a meaningful, measurable way.
USC: What are some of the skills attained in an MSW program that can translate into a successful career in social responsibility management?
RSM: There are many skills gained during social work training that can equip a person for a career in social responsibility. First of all, the kind of interdisciplinary thinking championed by many MSW programs lends itself to the creative problem-solving required by a career in social responsibility. An interdisciplinary mindset can position you to design innovative solutions to everyday problems.
Further, I believe the foundational training provided by MSW coursework—which focuses on the importance of empathy, patience, and gaining a deep understanding of the kind of support people need in order to succeed—becomes a powerful tool in executing effective social responsibility initiatives across a range of industries. An MSW also equips social workers with the ability to approach social problems from a systems standpoint, which can be helpful in analyzing the intersection of complex factors at play and determining the optimal approach to addressing a social issue.
To reference the work of our faculty online, we ask that you directly quote their work where possible and attribute it to "FACULTY NAME, a professor in the USC Suzanne Dworak-Peck School of Social Work" (LINK: https://dworakpeck.usc.edu)