What Do Nonprofit Managers Do?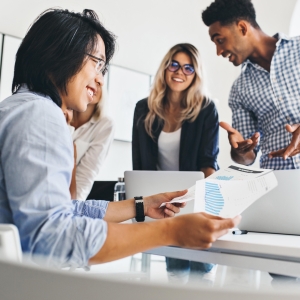 What does a nonprofit manager actually do? How can an MSW degree help graduates find careers in the nonprofit world?
An MSW degree can lead to a wide breadth of career opportunities, but many graduates find themselves drawn to the nonprofit sector. What exactly does the role of a nonprofit manager look like, and how might an MSW graduate fit into that role? We examine these questions with Laura Wittcoff, adjunct lecturer in the Department of Social Change & Innovation.
A Day in the Life of a Nonprofit Manager
As Wittcoff sees it, there are two major aspects of successful nonprofit management: content and process. "Content is what's concretely necessary to meet our mission. Process is the way in which we work together to make that happen. Good program managers need the confidence and skill sets to master both."
Trained social workers have the advantage of understanding human behavior in group work, which allows them to transition effectively into any organizational setting. "Because our classroom serves as a learning lab — representing a workplace environment — and we are trained in human behavior, we can be empathic while holding people accountable," explains Wittcoff. "But we do it in a way that brings people's strengths and best potential to the forefront."
To succeed as a nonprofit manager, one also needs to gain a clear and nuanced understanding of the organization's finances, its overall mission and how each department's responsibilities fit into that mission. While every nonprofit runs differently, the day-to-day responsibilities of this job generally include managing people, budgets and organizational goals.
These management skills are necessary for the long-term success of any nonprofit. According to the Harvard Business Review, nonprofits need "one center of organization and imagination looking out at the far horizon" to coordinate the efforts of every employee and drive the nonprofit toward its overarching goals.
Applying MSW Skills to the Nonprofit World
Wittcoff believes it is imperative for students to begin building skills for nonprofit management in the classroom. She works to prepare her students for the real-world challenges, playing to their strengths and helping leaders and followers find their place in an organizational structure.
Indeed, a social work education primes graduates to understand the heady concepts — vision, mission and values — which an effective manager must grasp in order to effectively lead his or her employees. They must also provide training in practical aspects of the work, such as organizational structure and budgeting.
One of the most important aspects of management, according to Wittcoff, is communication. If you are not communicating both the "how" and the "why" of your mission to every member of your organization, as well as how their work contributes to this mission, employee burnout and disillusionment may prevail.
This is why it is important to have what Wittcoff calls a 'vantage-point perspective.' "USC social workers get a broad breadth of exposure to all levels — client, staff, executive director, board member, funder and mid-level managers. I think USC does an outstanding job of showing students how all of these pieces fit together, as well as how to make them fit together better."
To reference the work of our faculty online, we ask that you directly quote their work where possible and attribute it to "FACULTY NAME, a professor in the USC Suzanne Dworak-Peck School of Social Work" (LINK: https://dworakpeck.usc.edu)