Wendy and Barry Meyer Establish Foster Care Scholarships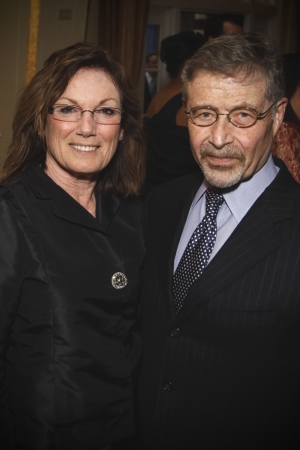 Wendy Smith Meyer, associate dean for faculty development and a member of the Board of Councilors at the USC School of Social Work, and her husband, Barry Meyer, have established two new scholarships for Master of Social Work students who are also alumni of the foster care system.
Two gifts established the Wendy and Barry Meyer Foster Care Alumni Scholarship to support current full-time students who have been in foster care and the Wendy Smith Meyer and Barry Meyer UFC to USC Scholarship for students who have been participants in a United Friends of the Children transitional living, college sponsorship or college readiness program.
"Both of us care deeply about children in foster care and young people emerging from foster care because in almost every case their network of support is small, if it exists at all," Smith Meyer said. "They don't have the kind of family backing to help with education or when difficult or unexpected things happen. We want to make attending the USC School of Social Work more of a possibility for them."
Smith Meyer's interest in foster care youth stems from her first field placement as an MSW student in child welfare. She then went on to write her dissertation on the child welfare scene in Los Angeles County. In 2006, she was asked to design a course for the School of Social Work on transition-age foster youth and recently wrote the book Youth Leaving Foster Care, which integrates research from multiple disciplines into practice to provide a new foundation for those who work to improve the lives of youth who have been in the foster care system.
She is also involved in a number of community projects and organizations, including serving on the board of directors for United Friends of the Children, an organization devoted to serving the needs of current and former foster youth by supporting their journeys to becoming successful, independent adults. Smith Meyer helped design and implement a pilot program there in transitional living for emancipated foster youth. She is a volunteer advocate with Human Rights Watch working on juvenile justice issues and serves on the advisory committee for the children's rights division. She is also a member of the board of directors of Venice Family Clinic.
"Foster children and those who have aged out of the foster care system need our help more than ever," said Marilyn Flynn, dean of the School of Social Work. "Being able to provide support for these students, who will go on to work with others at risk, is directly in line with the school's mission of improving the well-being of those who need it most. The school is grateful for the Meyers' generous gifts, which will greatly improve these individuals' chances at success."
The Meyers have previously established an endowed scholarship for students who plan to work with the foster care population, as well as the Frances Caple Book Scholarship.
"Foster care alumni are a vulnerable part of our population. Society is their parent, and I think we, as a society, have a responsibility to help them," Smith Meyer said.