Video Game Project to Help Wheelchair Users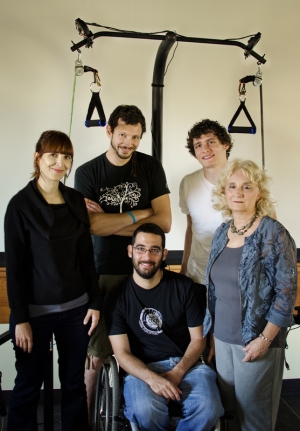 For individuals who rely on self-propelled wheelchairs, upper body injuries can be catastrophic.
More than 70 percent of people in manual wheelchairs develop shoulder pain or injuries due to repetitive movements and overuse, often resulting in decreased mobility, reduced physical activity, increased weight and other negative consequences that can decrease their quality of life. Motorized wheelchairs are an option but have their own pitfalls, such as limited battery life and transportation difficulties due to their bulky size.
A unique collaborative project led by researchers at the USC School of Social Work, the USC School of Cinematic Arts and Rancho Los Amigos National Rehabilitation Center (Rancho) is seeking to prevent and treat shoulder injuries among people in wheelchairs with spinal cord injuries by engaging them in exercises through an interactive video game titled Skyfarer.
"If you want to stay in a self-propelled wheelchair, you have to sustain upper body strength. You have to do these boring exercises all your life," said Maryalice Jordan-Marsh, an associate professor with the School of Social Work. "Over time, people get tired of it. Our job was to figure out how to intrigue people to do these exercises."
Marientina Gotsis, a research assistant professor of interactive media and games at the School of Cinematic Arts and director of the Creative Media & Behavioral Health Center, invited Jordan Marsh, a long-time collaborator, to partner with a multidisciplinary team of physical therapists, artists, engineers and designers to develop the game.
The research team created an adjustable rig outfitted with specialized sensors attached to adjustable stretch bands and weights. The sensors track movements and send data to a calibration and game-based exercise software system.
In addition to offering an engaging environment, the game helps users perform their exercises correctly. Phil Requejo, Rancho's director of rehabilitation engineering, said Skyfarer is based on an exercise regimen shown to alleviate shoulder pain among longtime wheelchair users.
"By doing this exercise program, this protocol that is prescribed for people with shoulder pain, it actually reduces their pain after a certain time, in a matter of weeks or months," he said. "We are taking this evidence-based approach and combining it with immersive technology. The whole idea is to increase enjoyment and promote adherence and long-term use."
An evaluation conducted at the rehabilitation center determined that the game-based exercise regimen had similar biomechanical results as the standard exercise routine, Requejo said, adding that the research team plans to test Skyfarer with people experiencing shoulder pain to determine whether the game affects their level of pain, engagement in exercise, and overall enjoyment.
The game itself is based on Gotsis' interest in pre-Incan mythology and set in a South American landscape. Players must collect energy from various natural sources, including the sun and the moon, to power their ship and etch massive drawings on the landscape, revealing the ancient mystery of how ancient geoglyphs known as the Nazca lines were created.
"We came up with over 30 game prototypes and this idea kept coming back to us, basically having control over this magical vessel," Gotsis said. "It can fly, it can swim. Especially because the exercises can be boring, we came up with an adventure that can take place throughout the world in many different landscapes."
Players use steady, smooth motions to collect buckets of enchanted water, row their vessel, gain altitude, and fly toward the sun or moon. Additional game features can ensure they are sitting upright, and the team developed modules to detect and promote proper muscle stretching prior to exercise.
Although the game is still a prototype, it has received positive feedback from both wheelchair users and experts in immersive technology. During the 2013 ACM SIGGRAPH conference, the top showcase for advances in computer graphics and interactive media, Skyfarer was selected as one of four emerging technologies.
The next steps for the research team include developing a full prototype to test with wheelchair users over time. Jordan-Marsh and Gotsis also plan to redesign the rig for commercial uses, such as in rehabilitation clinics. As currently configured, the metal frame is somewhat bulky.
"Down the road, we'd like to make it available for people to use in their home," Jordan-Marsh said. "We're exploring creative ways this could work at home without this big structure."
Skyfarer may also appeal to people who aren't in wheelchairs, she added, such as older adults who are seeking a general exercise program to prevent shoulder injuries and maintain their strength.
"It has amazing physical and psychological mood lifting and social possibilities," she said.
Jordan-Marsh, who teaches a master's-level class on health technology and a doctoral course with Gotsis on interactive media, said although social work is not always viewed as a natural component of projects involving video games or emerging technology, the profession is gaining more attention as researchers begin to acknowledge the psychosocial aspects of technological advances and their applications to health and well-being.
For instance, the School of Social Work is continuing to develop a groundbreaking virtual avatar in its military social work program that depicts a soldier with mental health issues to help students prepare for clinical practice. The school is also making a foray into telehealth and is encouraging projects that empower individuals to become engaged in their own health care.
Skyfarer's development was funded by the U.S. Department of Education's National Institute on Disability and Rehabilitation Research through a grant to Rancho and USC.
To reference the work of our faculty online, we ask that you directly quote their work where possible and attribute it to "FACULTY NAME, a professor in the USC Suzanne Dworak-Peck School of Social Work" (LINK: https://dworakpeck.usc.edu)