USC's Day of SCervice and Alumni Mentor Program Present Opportunities to Give Back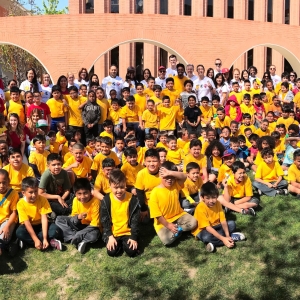 Looking for ways to give back during April's National Volunteer Month? Get involved with one of our alumni outreach or mentorship programs!
USC is committed to giving back to our local community. Students, alumni, faculty and staff are encouraged to participate in a variety of volunteer opportunities throughout the year.
In honor of National Volunteer Month, we're encouraging all members of the USC community to participate in one of the many opportunities available through the USC Suzanne Dworak-Peck School of Social Work.
SCerve it Up
According to Harmony Frederick, director of alumni relations at the USC Suzanne Dworak-Peck School of Social Work, "Each year the USC Alumni Association hosts the Alumni Day of SCervice, during which alumni, students, parents, faculty, staff and friends of the university all around the world—most literally—come together." A number of university-affiliated clubs, schools and organizations host events.
The USC Suzanne Dworak-Peck School of Social Work hosted two initiatives for this year's Day of SCervice on March 10: Kinder 2 College, during which volunteers worked to promote literacy among elementary school-aged children, and a project at the Illumination Foundation Recuperative Care Center (IFRCC), in association with the USC initiative to end homelessness.
Many participants gained lasting value from their experiences with Kinder 2 College and the IFRCC. Frederick affirms that "it's not uncommon for student and alumni volunteers to continue working with these organizations, or even leverage these relationships into job opportunities."
Meaningful Mentoring
For those seeking long-term volunteer opportunities, the Alumni Mentor Program (AMP)offers a rewarding chance to help prepare current MSW students for careers in social work. Through AMP, graduating students are matched with alumni who work in their desired field or who share similar interests.
According to J. Juan Macias, associate director of alumni career and professional development, the program has been honed over the years to promote the most effective experience for mentors and mentees alike. In addition to attending mentorship training sessions, paired students and alumni are required to meet—either in person or virtually—at least once a month to discuss career goals.
Students and mentors are further encouraged to connect through a private Facebook group, established by Grace Park, lead of career and student development. This group was originally created with the intention of making AMP more interactive and communal: matched pairs can share photos of their monthly outings to give others ideas, or simply see what others are doing and potentially pair up in the future.
"I like to share a running slideshow of pictures from the kick-off and celebratory events for the program, which always garners a warm response and serves as a reminder of the impact that mentoring can have on both students and alumni," Park said.
Though the program spans only from October to the end of the academic year, Macias states that mentors and mentees often form lasting bonds and continue their relationships beyond the formal end of the program. Alumni of the USC Suzanne Dworak-Peck School of Social Work are especially encouraged to apply.
Virtual Volunteering
To amplify alumni involvement, the Alumni Relations Office will soon be introducing a new virtual networking platform through which alumni can sign up for volunteer opportunities and connect with students and fellow alums online. "The platform is designed to be a speed-networking and mentoring platform," Frederick said. "For alumni, it's a way to find opportunities to help others, and for students it's a way to get connected with the help they need."
Frederick says that users will first answer a set of questions regarding their interests, particularly within the industries of social work and nursing, so they can be matched with opportunities that suit them. Users will also be able to search within specific fields and by region in order to connect with others who share similar interests and are within geographic proximity. The goal is to build a supportive network of students and alums who can share work experiences, explore new career opportunities and even reconnect with old friends.
Interested in participating in upcoming alumni events through the USC Suzanne Dworak-Peck School of Social Work? Please email swalumni@usc.edu. Social Work alumni may volunteer on April 16 for "Welcome to the Profession," a special "speed networking" event aimed at connecting graduating students with alums. Learn more here.
To reference the work of our faculty online, we ask that you directly quote their work where possible and attribute it to "FACULTY NAME, a professor in the USC Suzanne Dworak-Peck School of Social Work" (LINK: https://dworakpeck.usc.edu)