USC Social Work researcher breaking new ground in suicide prevention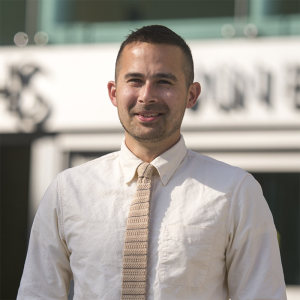 In the United States, a person dies by suicide every ten minutes. This is a public health epidemic that has consistently increased over the past 15 years and incurred more than $70 billion in medical costs and lost productivity. It has become all too common in the wake of an individual's suicide to hear family, friends, colleagues - even the media - say, "If we had only known how bad things were."
As a recipient of the 2021 National Institutes of Health (NIH) Director's New Innovator Award, John R. Blosnich, assistant professor at the USC Suzanne Dworak-Peck School of Social Work, aims to address this by challenging the traditional concept of health vs. nonhealth-related suicide prevention research and intervention. The award is part of the High-Risk, High-Reward Research program, which provides funding to highly innovative and broadly impactful biomedical or behavioral research by exceptionally creative scientists.
Funding for the Director's Awards comes from the NIH Common Fund, National Institute of General Medical Sciences (NIGMS), National Institute of Mental Health (NIMH) and National Institute of Neurological Disorders and Stroke (NINDS). Blosnich received a $1.4 million grant from NIMH for his project Shifting Suicide Prevention Paradigms: Looking Beyond Clinical Settings.
Implementing a social autopsy
Blosnich proposes a paradigm shift in suicide research by prioritizing social determinants to develop public health research and prevention through broad, but strategic, partnerships with industries outside of mental health and health care. The NIMH-funded grant will be applied to a two-pronged approach. The first is Life Events Antecedent to Death by Suicide (LEADS) and will apply an atypical method for examining and assessing the social context of people who die from suicide.
"We're taking what is hailed as the go-to research methodology for examining suicide and turning it on its head — well, actually, away from the head," Blosnich said. "What is known as a psychological autopsy is generally applied and we're making it more of a social autopsy."
In psychological autopsy, researchers contact the next of kin or close contacts of the person who died and reconstruct events leading up to the suicide. It is focused more on psychological symptoms and mental health treatment and medications, and based on understanding the life stressors that the individual may have been experiencing prior to suicide.
"When we think of typical life events that occur before someone might experience an acute period of distress — losing a job, going through a divorce, eviction, for example — social services agencies may have a unique role during those stressful times," Blosnich said. "The social autopsy of the LEADS study will interview individuals to understand their connection to social services and really focus on the life events that are causing distress and less on the mental health component. We want to learn as much as we can about the potential connections a person had beyond only clinical mental health services."
The second study is Charting Upstream Suicide Prevention (CUSP) which will concentrate on surveying those who work in three specific industries related to life disruptions: family law, mortgage foreclosure and bankruptcy, and unemployment and job training services. CUSP will survey employees of agencies that provide these services to ascertain what happens when a client shows signs of distress, or actually conveys that they may be feeling suicidal.
"The traditional approach has been to simply recommend mental health services, and this is clearly important and life-saving, but some people never make it to mental health treatment," said Blosnich. "Most of the work I have done on suicide prevention has focused around the social stressors that I am convinced lead to suicide, and I think social work has a massive role to play in this."
Addressing the issue of suicide prevention is not simply one thing, Blosnich emphasizes. It is about really understanding the individual, their background and that they are not necessarily defined by one period of their life.
"Suicide is unlike other causes of death. It is incredibly complex," Blosnich said. "Years ago, the CDC's one-word campaign for suicide prevention was 'connection.' Not 'pills' or 'therapy.' It was 'connection,' and I think that inherently calls for social solutions. I'm not saying clinical solutions aren't important — they clearly are. But I think we invested and focused so much on the individual level, that we've lost the context. What we do to each other matters so much for what we do to ourselves."
Military and veteran suicide risk
Blosnich has leveraged survey and administrative datasets to fill gaps in knowledge throughout much of his research on suicide prevention. Social determinants of suicide risk in the military and veteran populations has been at the center of his research. He has spent the past ten years working with the U.S. Department of Veterans Affairs (VA), first with the VISN2 Center of Excellence for Suicide Prevention in New York and currently with the Center for Health Equity Research and Promotion in Pennsylvania.
His recent study "Differences in Childhood Adversity, Suicide Ideation, and Suicide Attempt among Veterans and Nonveterans," published in American Psychologist, was a nationally representative sample of veterans from the Iraq and Afghanistan conflicts, which comprise the most recent cohort of veterans in the U.S. The Comparative Health Assessment Interview (CHAI) looked at Potentially Traumatic Events (PTE), in particular Adverse Childhood Events (ACE), and their association with recent suicidal ideation and attempt among this newer generation of veterans. The study showed that PTEs, events that happened prior to the age of 18 and joining the military, were very salient to even recent suicide ideation and attempt.
"It starts with the issue of cumulative trauma histories, then being aware of the population patterns of these negative events, and back to primary prevention," Blosnich said. "Veterans didn't just suddenly begin their lives when they enlisted. They had at least 18 years before finding their way to military service, and for some of them, those times could have been really tough and may be relevant if a soldier or veteran is currently struggling. Again, I think that context – in this case, the historical context – is crucial for understanding an individual's risk for suicide."
Center for LGBTQ+ Health Equity
When Blosnich came to USC in January 2020, he immediately became involved with the Center for LGBTQ+ Health Equity at the Suzanne Dworak-Peck School of Social Work. His most notable study with the Center, published in the American Journal of Public Health, found that LGBTQ+ individuals who underwent conversion therapy were almost twice as likely to attempt suicide compared to LGBTQ+ persons who had not experienced the practice.
In September 2021, he was named director of the Center, which focuses on raising the profile of LGBTQ+ health issues across the university. Under Blosnich's leadership, a focus on increasing transdisciplinary and cross-campus participation will be on the table.
"My vision for the Center is creating a hub for LGBTQ+ health work across the university, collaborating with different disciplines and engaging students and faculty who want to pursue research in this area," Blosnich said.
The Center will begin hosting a series of discussions on the first Tuesday of the month to inform on its work and foster ongoing collaboration university-wide. Blosnich's work in suicide risk and prevention, as well as topics like how data about sex and gender are gathered across the lifespan, are some examples of the topics to be explored.
"I want to democratize LGBTQ+ research at the Center so that it is not just social work," Blosnich said. "Similar to my project in the High-Risk, High-Reward Research program, I want to take issues that have been traditionally cast in a clinical setting and see how law or business or education view it. One of the guiding principles in social work is seeing the person in context, which calls for the ability to work across sectors to meet a person's need. So, I couldn't think a better place to be doing the kind of work I want to do."
To reference the work of our faculty online, we ask that you directly quote their work where possible and attribute it to "FACULTY NAME, a professor in the USC Suzanne Dworak-Peck School of Social Work" (LINK: https://dworakpeck.usc.edu)