USC social work, policy schools help develop LAPD training for vulnerable populations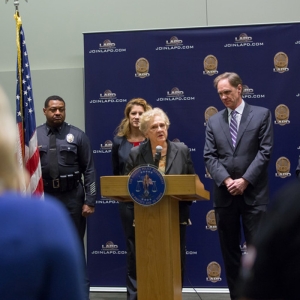 The USC Suzanne Dworak-Peck School of Social Work and USC Price School of Public Policy have partnered with the Los Angeles Police Department to design and deliver a new certificate program that trains officers to better prepare for the complex issues faced in 21st century policing — including homelessness, mental illness, domestic violence and human trafficking.
The deans of each school joined Luann Pannell, director of police training and education for the LAPD, to introduce the groundbreaking Law Enforcement Advanced Development (LEAD) program Oct. 23 in a press conference at LAPD headquarters in downtown Los Angeles.
Through combining the Suzanne Dworak-Peck School of Social Work's understanding of vulnerable populations with the Price School of Public Policy's expertise in community policing, officers receive training on human-relations skills, characteristics of special populations and evidence-based techniques that will reduce the need for force.
"This is a unique opportunity to bring the academic expertise of the university together with the practical knowledge of the police itself," said USC Price Dean Jack H. Knott. "We take this as one of the most important programs that will define our police department in the 21st century, and we hope that it becomes a model that will be adopted across the country."
Knott added, "Understanding the community – and the institutions that interact in that community – is essential. Public safety is not just a matter of police. It's a matter of police interacting with other public safety and also social service agencies, so that when you have an issue such as homelessness, you'll be able to ensure that those needed services are there."
Commitment to improving practice
There are already 40 officers enrolled in the year-long pilot program, which began in June. This first cohort represents every division and rank of the LAPD, as well as diversity in levels and years on the force, with participants' professional experience ranging from two to 30 years.
The officers receive instruction on their own time, so as not to take away from their sworn duties.
"We want to have the officer bring their practical monthly experience, whatever they're doing in the field, back to that classroom, to those discussions, and have heartfelt and deep interactions about what's working and what's not working," Pannell said. "We realize that not everything has a quick solution, but through those interactions and cooperation, we certainly are challenging our officers to come up with different solutions to what they are facing every day on the streets."
The program consists of monthly two-hour online classroom sessions in which instructors offer focused content that identifies meaningful takeaway skills that officers can immediately utilize on the job, as well as three or four all-day, in-person cohort meetings tackling topics such as civil rights, extremism and conflict resolution, and human trafficking.
USC Suzanne Dworak-Peck School of Social Work Dean Marilyn Flynn noted how the LEAD program is among the most innovative and unique efforts nationwide in terms of improving modern policing.
"Among the challenges we've identified with police officers are that persons who are homeless, in domestic violence situations or with severe medical illness often don't respond well to typical interventions by police," Flynn said. "We're trying to deepen the understanding that officers bring to a situation so they can de-escalate more successfully, so that they can more correctly interpret the actions of people."
Solutions-oriented curriculum
Throughout the course of the year, officers work in groups on capstone projects focusing on an issue that they hope to positively impact in their community — ideally resulting in a project proposal to be shared with department leadership for potential implementation.
"The collaborative efforts among the officers and subject-matter experts have been very helpful because we begin to see different perspectives, not only on the officer side but with the leaders that come in and speak on these subjects," said Johnny Gil, a 10-year LAPD veteran who is enrolled in LEAD.
"By infusing social work into this curriculum, we are broadening the officers' knowledge and understanding of vulnerable populations, allowing them to gain insight into the factors influencing human behavior, thereby increasing their awareness of the existence of underlying causes influencing human behavior -- and highlighting a collective responsibility to address community issues," said USC Suzanne Dworak-Peck School of Social Work Clinical Associate Professor of Field Education Rosemary Alamo, who serves as a capstone project advisor to the program participants, along with Adjunct Lecturer Rick Ornelas.
USC Price Professor Erroll Southers, who helped develop the program over two years of meetings with representatives of the LAPD and social work experts from USC, explained how LEAD "is really about providing the tools, resources and skills to address a problem."
Southers indicated that other agency heads have contacted USC about wanting to be involved in LEAD as it grows beyond this pilot program, and he expects it to expand next year to other agencies in Los Angeles, and utilizing the online component, across the country.