Trojan Guardian Scholars Gala celebrates former foster youth 2023 graduates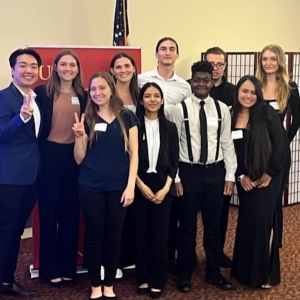 Studies show that as few as 4% of former foster youth complete a four-year college degree by age 26. On April 21, the Trojan Guardian Scholars (TGS) Graduation Gala celebrated thirteen USC Class of 2023 graduates who overcame those odds. Representing undergraduate and graduate degrees from five USC schools, these impressive students came together to celebrate their accomplishments with a group of peers who made a home for them at USC.
Held at the USC Caruso Catholic Center, the event included dinner and remarks from TGS Coordinator and USC Social Work Senior Lecturer Sara Jimenez McSweyn, and Jun Hyun Park, Master of Social Work (MSW) intern at TGS. A moving keynote address was given by Charity Chandler-Cole, chief executive officer of CASA of Los Angeles, a nonprofit organization providing Court Appointed Special Advocates to children in foster care, and herself a former foster youth. But, the high point of the evening was an opportunity to hear from each of the graduates themselves.
The room was full in celebration of the graduates, including family and friends, fellow TGS members, USC faculty and staff, and leaders from the Biddy Mason Charitable Foundation, a long-time supporter of TGS. Social Work benefactor Suzanne Dworak-Peck congratulated the graduates live via Zoom.
The graduates relayed stories of resilience despite tragedy, as well as academic achievements that would be impressive no matter the background. One had been in the foster care system since the age of seven, another graduated from the foster care system only to develop thyroid and brain cancer and become homeless. A high school dropout who earned a Master of Psychology is now pursuing doctoral degree. A set of triplets placed in foster care following the death of their mother, are all graduating from USC this year, and branching out on different paths for the first time in their lives.
Lauren Elizabeth Hurlbut described how she asked to be allowed to represent herself in court at age 14 because she did not feel her foster family understood her best interests, and the judge rejected her request. She now graduates with dual bachelor degrees in Political Science and Public Relations and starts law school in the fall.
In her keynote address, Chandler-Cole shared her inspiring story of surviving the foster care system, earning a graduate degree and coming full circle to become CEO of an organization working on behalf of foster youth. While she celebrated the resilience and strength demonstrated in her own story, and all of the graduates' accomplishments, she also lamented the fact that we ask children to endure so much and be so strong.
Chandler-Cole also provided the graduates with advice based on her own lived experiences: "Disrupt the notion of inferiority. Don't hide from your systems involvement. There's power in building this community for the generation following behind you."
Creating a family
TGS provides comprehensive support services to any current or former foster youth who is a student at USC. However, the most important service it provides, according to the graduates, is a place where they feel welcomed and understood.
The USC program was co-founded in 2013 by Wendy Smith, retired clinical associate professor and associate dean of faculty development at USC Social Work, who provided her congratulations to the graduates live via Zoom. After many years under the auspices of USC Dornsife, beginning in fall 2022 TGS found a new home at the USC Suzanne Dworak-Peck School of Social Work. Under the direction of McSweyn the program has a new focus and resources including the Trojan Guardian Scholars Center, a dedicated physical meeting space on campus for the former foster youth community at USC.
"It's the only room I can walk into and feel like I don't have to explain myself," said Katy Priscila Lopez-Sanchez, receiving a Bachelor in Psychology from USC Dornsife. Lopez-Sanchez migrated to the U.S. as a child and lost her parents to alcoholism, leaving her and a young brother in the foster care system. Her brother and husband attended the gala to cheer her on.
In his remarks, Park shared that the opportunity to work with these graduates over the past year had a great impact on him, professionally and personally. As the dedicated MSW intern for the program, Park plays a significant role in providing counsel and support for students in TGS. Both Park and McSweyn emphasized the importance of a trauma-informed approach to working with former foster youth and understanding their lived experiences. "Challenges reveal what is missing within," Park said.
In closing, McSweyn congratulated the graduates on all they had accomplished and all they were going on to, but also reminded them, "You will always be part of our family. You will always have a home here."
Congratulations to the Class of 2023 Trojan Guardian Scholars graduates:
Taylor Alexandria Bazile, BA, Communications, USC Annenberg
Regina Ruth Brodell, MA, Psychology, USC Dornsife
Reeves Mykell Gift, BA, Cinema and Media Studies, USC School of Cinematic Arts
Griselda Guzman, BA, Biological Sciences, USC Dornsife, minor in Science and Management of Biomedical Therapeutics, USC Mann
Lauren Elizabeth Hulburt, BA, Public Relations, USC Annenberg and BA, Political Science, USC Dornsife
Katy Priscila Lopez-Sanchez, BA, Psychology, USC Dornsife
Britney Nicole Rodriguez, MSW, USC Suzanne Dworak-Peck
Jada Carolyn Salazar, BS, Business Administration, USC Marshall, minor in Law and Psychology USC Dornsife
Ireland McKeri Kennedy Shute, BA, Psychology, minor in Occupational Sciences, USC Dornsife
Kala McKeri Elizabeth Shute, BA, Communications, USC Annenberg, minor in Marketing, USC Marshall
Smith McKeri Robin Shute, BS, Human Biology, USC Dornsife
Jacob Thompson, BA, Philosophy, Politics, and Law, USC Dornsife
Alizah Anais Amaryllis Walton, MSW, USC Suzanne Dworak-Peck
If you are a current or former foster youth currently enrolled at USC and interested in learning more, please join Trojan Guardian Scholars.
To reference the work of our faculty online, we ask that you directly quote their work where possible and attribute it to "FACULTY NAME, a professor in the USC Suzanne Dworak-Peck School of Social Work" (LINK: https://dworakpeck.usc.edu)