Trojan Guardian Scholars at USC has a new home in social work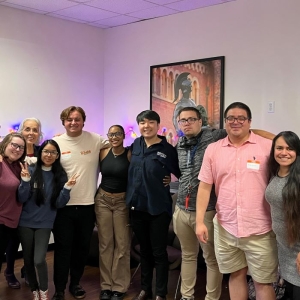 In May of 2022, Sara Jimenez McSweyn, senior lecturer at the USC Suzanne Dworak-Peck School of Social Work, took over the reins of the Trojan Guardian Scholars (TGS) program as it moved to its new home at the school. Formerly under the auspices of the USC Dornsife College of Letters, Arts and Sciences, the TGS program provides comprehensive support services to any current or former foster youth who is a student at the University of Southern California. For McSweyn, it is a challenge she is honored to undertake, and one which she feels the school of social work is uniquely qualified and committed to support.
TGS was co-founded in 2013 by Wendy Smith, PhD, retired clinical associate professor and associate dean of faculty development at USC Social Work. Smith, who has dedicated her career to providing opportunities for young adults transitioning out of the foster care system, designed the school's first course on transition-age foster youth. She authored the first comprehensive text to focus on youth emerging from care, and integrated multidisciplinary research into practice providing a new foundation for those who work with former foster youth.
A former colleague of Smith, McSweyn, MSW '80, brings many years of experience in the child welfare system as a Licensed Clinical Social Worker (LCSW) to the TGS program. Prior to joining USC Social Work, she led outpatient mental health programs that focused on services for children and families. Her experience has been that in addition to not having financial or family support, former foster youth who attend college are often first-generation students, and may have a history of trauma. This may sometimes lead to difficulties related to their social/emotional well-being, which can make it difficult for the students to succeed academically despite their many talents and demonstrated academic success before they get to college. According to the National Foster Youth Institute, only 3-4% of former foster youth obtain four-year college degrees.
"So many of these kids who go to college, who get that far after a foster care experience, come with a complex history of trauma," McSweyn said. "They also come with any number of difficulties and challenges that might not be common experiences for most of the students who attend a privileged university like USC." Under social work, McSweyn believes the TGS program will be able to advocate and provide more resources for this student population.
Social workers are specially trained in identifying how marginalization and systemic disproportionality can affect the social development of children and young adults. McSweyn is leaning into that training to establish a sense of belonging for the TGS students.
Creating community
McSweyn has revised the TGS program into three tiers: students with the greatest level of need or in crisis; students who are relatively stable, but need occasional help; and students who have developed their own systems of support at the university but want to engage in some activities or events within the program. McSweyn stressed that those in the third tier are still welcome to seek any assistance they may need.
To further the visibility of the program and provide TGS students with a space to address their needs, the Trojan Guardian Scholars Center was created. "We wanted to make sure that these foster youth had a place of their own," McSweyn said. Housed within the Montgomery Ross Fisher building of USC Social Work, the center provides a physical meeting place for this community.
In September 2022, a Master of Social Work (MSW) student practicum placement was created for the TGS program. Beth Lucas, MSW '98, who serves as instructor for MSW students placed within TGS, has played a key role in ensuring the MSW placement remains aligned with mission of TGS. She has worked closely with Smith for many years shepherding and guiding the work of the TGS program at USC. Practicum experience is the bedrock of social work practice, and Lucas' keen skill sets are a crucial element of the TGS program's work. MSW student Jun Hyuk Park, whose specialization is in children, youth and families, came on board and McSweyn says Park has been instrumental in helping the program to mobilize. More students are reaching out and enrolling, community events are being organized, and assistance with emergency financial support for students in crisis is being offered.
Park says it feels like laying the foundation of a house. "It's been a very humbling experience, but also empowering to see the amount of obstacles they've had to hurdle to get to this juncture," he said.
For Park, their stories are testaments to how resilient they are, not only to have arrived on campus, but in many cases, to be thriving. He has met with every student enrolled — 22 to date. "I've seen 22 different faces of trauma. I've seen 22 very different stories," he said.
Katy Lopez Sanchez, a first-generation student and single mother of two, is a member of the TGS program. She came to USC as a transfer student and is now a psychology major at USC Dornsife. Sanchez says the transfer to USC came with a bit of fear. "It was a new environment," she said. "I'm in a private university, so I felt a little bit out of place. There were times where I felt like my classmates didn't really understand my daily struggles. At the center is where I found my voice."
For Sanchez, the TGS Center is a much-needed safe space, somewhere she can go to "just be," have some warm food and be with people that share the same experiences. The guidance and support she receives from McSweyn and Park allow her to focus on what is most important: her education and her family.
"You're around people who understand a little bit more about what you may or may not have been through and it helps you realize you're not alone," said Taylor Bazile, a communications major at USC Annenberg and also a TGS member. "That's always a nice thing to be reminded of, no matter who you are."
Bazile, who is expected to graduate in December 2022, believes TGS does a great job making students feel a part of the Trojan family, as well as supporting them with resources for mental health, wellness, career, community and even graduation. "It's always about trying to point us in the right direction, as well as making sure that we're able to be on our own two feet throughout our time here." she said.
Making USC a welcoming space
The number of students at USC who are former foster youth has diminished over the last few years. McSweyn noted that currently only 58% of former foster youth students complete their four-year degree, compared to a university-wide graduation rate of 91.9%. One of her main goals is to ensure TGS collaborates with the university more intentionally on behalf of students who are former foster youth.
"All of these kids are very bright and they meet all the criteria for admissions," McSweyn said. "So, something is happening with these former foster youth at USC in terms of their ability to feel as if they can successfully achieve their academic goals."
McSweyn set up a point person for TGS students at the Office of Financial Aid. Now, if they have an issue there is someone they can reach out to directly who knows of their needs and is there to help.
"Financial challenges are the kinds of things that should not exist for these students," McSweyn said. She is focused on raising awareness for the program and creating opportunities for the greater USC community to support it, including setting up a dedicated fund where faculty, staff, alumni and friends can make donations. She hopes this will enhance the program's ability to provide more direct financial assistance to students when emergency situations arise.
McSweyn is particularly excited about the response she has already received from individuals and groups at the school of social work who have organized food drives and donated gift cards. The program is also connecting its students to the new Trauma Recovery Center at the school for mental health care, an important and requested resource Park identified through his interviews.
Sanchez feels that she and others are more willing to open themselves up to the program and share their stories because McSweyn and Park are so welcoming and supportive, and the TGS Center is a comfortable place to be. "There is always a feeling of reassurance that I do make a difference," Sanchez said. "I do matter. My voice matters."
For Park, helping to develop and expand the program over the past few months into what is now a community of students, who come to the TGS Center regularly and share with each other, has been an extremely rewarding process.
"It's definitely a labor of love," Park said. "It's just been so heartwarming to see them come together. And we're building this home together."
To reference the work of our faculty online, we ask that you directly quote their work where possible and attribute it to "FACULTY NAME, a professor in the USC Suzanne Dworak-Peck School of Social Work" (LINK: https://dworakpeck.usc.edu)