Surfing to Sustain Sobriety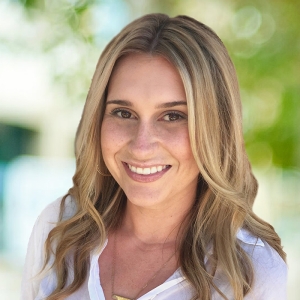 Master of Social Work student Christiana Grotlisch started surfing in high school. Then other things took precedence. Like drinking.
When she got sober in 2012, she started surfing again and never stopped. "It very much helped me in terms of my sobriety and my own recovery," Grotlisch said. "Getting grounded and getting connected."
Today, Grotlisch is integrating her experiences into her field work.
Turning a negative into a positive
In the fall of 2018, Grotlisch was informed by a selection committee at the USC Suzanne Dworak-Peck School of Social Work that she would be interviewing with the Beach House Treatment Center in Malibu, California for her first-year field practicum. She immediately wrote back what she thought was a very clear letter explaining that she did not want to engage in addiction treatment, but would rather focus on mental health.
Grotlisch received the most polite rejection letter of her life.
In the selection committee's letter, they reminded her that she had talked about addiction therapy, she had a passion for addiction therapy, she would be interviewing at the treatment center and they were looking forward to hearing about this field placement.
"I am so grateful they did not listen to me," Grotlisch said.
At Beach House Treatment Center, Grotlisch saw how healthy individuals can come together to provide real hope and healing for their clients. She redeveloped her passion for addiction treatment and realized that in the past she had worked in some unhealthy situations. At Beach House, she saw people continuing to do their own work on themselves, and thus being able to adjust evidence-based practices to meet the needs of the clients. She became a part of a collaborative team.
During a weekly meeting, team members were discussing how to help a few clients struggling with emotion regulation. The clients' emotions were unstable and they were overwhelmed by their feelings.
As she sat in the meeting, looking out at the waves from their beach location, Grotlisch said to the group, "Why don't we just stick them on a surfboard and help them get back in their bodies?" The clinical director urged her to lead a surf group.
Grotlisch did some research and learned that flow theory, essentially having total mindfulness in whatever you are doing, was being used successfully with veterans in San Diego. She had personally experienced a flow state when surfing and thought she could incorporate the dialectical behavioral therapy (DBT) they were using with clients out on the water.
"So I kind of found a way to connect each element to surfing and what I was teaching," Grotlisch said. She wanted them to take the skills they were using in group therapy sessions to cope with everyday life and relationships and make them a part of their everyday being.
Part of DBT is urge surfing, or learning to ride out a craving or an urge to act, knowing that there is going to be a peak, but also that the feeling is not going to last forever. "It's amazing how much transfers over to surfing," Grotlisch said.
Finding identity as a social worker
Grotlisch continues to work at Beach House on weekends around her school schedule, but her second-year practicum is with the USC Herman Ostrow School of Dentistry. She said she knew she wanted to be on campus and within the medical field and found a very unique opportunity.
Within the special patients clinic, she works with patients who have compromised health conditions, including severe psychiatric issues or intellectual disabilities. The clinic caters to clients who have complex needs that interfere with everyday dental practices.
"I have done anything and everything from going in and keeping a caregiver grounded, to suicide risk assessments," Grotlisch said. "There are just so many things going on in their lives that are outside the scope of dental care but still come up within dental care."
One of her clients was significantly triggered by the oral nature of a dental visit because she had suffered sexual trauma. She was really struggling with her emotions, and Grotlisch was able to implement some grounding techniques to help her feel safe.
Working within the school of dentistry, and at Beach House, has shown Grotlisch that with the skills she has learned at USC there are so many paths available to her to make an impact in the community.
"What USC has really given me is now I really do have an identity as a social worker and know that I can navigate any system and any environment with essentially a bag of skills and tools," Grotlisch said. "It's expanded my vision towards what a career in social work can be."
Surfing to Sobriety
Watch Surfing to Sobriety, NBC's California Live segment on Christiana Grotlisch.
To reference the work of our faculty online, we ask that you directly quote their work where possible and attribute it to "FACULTY NAME, a professor in the USC Suzanne Dworak-Peck School of Social Work" (LINK: https://dworakpeck.usc.edu)