Spreading Mindfulness and Yoga Through Social Networks to Youth Experiencing Homelessness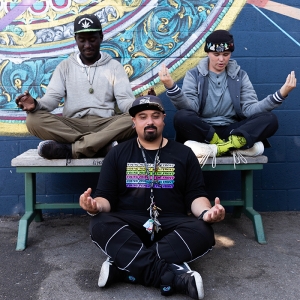 Interpersonal violence is inherently a social phenomenon, meaning it spreads through networks. Perhaps adaptive and positive behaviors like mindfulness could also be spread virally?
This is the theory that inspired Robin Petering, PhD '18, and Nicholas Barr, PhD '18 to develop MyPath, a violence reduction intervention for youth experiencing homelessness.
MyPath is an evidence-based peer training program, using mindfulness and yoga as effective tools for learning how to persevere, cope with adversity, regulate emotions, achieve goals and be effective interpersonally.
How MyPath Works
Petering and Barr partnered with Safe Place for Youth (SPY) to roll out their program, funded through the Los Angeles County Department of Mental Health.
For efficiency and sustainability, they chose to use a social network peer ambassador model. Initially, they identified the ten most optimally placed youth in the SPY network who could then reach out to all the disparate groups within that same network.
"It's not about picking the popular kids, it's about covering a lot of groups," Petering said. "It's 'the Breakfast Club' theory—we want to grab pockets from different social groups."
The youth were recruited to participate in an eight-week training program to become peer ambassadors. In the initial three-hour retreat, the program facilitators tapped into the ambassadors' experiences to elicit causes and consequences of violence and other maladaptive behaviors related to impulsivity, such as substance abuse or interpersonal conflict.
In the weekly follow ups, ambassadors were encouraged to invite their friends to join them.
"We saw that there were increases in mindfulness and decreases in violence, not just among the ambassadors that we trained, but across the full network," Barr said.
Expanding the Work with #MyPath50
Barr and Petering both stress the importance of adapting intervention research beyond the original application.
"I think we ought to be thinking about what is broadly applicable in our work so that it can have the largest impact," Barr said. "I think mindfulness and yoga lend themselves particularly well to that dimension of the question."
Toward that goal, they developed the #MyPath50 workshops to create skilled instructors that are able to bring the principles of the program into different communities. The principles of MyPath can be taught and then used in different agency settings with different groups in order to achieve different aims―whether its violence reduction, emotion regulation or interpersonal communication.
The training is designed for social workers, advocates, program managers, yoga teachers and anyone else who wants to incorporate mindfulness into their skill sets. Petering, Barr and MyPath peer ambassadors with lived experiences of homelessness facilitate the training.
After the training, teachers can integrate their skills into ongoing programs or bring similar programs to their communities.
"The workshop is about giving people who don't traditionally get access to academic training an opportunity to learn those principles, grounded in research, practice them together and then troubleshoot and think about ways they can apply them in their particular settings," Barr said.
Just How We're Wired
The work of MyPath is about supporting people in regulating their emotions. Once individuals understand their own biophysical reactions to stress—that it does not make them good or bad or wrong, it is just the way they are wired—they are then able to learn skills to help them react differently.
"When we talk about stress and trauma with groups that have experienced it, they're perfectly capable of understanding it," Barr said. "You don't need a PhD."
To reference the work of our faculty online, we ask that you directly quote their work where possible and attribute it to "FACULTY NAME, a professor in the USC Suzanne Dworak-Peck School of Social Work" (LINK: https://dworakpeck.usc.edu)