A Space for Their Voices: Students Bring Awareness to the Conflict in Armenia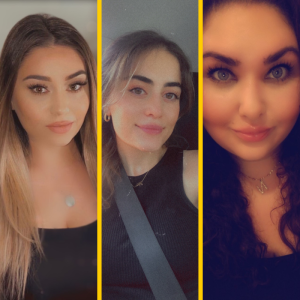 For three Master of Social Work (MSW) students - two born in Armenia and one in California - the news from their families in Armenia on Sept. 27, 2020 was terrifying. Hostilities erupted in the region of Nagorno-Karabakh, also known as Artsakh, after years of escalating skirmishes. In the midst of midterms held remotely because of the pandemic, they say they were glued to social media reports and constant family communication to learn more. Although the news made them feel scared, anxious, vulnerable and hopeless, they say they knew they had the strength to make a difference a half-a-world away.
As members of the Armenian Diaspora, and as Trojans, our students say they have responded by using the skills they learned at the USC Suzanne Dworak-Peck School of Social Work to initiate change and spread awareness through community organizing, peaceful protests, outreach to those in need of mental health support, and sharing links to government representatives and ways to help on social media. Lida Kerobyan, MSW '21, Tina Patatanyan, MSW '21, and Narine Abnousimasihi, MSW '21, are using their social work education and skills to shed light on the conflict, which they hope will spark meaningful dialogue and change.
"The pride and love we have for our country are unmatched," Patatanyan said.
Kerobyan, Patatanyan and Abnousimasihi, who met in the MSW program last year, are asking the public to be a part of and expand the conversation, get support if needed and go to www.armeniafund.org to help support all those affected. They are compelled to use what they have learned to make their voices heard.
"Prior to the program, I was quiet, stayed under the radar," explained Kerobyan. "But because of this program, I felt like it was my duty to advocate. My motherland is being attacked."
Abnousimasihi stressed that they are not asking for a political statement, but rather the space to supply the facts of the situation so that people can learn about it and recognize the developing humanitarian crisis. They know that the power of the USC community will help raise awareness and support its Armenian-American population.
Background
Armenia and neighboring country Azerbaijan are currently in an escalating conflict over the mountain area of Nagorno-Karabakh. The two former Soviet Union republics' borders in the region remain disputed.
According to a letter by Salpi Ghazarian, director of USC Institute of Armenian Studies, this war is over a dispute about the autonomy of the region, which is home to about 150,000 people - 95% of whom are ethnic Armenians, according to a 2015 census. Ghazarian reports that the Institute provides expert opinion on the region and academic programming. The Institute's Twitter account is sharing its scholarly work and information about the situation.
The issue hits home for many across the university's student population and Los Angeles, in general. Estimates are that almost half of the Armenian-American population in the country is in the area, with the U.S. Census Bureau's American Community Survey in 2011 estimating more than 214,000 residents. In 2017, the survey estimated nearly half a million people of Armenian ancestry living in the United States.
Intergenerational Trauma
Kerobyan said that the intergenerational trauma they suffer as Armenians is exacerbated by the current isolation of the pandemic and the renewed violence. Her grandmother grew up in an orphanage after her parents were killed in the earlier conflict. Kerobyan said this trauma has been passed down and manifested in some way to all Armenians.
Patatanyan put it this way: "This is not just another war. Everything we are and everything we know is being threatened."
The three students already see strong support for their efforts, but more can be done. Their education is preparing them to make a difference.
"We want to thank our non-Armenian friends at USC, who have already shared, supported and spread awareness," they wrote in a letter to the USC community. "It takes one minute to repost and shed light into tragedies occurring in our motherland. As social workers, we pride ourselves in advocacy for those who can't afford to advocate for themselves. Our sworn duty is to implement social justice and promote positive changes."
For students who need support, USC offers counseling and mental health services available at both the Engemann and Eric Cohen student health centers. Licensed clinical professionals are available by appointment through MySHR or call 213-740-9355 (WELL).
To reference the work of our faculty online, we ask that you directly quote their work where possible and attribute it to "FACULTY NAME, a professor in the USC Suzanne Dworak-Peck School of Social Work" (LINK: https://dworakpeck.usc.edu)