Social work professor receives award for career devoted to protecting children and developing a workforce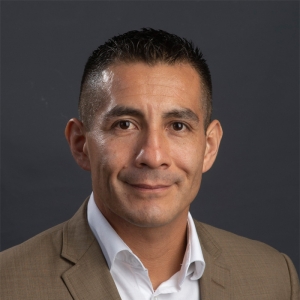 Each year, Drew Child Development Corporation (Drew CDC), a nonprofit in South Central Los Angeles dedicated to the education and well-being of at-risk children, recognizes leaders committed to advocacy, education, mental health and improved welfare for children and their families in the community. The 8th Annual "It Takes a Village" Community Awards were presented by Drew CDC on April 24, 2021 and Omar López, clinical professor at the USC Suzanne Dworak-Peck School of Social Work received the Champion of Children Award.
"It was humbling and honoring at the same time," López said. "I've been doing child protection since I went to grad school in 1999. It set the foundation for everything that I do. I always gravitated toward macro social work, community organizing, but always child protection at the foundation."
López, a former undocumented immigrant, came to the United States as a 12-year-old and was on his own from the age of 16. Because of his own experiences, his work has always focused on the intersection of children and immigration. López appreciates that Drew CDC provides services to over 11,000 underserved and migrant children and families annually.
"Omar is an extraordinary leader who cares deeply about the well-being of children and families and is committed to preparing a diverse social work workforce ready to honor the strengths and meet the changing needs of our communities," said Jacquelyn McCroskey, the John Milner Professor of Child Welfare at the Suzanne Dworak-Peck School of Social Work, co-director of the Children's Data Network and a previous recipient of the Champion of Children award. "He has been very successful in leading school-wide efforts to develop, fund and manage new stipend programs to support MSW students to specialize in child welfare and prepare them for work in different systems and with different populations. He really is a champion for our children!"
A Career Protecting Children and Developing a Workforce
López's experience is international. He was principal investigator on research to improve the child welfare system in El Salvador and worked with an international nonprofit organization and local stakeholders, including the country's presidential administration, to improve child protection outcomes.
"We conducted interviews and focus groups with judges, government officials, and other key constituents," López said. "I think that work was acknowledged with this award from Drew CDC."
In his role as Director of Workforce Development, Stipend and Scholarship Programs at the school of social work, López, a former stipend recipient himself, creates, administers and oversees stipend training programs to incentivize MSW students. Those selected receive between $4,000 and $30,000, depending upon the stipend program, complete additional curriculum requirements within the MSW program, and make a commitment or contractual obligation to work with the specific population that the stipend program serves after they graduate.
One such program, under the Los Angeles Department of Children and Family Services (LA DCFS) awards a one-year stipend of $18,500 to on-campus (OCP) MSW students.
During the LA DCFS stipend program, all students are placed at a regional office during the last two semesters of their MSW program. In exchange for the stipend, students agree to work for a minimum of one year for LA DCFS after graduation while receiving full compensation and benefits. This is a federally-funded stipend program under the Title IV-E provision of the Social Security Act designed to improve the field of public child welfare with MSW professionals committed to a career serving this population.
"Working in public child welfare is challenging," said Ruth Supranovich, director of field education and clinical associate professor. "Being part of the LA DCFS stipend program prepares students for the work through specialized education and training, faculty mentoring and building a network of support among fellow students that follows them into the workplace."
Around 20 USC MSW students receive the LA DCFS stipend each year and commit to starting their social work careers in public child welfare. The majority of those students complete their internships at the Vermont Corridor office of LA DCFS, located in the same area of South Central Los Angeles and serving some of the same families as Drew CDC.
In his acceptance speech for the Champion of Children Award, López commented on how many of the MSW students in the LA DCFS stipend program aspire to achieve a similar vision and goals to those of Drew CDC. "Some of these programs specifically are to recruit, retain and graduate students from disadvantaged backgrounds. This award is meaningful as it affirms that we are setting these students on the right path to serve their own communities."
Producing Future Champions of Children
The MSW students selected for the DCFS stipend program are committed to serving the most vulnerable children and families. The program provides them with essential tools to prepare them for this often difficult and emotionally challenging work.
"Protecting children from abuse and neglect and helping families heal from trauma is tough and not everyone can do it," Supranovich said.
The program also provides a consistent pipeline of qualified employees to LA DCFS who have the additional support of their student cohort behind them to successfully fulfill their one-year work commitment upon graduation, and many stay on at DCFS beyond that time and even move into leadership positions at the agency.
For López, starting his career as a practitioner in child protection helped him focus his passion for macro work on keeping children safe while helping families evolve. "Social work is so broad," he said. "The key to making a big difference, for you to be effective and for you to be happy with your career, is that you have to find a passion. You have to find your niche. What drives your heart and your gut to dedicate yourself to sometimes work in challenging situations. That is 100% the way to succeed."
To reference the work of our faculty online, we ask that you directly quote their work where possible and attribute it to "FACULTY NAME, a professor in the USC Suzanne Dworak-Peck School of Social Work" (LINK: https://dworakpeck.usc.edu)