Social Work Graduates its First Class of Family Nurse Practitioners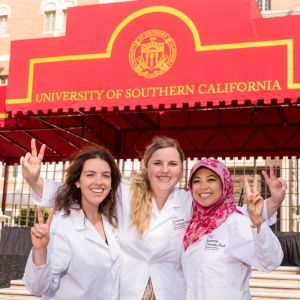 The first class of graduates from the new online Master of Science in Nursing (MSN) for aspiring Family Nurse Practitioners (FNP) at the USC Suzanne Dworak-Peck School of Social Work receive their degrees in May 2018.
Kartika Budiman, MSN '18, Lorena De La Rosa, MSN '18, and Adrienne Marks, MSN '18, were among the initial enrollees in the full-time online Nursing@USC program, which launched in fall 2016. This is the first graduate nursing program in the United States that is housed in a school of social work and Budiman, De La Rosa and Marks are the first nursing students to become graduates of the USC Suzanne Dworak-Peck School of Social Work.
The Department of Nursing within the social work school at USC aims to develop a new generation of advanced practice nurses whose scientific foundation and holistic approach to health is augmented by the vision and expertise of social work.
For Marks, the training she received at USC opened her eyes to how social issues impact health. It was something that was discussed, but not emphasized in her earlier studies to become a registered nurse (RN).
"One thing I always think about now is whether patients have transportation," Marks said. "If they don't have it, then they may not come back for a follow-up or be able to pick up prescriptions. I don't think I would have realized that without this program."
Bringing Nursing and Social Work Together
A very strong focus in the Department of Nursing is on the social determinants of health–the conditions in which people live and work. This is a signature aspect of the MSN program.
"Our nursing students graduating this spring from USC will bring deep insight into the social determinants of health, evidence-based practices in working with patients and deep grounding in the scientific nursing practice," said Marilyn L. Flynn, dean of the USC Suzanne Dworak-Peck School of Social Work. "I am exceptionally proud of their accomplishments, and their orientation to social justice and commitment to the highest standards of nursing practice place them at the forefront of their profession."
De La Rosa did not wait for a diploma to start applying some of the approaches she learned in her clinical placement and part-time work.
"We had great training in motivational interviewing, or how to gain trust and also provide therapy to people during a [medical] interview," De La Rosa said. She quickly applied this to her work as an RN in hospice and palliative care.
"When I care for people in hospice, we talk about tough topics like death and making difficult decisions like advanced directives," she said. When speaking with her patients who have life-limiting illnesses, she frequently draws on social work approaches to help them plan what is important to them in their remaining time.
"You get the best outcomes when you're working toward what matters to the patient the most," De La Rosa said.
Trailblazers of a New Program
The unusually small class size of three—dubbed the "mighty three" by one of their professors—meant that the women bonded quickly and became friends.
"We talked daily," said De La Rosa, who cared for her two young daughters and worked part-time while pursuing her MSN. The program, which combines online learning, real-time classes and clinical rotations, can be tough, she said. But having peers to talk, de-stress, commiserate and celebrate with made all the difference, as did the many opportunities for one-on-one interaction with faculty.
"I've been kind of star-struck with the program's faculty," said Budiman, who had worked as an oncology RN. "They're so knowledgeable, passionate and well-known. I'm proud to be able to call them colleagues."
The program's faculty and staff appreciated the three women's willingness to be trailblazers in the first years of the program.
"I call them the pioneers," said Ellen Olshansky, the department's first chair, who founded the program in collaboration with Sharon O'Neill, vice chair for the department and director of the MSN-FNP program. "I have been impressed by their focus and eagerness to learn. Programs like this are important to nursing because nurses are the front line of health care for most people throughout their lives. Our MSNs are equipped to take into account all the aspects of health, not just the physical ones."
Already, the women have received job offers in patient care. De La Rosa is considering an in-home geriatric care position and hoping to eventually move back into hospice and palliative care. Budiman has an offer from a nonprofit that provides care to underserved communities, such as undocumented residents. Marks hopes to work educating undergraduate nursing students about mental and community health issues and how they impact physical health.
All three received scholarships which helped cover tuition and extra costs. For Marks, scholarship funding also covered some expenses like books and gas to drive to her clinical placement, which was over an hour from her home in Napa, California.
Additional smaller scholarships allowed Marks and Budiman to build on what they had learned about the social and political context of health policy in their classes by attending the American Association of Nurse Practitioners health policy conference in Washington D.C. to meet with members of Congress.
Expanding the Scope and Scale of Nursing Education
The Department of Nursing occupies a unique place within the social work school. "We are not under social work," Olshansky explained. "We are collaborative with social work. This is important as evidence indicates that approximately 80 percent of health issues can be attributed to social issues and conditions."
According to O'Neill, the department aims to be a leader in addressing health care needs in society and delivering that education in a way that meets the needs of today's students without compromising quality.
"What worked in nursing education in the past does not work in the age of information and the internet," she said. "Picking up and moving to a new city to attend a brick and mortar school does not work for most students." The online environment, she said, enables material to be presented in a student-focused and engaging format, allowing students to join from all over the country, bringing with them rich perspectives on the current state of health care delivery.
For O'Neill and Olshansky, the excitement they felt about the program's initial vision has only grown over the past two years.
"I feel confident these graduates will be outstanding practitioners," Olshansky said. "Everything we have worked for has come to fruition."
The three graduates also have high expectations for the program's growth. "I know the three of us are very grateful and honored to be the first class," said Budiman. "I think we all believe that down the road it will be a well-known and established program on par with the best."
"I could not be more proud of them and of the program that launched them into their new roles," O'Neill said.
To reference the work of our faculty online, we ask that you directly quote their work where possible and attribute it to "FACULTY NAME, a professor in the USC Suzanne Dworak-Peck School of Social Work" (LINK: https://dworakpeck.usc.edu)