Social work grad uses personal history to fuel advocacy for federal domestic violence legislation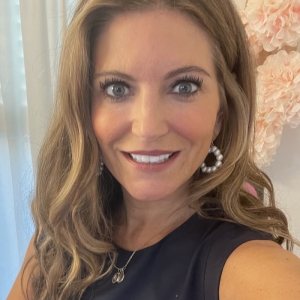 Single mother and domestic abuse survivor Yvonne Elliott applied to the Master of Social Work (MSW) program at the USC Suzanne Dworak-Peck School of Social Work with a singular, career-changing goal in mind: to become a private practice therapist in order to better support her two children. However, almost immediately after started the program, she discovered a greater purpose.
In her first semester, during a policy class with Robert Hernandez, senior lecturer, she drew a large heart in her notebook and wrote: "I will speak to Congress someday and help to get VAWA and other laws for domestic violence victims passed."
In February 2022, Elliott did exactly that.  She testified for a group of lawmakers and policymakers at the White House, including one from her home state of North Carolina — Sen. Thom Tillis — in support of the reauthorization of the Violence Against Women Act (VAWA). In March, President Biden signed the bipartisan legislation into law, which modifies and reauthorizes programs and activities to prevent and respond to domestic violence, sexual assault, dating violence and stalking through 2027. 
Finding her voice and career in macro social work
As a survivor of emotional and psychological abuse in her marriage, Elliott was inspired by the social worker assigned to her case to pursue an MSW to help other women and children in similar circumstances. It was not until her first policy class that she realized she could go beyond individual level and become an advocate working at the macro level to affect broad societal change in the area of domestic violence.
"USC has given me the opportunity to really think outside the box, especially when it comes to policy and advocacy," Elliott said. "It has allowed me to understand that as social workers we can make changes in more than one person's life — we can make change at the community level, at the state level and at the federal level. That's something everyone needs to know about social work."
Macro-level social work is an area of increasing interest and growth, particularly in recent years as social justice issues have come to the forefront of society. For many unfamiliar with the field it may not even be recognizable as social work. Macro-level social work involves interventions and advocacy on a large scale, affecting entire communities, states or even countries. It helps clients by intervening in systems that may seem beyond the reach of individuals.
Invited to the White House to Testify
Inspired by her policy classes, Elliott began researching the domestic violence laws in California, her home state of North Carolina, and many others around the country. She reached out to North Carolina Governor Roy Cooper's office, state legislators and even the White House, but initially with no response. She continued to doggedly email and call nonetheless.
"The more I heard 'no,' the harder I tried," Elliott said. "Someone with experience told me I would never get a response ever. The day after that conversation, I got a call from Senator Thom Tillis' office." They called to invite her to the White House to testify.
Elliott shared her personal story of domestic violence, as well as statistics and loopholes in the laws that make it difficult for women to pursue abuse cases, for over 45 minutes.  She expressed her thoughts and feelings on the importance of having the VAWA reauthorization passed.
"I went into it so scared, but they listened to me and validated my concerns and thanked me for the work I've done and for sharing my personal experience while advocating for others," Elliott said. "Senator Tillis said every voice counts and this is how change happens."
When the VAWA reauthorization was passed and signed into law, Elliott cried. But she did not rest on her laurels. She started her next advocacy campaign, calling Sen. Tillis' office to ask how they plan to use the funding from the VAWA reauthorization, and putting herself forward to run one of the stipulations in the new legislation — a training program for judges and lawyers. "I need to see that they follow through on these programs," Elliott said.
As a result of her first-hand experience with influencing change at the macro-level, Elliott has decided to focus her career on policy and advocacy work rather than private practice as originally planned. Her goal now is to establish a federal law in the name of her children — Monterey and Landon's Law — to provide consistent support for mothers and children in abusive situations across every state, including protecting children in the family court system from having forced visitation with an abusive parent, providing free legal assistance for mothers who are survivors of domestic violence, and allowing domestic violence victims to appear in family court without their abuser present. In the meantime, she plans to create a nonprofit that provides legal funds and support for women who are survivors of domestic violence, since family court does not qualify for free legal aid in most states.
"I want to change laws. I want to change the world. I want to impact others," Elliott said. "I wake up every morning and think, 'Okay, what can I do today to make sure these laws get changed?'"
To reference the work of our faculty online, we ask that you directly quote their work where possible and attribute it to "FACULTY NAME, a professor in the USC Suzanne Dworak-Peck School of Social Work" (LINK: https://dworakpeck.usc.edu)