Social Work Dives Deep into Gun Violence as Public Health Issue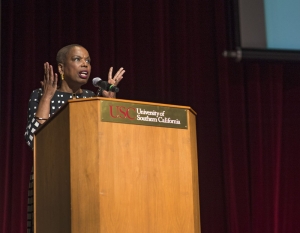 The USC School of Social Work once again tackled a tough issue head-on at its annual All School Day event: gun violence as a public health matter.
Building on last year's popular topic of race relations, this year's theme, "Gun Violence: New Challenges in Public Health," brought government officials, public health practitioners and USC researchers together to discuss this difficult and often contentious issue while looking for ways for social workers to make a difference.
"I'm calling on all of us as social workers into action on the issue of gun violence and how we can make our community safer," said Cherrie Short, associate dean of global and community initiatives at the school. "As social workers, are we taking the time to recognize this as a growing problem in our communities, and are we asking the important questions as to why and how these [incidents] continue to happen?"
All School Day, an educational forum co-led by students and faculty, was first convened after the civil unrest in Los Angeles in 1992. Each year since, the School of Social Work has brought people together in an atmosphere of cooperation, respect and inclusion to discuss how society can better communicate across differences in race, gender, sexual orientation, religion, age, social class and disability.
Many of this year's speakers relayed stories of personal experiences with gun violence. School of Social Work Student Organization President Juan Carlos Cruz told the audience of students, faculty and staff in USC's Bovard Auditorium how he had been injured in a drive-by shooting at age 14.
"I was that kid. I got lucky. Yet this is not the case for many Americans who have been victims of gun violence," he said. "This was not the case at Sandy Hook Elementary School. This was not the case in San Bernardino. This is not the case in the inner city where minorities continue to be shot dead because of easy gun accessibility."
Educating policymakers
Keynote speaker Judy Belk, president and CEO of the California Wellness Foundation, which provides grants for health promotion, wellness education and disease prevention, has lost family members – including a sister – to gun violence and highlighted social workers' roles in helping those affected.
Belk gave statistics on gun violence: two out of three gun deaths are the result of suicide, primarily among white middle-class males and teens; black males are the victims of homicides committed with a gun at a rate two times as high as the rate for Latino males and 15 times as high as the rate for non-Hispanic white males; and black teens are 25 times more likely to be injured by a gun than white teens. She also offered ways for public health workers and social workers to make a difference in lessening the impact of such violence, with a particular emphasis on participating in public policy.
"Encourage civic engagement and greater participation. Help families that you're working with to become involved in creating safe communities, so [they] can have a voice," Belk said. "We often look at underserved communities as deficits instead of looking at them as assets. Think about the people in these communities as assets, and give them the tools to put pressure on government and others."
Los Angeles Councilman Gil Cedillo, who also gave a keynote address, discussed the historical context of the 2nd Amendment of the Constitution, or the right to bear arms, and the Constitution's nature as a "living document" that evolves over time to adapt to the current context of our lives.
Like Belk, Cedillo emphasized the importance of informed policymaking when it comes to making a difference in people's lives.
"How do we make this work socially for our communities? That's your charge," he said. "What are the things we can do to make people safe, to make people who have guns be responsible, to enable those who are responsible for our security to be able to regulate and control those weapons within the civilized communities of 4 million in the city of Los Angeles and 11 million in the county? The more informed [policymakers] are, the better decisions we make."
The role of social workers
Los Angeles City Attorney Michael Feuer served as a panelist and also stressed the significance of research in policymaking. Feuer bolstered the role of social workers in schools and in response to domestic violence police calls as a way to help children traumatized by such violence.
"The brains of young kids do not develop the way they were biologically destined to if they live in neighborhoods pervaded with trauma, especially gun violence and similar activities. We have tens of thousands of kids in this community who are never going to grow up to fulfill who they're meant to be," he said. "You have a central role in changing that. The cause of combating gun violence is not just for a lawyer or a lawmaker or a prosecutor – it's for you."
Panelist Marleen Wong, clinical professor and senior associate dean of field education at the School of Social Work, built upon Feuer's focus on the effects of trauma on children.
Wong, an internationally recognized mental health expert especially when it comes to crisis and recovery, told the audience about her experience leading the crisis teams for the Los Angeles Unified School District, where there were nearly 3,000 incidents a year, and as a consultant to the U.S. Department of Education on mass shootings in schools. She is a proponent of trauma-informed schools, in which administrators are prepared to recognize and respond to students impacted by traumatic stress.
She asked the auditorium of MSW students to think about what could be done for children who live in adverse situations like those in South and East Los Angeles.
"What wrap-around services…early interventions and evidence-based practices that could be effective in reducing symptoms of post-traumatic stress disorder [could social workers use]? What about partnerships with lawyers and law enforcement? Social workers are an important voice, but they're not the only voice," Wong said.
"There is always hope, and we can never give up because risk factors are not predictive factors because of protective factors. And there are hundreds of protective factors here in this auditorium today and in this school," she said.
Another angle
Nathan Graeser, MSW '13, who leads the Los Angeles Veterans Collaborative for the USC Center for Innovation and Research on Veterans & Military Families, offered a different view of the situation. As a social worker and Army National Guard chaplain, Graeser said he doesn't see guns as a problem per se.
"The problem with gun violence is not inherent in the gun itself or even in people having guns. What we're dealing with is a more complex issue," he said. "We're dealing with people who fundamentally have a difficult time handling conflict. Blaming guns for gun violence is like blaming motorcycles for motorcycle accidents."
Graeser talked about his personal experience of 16 years in the military.
"I've never experienced anyone using gun violence on another service member, and we carry weapons all the time," he said. "In the military, they don't even call them 'guns.' They call them 'weapons.' They've changed the terminology because they realize there's a responsibility to it."
He pointed out that suicide makes up a large proportion of gun violence.
"What that suggests is society is dealing with a larger problem, that the violence we see people perpetrate on themselves is an epidemic," Graeser said.
After the morning's discussion, students continued the dialogue with an open-mic event featuring music, spoken word and other live performances. And for the first time, the USC Social Work Alumni Association held an evening event. The screening of the documentary film "Paper Tigers," which looks into the lives of students at an alternative high school that specializes in educating traumatized youth, offered a chance for alumni to participate in-person in the All School Day conversation.
"[All School Day] is not just a day for advocacy. It's a chance for us to take a step back and think about how to take the broadest possible perspective, how to inform ourselves before we advocate," said Marilyn Flynn, dean of the School of Social Work. "This reflects the school's commitment to the science of social work for a different quality of thinking by social workers as they approach these issues of social justice."
To reference the work of our faculty online, we ask that you directly quote their work where possible and attribute it to "FACULTY NAME, a professor in the USC Suzanne Dworak-Peck School of Social Work" (LINK: https://dworakpeck.usc.edu)